Fans Are Comparing Taylor Swift To Princess Diana. Here's Why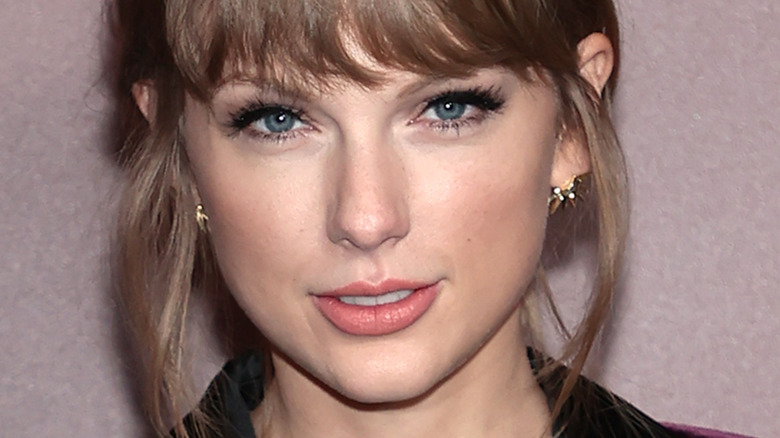 Dimitrios Kambouris/Getty Images
Princess Diana's "revenge dress" is one of the most iconic looks she ever wore. The royal stepped out in the slinky, black off-the-shoulder number during a June 1994 appearance at a Vanity Fair party, per Reader's Digest. Of course, Diana turned heads as she broke royal protocol in the dress that clung to her curves tightly. The garment was soon dubbed her "revenge dress" as that same night, Diana's estranged husband Prince Charles gave a tell-all interview where he revealed that he had not been entirely faithful to his wife during their marriage. When asked if he'd been "faithful and honorable" to Diana, Charles replied, "Yes. Until it became irretrievably broken down, us both having tried."
Having worn the black dress the same night that Charles' interview aired, fans believed it was no coincidence that Diana had stepped out in the sexy ensemble and named the look her "revenge dress" thereafter. "We call it the "revenge dress" [because] she wore it the same evening Prince Charles confessed to his adultery with Camilla," Kerry Taylor, whose company has auctioned off pieces of Diana's clothing in the past, said to Reader's Digest. "While some would have been like, 'I can't face it this evening,' Diana went out in that dress looking drop-dead gorgeous. She made a big statement," he added.
Now, some fans believe Taylor Swift has recreated Diana's iconic look for the re-release of her "Red" album.
Did Taylor Swift make a statement with this dress?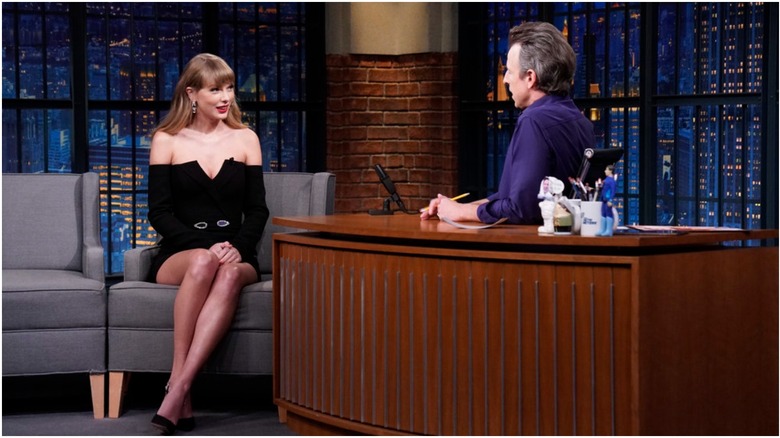 NBC/Lloyd Bishop
People reports that Taylor Swift may be looking to Princess Diana for fashion inspiration. The singer appeared on "Late Night with Seth Meyers" on November 11 wearing a black, off-the-shoulder dress that resembled Diana's iconic 1994 "revenge dress." Fans immediately took notice of Taylor's stunning ensemble as she promoted the November 12 re-release of her fan-favorite album, "Red," which is said to have more than one song written about her famous ex-boyfriends, per E! News.
"Not @taylorswift13 wearing the Taylor's Version of 'the revenge dress' on @sethmeyers," one fan tweeted. "Taylor Swift's Revenge Dress Era," another wrote. Even "Selling Sunset" star Chrishell Stause couldn't help but notice the similarities in the two outfits. "Peep the Revenge dress," the former "Dancing With The Stars" contestant tweeted.
Meanwhile, People notes that Swift's version of the "revenge dress" may have been connected to Scooter Braun. The "Red" re-release is the second album Swift has re-recorded after Braun, a music manager, bought the rights to her first six albums. In November 2020, Braun sold the master rights for Swift's albums for a reported $300 million, per Bloomberg. Swift then released a statement on Twitter revealing that she attempted to "enter into negotiations" with Braun to buy her music back. However, Swift said that Braun's team "would never even quote my team a price. These master recordings were not for sale to me."
But with Swift's re-releases and her apparent "revenge dress," she might have the last laugh.