The Heartbreaking Death Of Lisa Rinna's Mother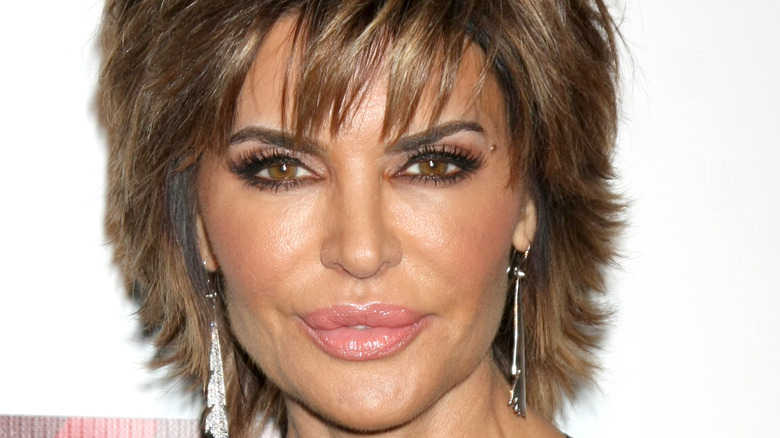 Kathy Hutchins/Shutterstock
On November 15th, 2021 Lisa Rinna confirmed the death of her 93-year-old mother, Lois, who had suffered from a stroke. Rinna shared a touching post on Instagram with a photo of Lois on her wedding day. The emotional farewell post was simply captioned, "Lois DeAndrade Rinna June 7, 1928 – November 15, 2021 5:05am  ... Heaven Has a New Angel."
The "Real Housewives" franchise world mourns this great loss. Throughout her time on "The Real Housewives of Beverly Hills," Lisa Rinna has had some ups and downs. Consistently finding herself at the center of drama, Rinna often has viewers conflicted on whether to love or hate her. Regardless, Rinna has undeniably been very open with her life and family (via Buzzfeed News). Whether you're a fan or not, one thing that all "RHOBH" viewers can agree on is that they loved watching Lois on the show.
Rinna has been a Real Housewife ever since 2014, and over the course of her six seasons on the show she has often shared her close relationship with her mother. Viewers first met Lois when Rinna took her two daughters, Delilah-Belle Hamlin and Amelia-Gray Hamlin, to visit her mother and father in their hometown Medford, Oregon (via Bustle). Fans instantly fell in love with her cute quirky mother and especially loved watching her close relationship with Rinna.
Lois Rinna has been struggling with her health for a while
Any close follower of Lisa Rinna will know that Lois' death comes as no surprise. The 93-year-old has been suffering from health complications for years. In 2019, Rinna shared on Twitter, "My Mom had a devastating stroke 6 years ago and had to learn how to walk and talk again months of rehabilitation. [She] is one of the lucky ones. She is not the same as she once was but she has overcome so much. We are blessed and so grateful." 
More recently on November 11th, 2021 Rinna shared a precious video on Instagram of Lois dancing with an update about her health. She shared, "I know how much you appreciate and LOVE Lois so I need to tell you that she has had a stroke, I am with her now, So lets celebrate her and send her so much love while she transitions. I was so conflicted to share this very very sad news with you, but I know you would want to know." Ever since, Rinna has been quieter than usual on social media, only hopping on twice to share nostalgic videos of her mother that moved her followers, with cast members such as Erika Jayne and Teddi Mellencamp commenting their love and prayers for Lois. 
Lisa Rinna and her family mourn this great loss on social media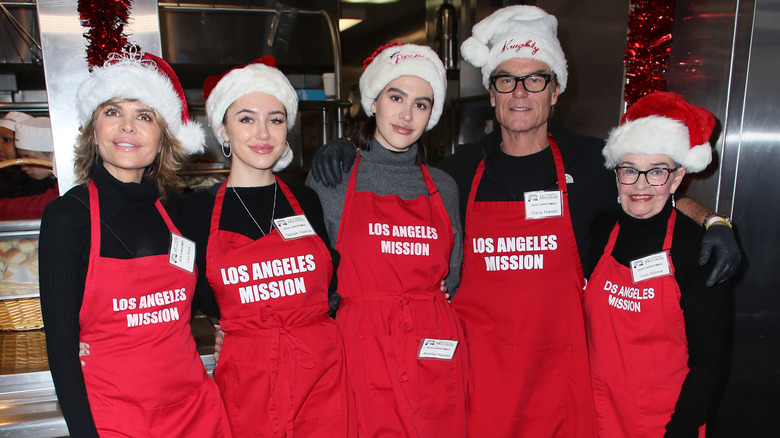 David Livingston/Getty Images
Lois has always been featured on Lisa Rinna's Instagram during her visits, having fun and dancing for her family. She is often featured on her grand daughters' social media, whether in a short snippet of them spending time together, or even showing Lois being a good sport and joining them in a TikTok dance routine or two (via Instagram). 
Amelia Gray Hamlin announced the death of her grandmother shortly before Rinna did, sharing a touching collection of Instagram photos of their relationship over the years (via Instagram). Hamlin emotionally captioned the post dedicated to her "guardian angel for the rest of time." She continued, "Thank you for being the strength our family needed. Thank you for teaching us what it means to be a strong woman ... and just like that ... you're back with Frank ... I know they're having a party for you ... and you are dancing your way through heaven ... you'll never be gone." Fans have shared their own odes to Lois, and have flocked to the comments section to offer love and prayers to the Rinna/Hamlin family during this difficult time.