Carmeon Hamilton Shares Her Go-To Skincare Products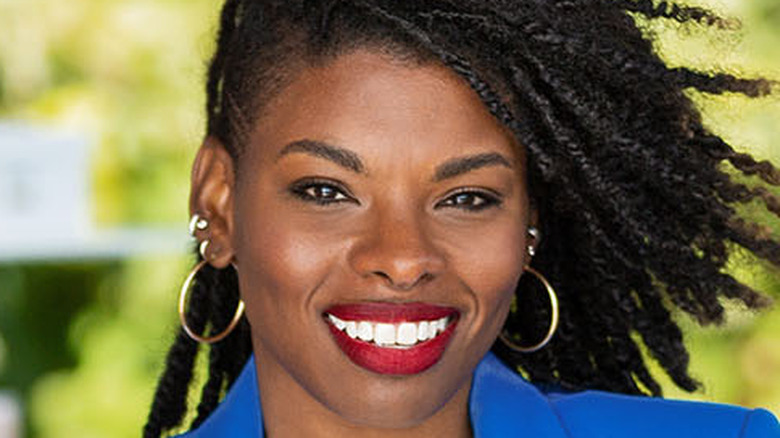 discovery+
Interior designer Carmeon Hamilton is making waves with her eye for design and innovative approach to decorating spaces. The "Design Star: Next Gen" star told Southern Living that she prioritizes wellness, and curates pieces that are functional and bring comfort. "Self-care and wellness are major buzzwords right now, but I've known for a really long time how my physical environments affect my mental state and well-being," she acknowledged. "I believe beauty has one of the biggest effects on a space when you're trying to combat chaos."
Carmeon Hamilton's views on design and self-care translate to her beauty routine as well. She uses skincare products that prep and pamper her skin, while also tackling skin issues. "I use Bolden, a skin-care line created by women of color to help melanated skin with the issues that we have the most, which are usually discoloration and hyperpigmentation," she told the outlet. Bolden is just one of the brands that Hamilton turns to for flawless, healthy skin.
Carmeon Hamilton takes cleansing and exfoliating very seriously
In an April 2020 blog post, Carmeon Hamilton revealed her go-to skincare products that make up her daily routine. For Hamilton, cleansing is a two-step process. For a clean slate, she uses Shea Moisture's African Black Soap Clarifying Cleansing Facial Wipes or Farmacy's Green Clean Makeup Removing Cleansing Balm. Then, she washes her face with Bolden's Skin Clarifying Cleanser before following it up with an exfoliator on alternating days. 
One of Hamilton's secrets to clear, glowing skin is Cure's Natural Aqua Gel. In her September 2020 interview with Southern Living, the HGTV star praised the product's gentle and hydrating formula. "It's an exfoliator in gel form without beads or abrasiveness, but that stuff is a miracle worker," she explained. Hamilton isn't the only one in love with this product. Glamour tested the cult-favorite Japanese exfoliator, and highlighted its affordability and how quickly it cleans your pores (though its smell may take getting used to).
Hamilton is intentional about incorporating skin-care products from Black-owned beauty brands into her skincare routine. She evens her skin tone with Bolden's Glycolic Acid Toner, and protects her skin from the sun's harsh rays with vegan Black Girl Sunscreen.