What You Didn't Know About Rihanna And Jim Parsons' Friendship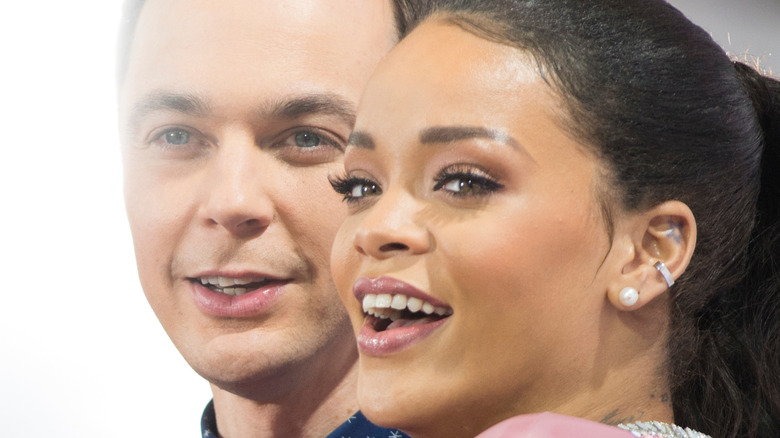 Cooper Neill/Getty Images
There are some celebrity friendships that everyone and their mom know about. Take Taylor Swift, for example, and her star-studded squad of talented, beautiful BFFs like Karlie Kloss, Cara Delevingne, Todrick Hall, and Selena Gomez, to name a few (via Insider). There are other duos, however, that surprise people even by the fact that they know each other, let alone are besties. From 50 Cent and Bette Midler's friendship to Serena Williams and Kim Kardashian's and Helen Mirren and Russel Brand's, these seemingly mismatched pairing of friends make us wonder not only how they met, but when and how they became so darn close (via Thrillist).
We love hearing about the celebrities that have secretly been BFFs without the world knowing about it — but there's one pairing in particular that we can't stop obsessing over: Rihanna and Jim Parsons. While these iconic celebrities might appear to be a random pairing, as it turns out, it actually makes perfect sense that they flocked to each other and ultimately became so close. 
Here's how Jim Parsons and Rihanna met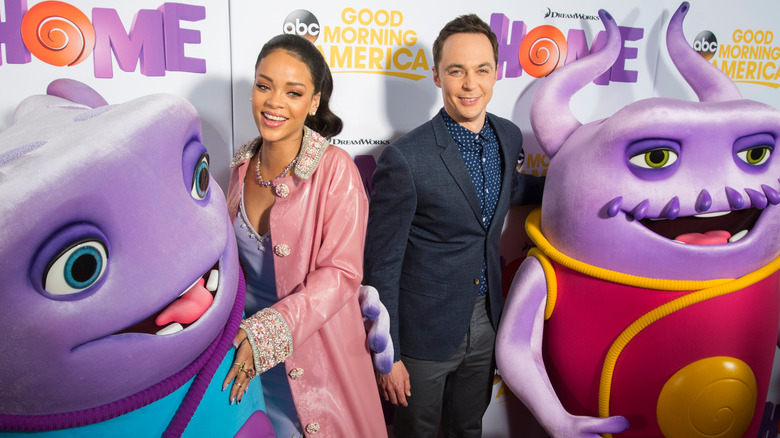 Cooper Neill/Getty Images
The prolific, show-stopping singer Rihanna being friends with the hilarious, charming actor Jim Parsons seems a bit out of nowhere, doesn't it? Chances are, their varying professional paths might have never crossed if it hadn't been for this project that brought them onto the same set. 
In 2015, Dreamworks released the adorable family-focused animated film "Home," which follows an alien who befriends a young girl from Earth while he's on the run from members of his own alien race. The film has a star-studded cast, including Steve Martin, Jennifer Lopez, and Matt Jones, with Parsons voicing the alien protagonist and Rihanna, the young girl (via IMDb).
According to Bustle, the two met on the set of "Home" and quickly became great friends. In an interview with "The Talk" during the film's press tour, Parsons gushed about his newfound friendship with the "Disturbia" singer and how it deepened during the film's tour. "Sometimes you're in an interview with somebody and it's — it is what it is," Parsons explained. "But sometimes there's, like, these great verbal sparring partners — and that's what [Rihanna] was." Parsons continues, elaborating that he wasn't at all surprised to find that she was "smart" and "witty," but that she was such a "high level" musician that was incredibly skilled at listening and not overly "self-concerned" despite the incredible amount of fame that followers her (via YouTube).
Parsons and Rihanna like to poke fun at one another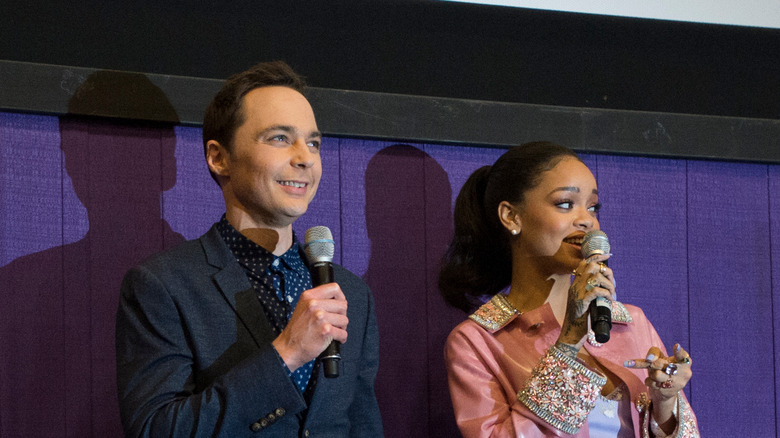 Cooper Neill/Getty Images
You can really tell that two friends are close when they have no qualms about messing with and poking fun at each other — which is exactly the kind of friendship that Jim Parsons and Rihanna have. 
When Parsons came on "The Tonight Show With Jimmy Fallon," he said that he and Rihanna spent so much time together that her songs were constantly playing in his head. "I've been doing press with Steve Martin and Rihanna and I, being around her, her songs keep coming into my head and I keep saying, like, 'Yellow diamonds in...' I mean, just out of nowhere I'll be doing it," he revealed (via Youtube). 
Parsons added that in the beginning, Rihanna went along with the prank and even joked that his singing was so bad, it gave her "chills." Parsons eventually began to wonder if he was genuinely annoying his cast and crew with his humor. "But the second thing I thought was, this might be really irritating. Like what if she was doing 'bazinga' the whole time we were doing press, and I'd go, 'Would you shut up?' I thought it was a compliment," he said (via E!). We can't get enough of this unlikely pair!