The Truth About Blake Lively And Penn Badgley's Relationship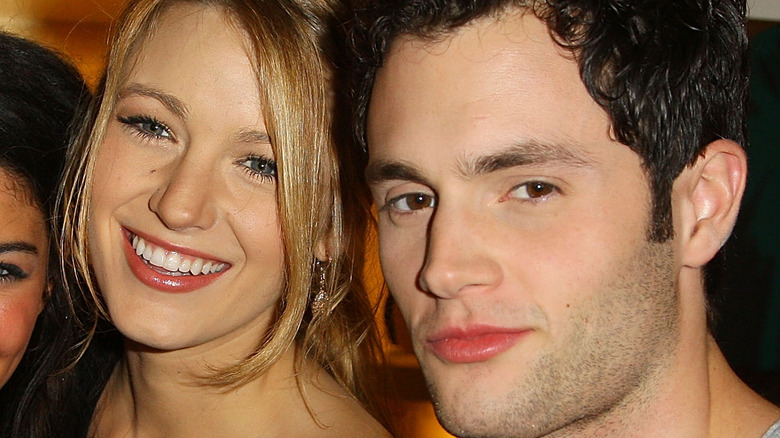 Andrew H. Walker/Getty Images
With Season 3 of "You" having premiered on Netflix in October, all eyes have been on Penn Badgley, who plays main character and charming sociopathic serial killer Joe Goldberg. Badgley got his start in the entertainment industry when he was a teen, appearing on ten episodes of "The Young And The Restless" in 2000, and from there, he nabbed notable roles in "Do Over," "The Mountain," "The Bedford Diaries," and "John Tucker Must Die" (via IMDb). Despite finding some success early on in his career, Badgley truly achieved A-list stardom after he was cast as Dan Humphrey in the hit teen drama, "Gossip Girl," where he met Blake Lively, who famously portrayed his on-screen love interest, Serena van der Woodsen.
While Badgley and Lively's characters had an on-again, off-again relationship during the course of the series, the pair actually hit it off in real life and began secretly dating in 2007. "I remember there was one point where we were just afraid of how our personal lives overlapping our work life could be perceived by our bosses," Lively told Vanity Fair in 2017 of the reason they kept their relationship hush-hush. "[But then] we were like, 'Oh no, that's exactly what they want.' They wanted us all to date. They wanted us all to wear the same clothes that we're wearing on the show. They wanted that, because then it fed their whole narrative. People could buy into this world."
Penn Badgley and Blake Lively kept their relationship mostly private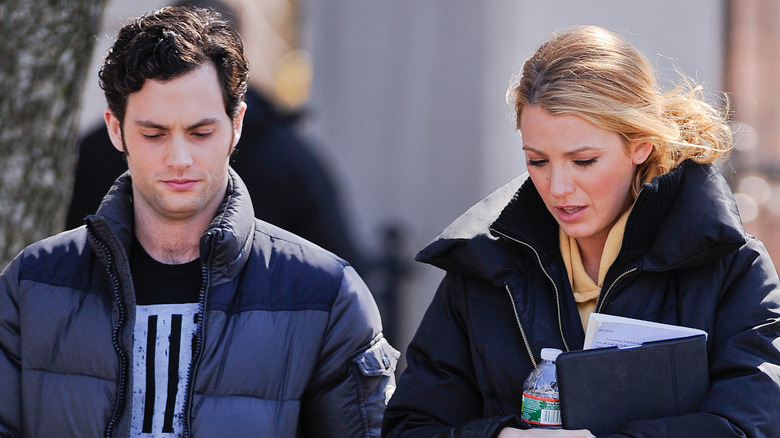 Ray Tamarra/Getty Images
While it eventually came out that Blake Lively and Penn Badgley were young Hollywood's hottest new item, the pair kept a relatively low profile as a couple. The co-stars eventually called it quits in 2010. Co-producer and writer Joshua Safran told Vanity Fair during their "Gossip Girl" 10-year anniversary interview, "The shocking thing was, I found out on the set of the Season 2 finale that Blake and Penn had broken up months before." Safran also revealed, "They kept the breakup hidden from the crew, which you could never do now. I don't even know how they did it. They kept it from everybody which is a testament to how good they are as actors. Because they did not want their personal drama to relate to the show."
Although the couple had gone their separate ways in real life, both Badgley and Lively continued to remain professional throughout the course of filming the iconic series. During an appearance on "Watch What Happens Live with Andy Cohen," the "You" star revealed to the Bravo patriarch what working with Lively was like before and after their split. When asked what his best on-screen kiss was at the time, he said, "I'd say best ... I'll say it was [Blake Lively], because we actually had a relationship at the time." He added that his worst kiss was "maybe Blake after we broke up" (via People).
Are Penn Badgley and Blake Lively still friends?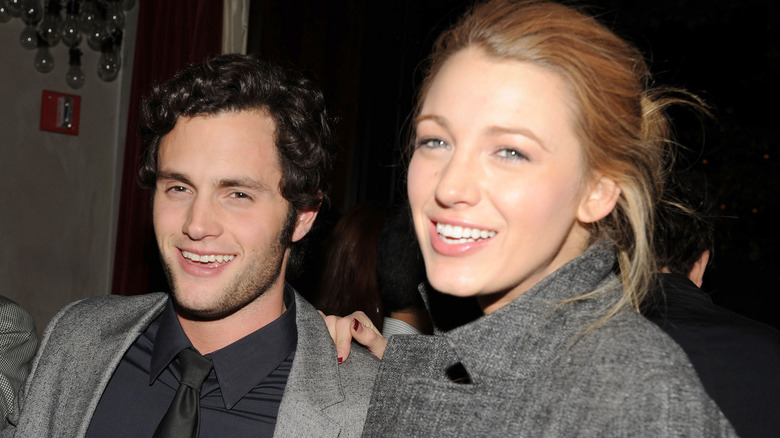 Bryan Bedder/Getty Images
It's been over a decade since Penn Badgley and Blake Lively parted ways, and many "Gossip Girl" fans may be wondering if the former couple has any relationship whatsoever now. "We haven't spoken in a while," Badgley told HuffPost Live's Alyona Minkovski in 2015. "But, you know, there's an amicable silence, if that makes any sense."
In an interview with Elle two years prior, the "John Tucker Must Die" alum also revealed what it was like working with his ex after she wed her husband of almost a decade, Ryan Reynolds, as well as what their relationship ultimately taught him. "I don't know if I can distill it into a sentence, or even articulate it," he told the outlet, reflecting on the former couple's time working together post-split. "We were very much caught up in the show, which itself was a six-year endurance test. Our relationship was a part of that and helped us through it. I mean, like anything valuable, it was good and it was bad and it was a learning experience."