Does Mike Pence Plan To Run Against Donald Trump In The Primaries?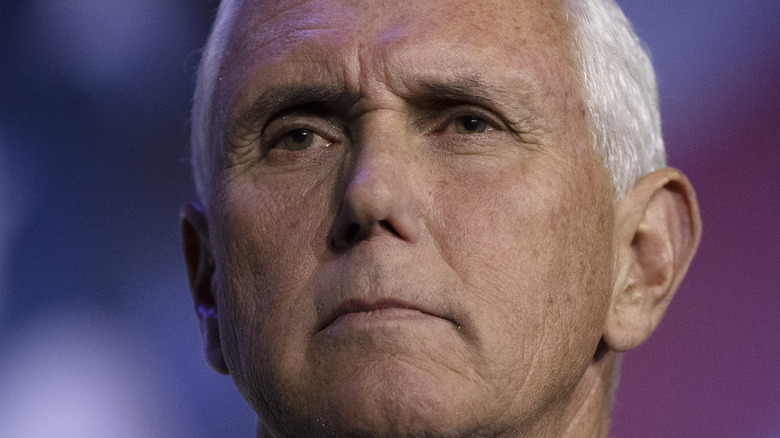 Bloomberg/Getty Images
Donald Trump's loss in the 2020 presidential election was a historic one, but the former president appears to be gearing up for an encore run in 2024. Because his candidacy in the Republican party's primary seems all but confirmed, people are already speculation how Trump will react if he doesn't win the nomination for his party in 2024, and some high profile names are already guessing how he'll fare, too. Hillary Clinton is making predictions about Trump in 2024, and his daughter-in-law's thoughts on Trump's 2024 presidential run are interesting, too.
What's even more interesting is that, so far, everyone speaking out has an established relationship with the former president. Now, however, matters might be getting even more interesting. Mike Pence, the Indiana representative-turned-vice president of the United States, may throw his hat in the ring in 2024, competing for the highest office in the land against his former running mate.
According to the House of Representatives' history archives, Pence has served in Washington, D.C. since 2001, when he was first elected to be one of Indiana's representatives. He served in the House until 2013, and in 2016 he ascended to the title of vice president, though he and Trump failed to secure a second term in the White House. Could he be itching to get back by himself?
January 6 has largely impacted Pence's future in politics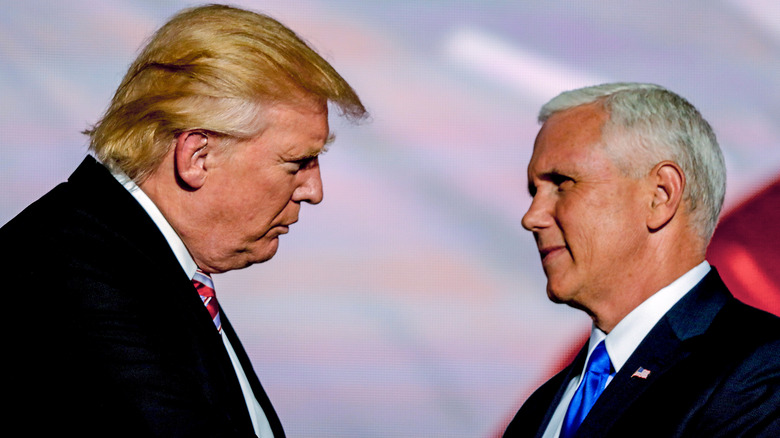 mark reinstein/Shutterstock
A Mike Pence platform for president isn't hard to speculate. His sole term as vice president ended with the January 6, 2021 riot at the Capitol building, where rioters chanted for Pence's head. Now, he may want to ascend to the highest office in the country to prove that he still has followers and to distance himself from his former comrade, Donald Trump. According to Vanity Fair, the former vice president is using his new, larger platform to take on massive book deals, big speeches, and more. He's spreading his words across the country — and perhaps the world — not taking time to rest. He's building himself up for something.
While Pence's potential run has been speculation, new details appear to confirm its legitimacy. According to Voz Wire, Pence's former press secretary, Alyssa Farah, said that Pence is "ashamed" of Trump and that he'll likely run against him in 2024. She said Pence is "very deferential to both the chain of command and the institution of the presidency," indicating that Trump doesn't care as much as Pence.
She further explained that January 6 remains pivotal for Pence, saying, "I think you're going to see a bit more distancing as time goes on. There are aspects of the record they did together that I know Pence is proud of, but I know he is ashamed of that day, he is ashamed of how the former president conducted himself."
So, would you want to see Pence take on his former ally in the primaries?