Twitter Can't Believe Meghan Markle Pulled Off This Move In Heels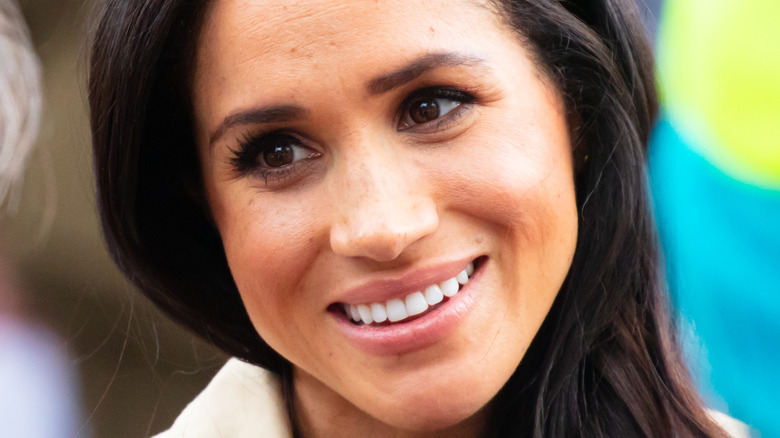 FiledIMAGE/Shutterstock
In case you're not completely up to date, Meghan Duchess of Sussex was just chatting it up with Ellen and giving us all a glimpse into her early dates with Harry. Did you know, for example, that Harry, Eugenie, and Jack all visited Meghan in Toronto? Those were, of course, the duchess's "Suits" days. While they were at it, the four of them snuck out to a Halloween Party. You can watch the clip via Ellen's Twitter for more info.
During another part of her interview with Ellen, Meghan went out to the studio premises and, erm, pretended to do some shopping. You guessed it. Ellen controlled every move and word that came out of the royal's mouth with a hidden mic. This clip is also available via Twitter. And yes, ma'am, you'd be right to think that this isn't something you'd have seen Markle doing as a working royal. While trying on cat ears, scratching her nose, and bursting spontaneously into song, the Duchess of Sussex also managed to sample vinegar-based hot sauces and cookies. The whole episode is, frankly, nothing short of recommendable. Twitter, however, is worked up about a particular feat that the Duchess of Sussex somehow achieved in high heels.
Meghan Markle can squat in heels
Have to see it to believe it? Watch the Twitter clip. Ellen asked Meghan Markle to "do a squat if you can hear me." Markle ... well, she did exactly that ... in a pair of very high black heels. Twitter's calling Markle's acrobatics a "That Megan Thee Stallion squat" (via Twitter), which is probably as high a praise as the platform has come up with. "The ease with which my girl pulled of the squat in heels," tweeted an impressed Meghan Markle fan. "Weuw!! You can tell she is a yogi par excellence." Another celebrated, "We have our goofy and fun Meghan back ... that squat in heels was sublime" (via Twitter).
No arguments there. In hindsight, however, the feat wasn't that impressive for The Duchess of Sussex. The last time Meghan Markle did a squat in public she garnered Daily Mail's attention for doing it while she was eight months pregnant — and in nothing other than heels.