How To Do The Beautiful Pressed Flower Manicure At Home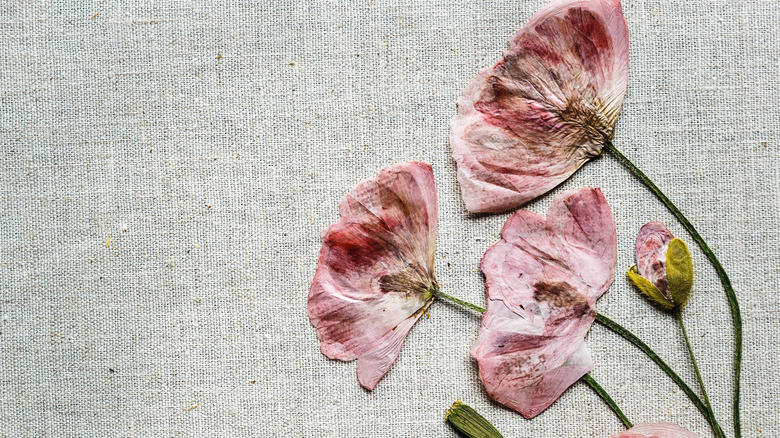 Nadezhda Kulikova/Shutterstock
One of the easiest ways to lose track of time is to end up falling down a rabbit hole of nail art videos. Whether scrolling through Pinterest or TikTok, it's fascinating to watch people manage to intricately and flawlessly achieve stunning nail looks with such precision. Much like recipe tutorial videos, you find yourself watching in awe while silently accepting that you'd never actually be able to replicate this. Well, enter nail influencers.
That's right, just as there are makeup gurus, the nail art world has its own community of influencers. Some, like Betina Goldstein, are even successful enough to paint the nails of stars like Billie Eilish and launch their own finger jewelry brand (via The Zoe Report). Just like a makeup tutorial, these nail influencers drop step-by-step tutorials that make the most complex of nail arts seem totally achievable. Thanks to a certain nail YouTuber, you can now easily take on the beautiful pressed flower manicure that's all over Pinterest and even Blake Lively's nails ...
Blake Lively's professionally done pressed flower manicure can easily be DIY-ed
While some nail art trends require an entire extended manicure kit and a professional's trained hands to achieve — some often look a lot more complex than they actually are. Who doesn't love having salon-level nails without breaking the bank? In August, Blake Lively shared close-ups of her stunning new manicure (as seen above) that featured dried flowers pressed onto her nails by celebrity nail artist @Enamelle (via Instagram).
Pressed flowers had already been a viral trend, featured on everything from phone cases to notebooks — and eventually nails, with nail artists everywhere showcasing their unique take on the trend. If Lively's post left you desperately needing to try it, here's how to achieve it in a few simple steps.
YouTuber Taylor R shared a simple way to achieve the trend all the way back in 2017. All you need is your favorite nail polish, a top coat, and some tiny dried flowers. Taylor begins by applying two coats of nude pink polish and allowing it to dry. She then selects the dried flowers that fit the theme she's going for and cuts off the stems. Then all you have to do is apply your topcoat as usual, and while it's still sticky, carefully place your flowers on with tweezers. Seal it all in place with a final topcoat — and you're done!