Did Kim Kardashian And Pete Davidson Really Make Their Relationship Official?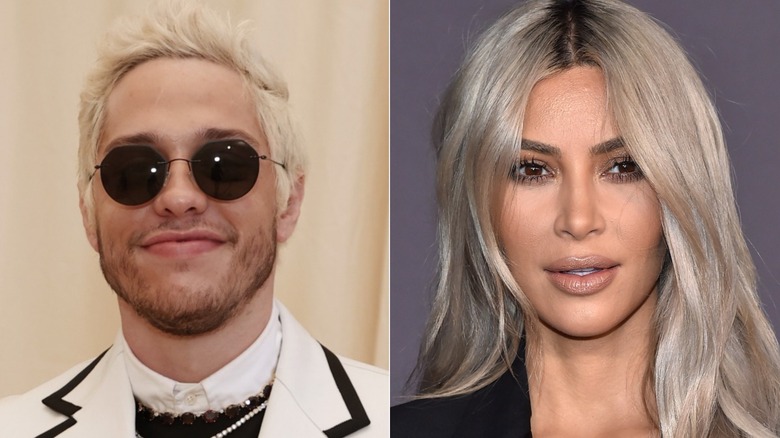 Arturo Holmes/mg21/Getty & DFree/Shutterstock
In what might be the fifth weirdest Kardashian Instagram official friendship of the year, a photo was posted of Kim Kardashian and Pete Davidson together on Instagram in matching SKIMS pajamas with Kris Jenner and, get this, Flavor Flav. What a time to be alive, my friends.
While there is a whole lot to examine in the photo, people seem to think that this image proves that Davidson and Kardashian are in a relationship (via Page Six). Honestly, the fact that no one is shocked by the appearance of Flavor Flav is a bit confusing, but the people want what they want. 
The image that is breaking the Internet was actually posted by Flavor Flav with the caption that says in part, "Celebrating my adopted son Pete Davidson's birthday wit the legendz [Kim Kardashian] and [Kris Jenner]." While that is no indication at all that the two celebrities are dating, it's also not not saying that. After all, friends don't just sit around together and pose in SKIMS.
Kim and Pete's matching SKIMS have people talking
Move over Meghan Fox and Kourtney Kardashian, because you've got some competition as SKIMS models (via Cosmopolitan). It seems the newest models for the brand are Kim Kardashian and Pete Davidson. Whether done on purpose or they just happened to show up matching, the two sported the latest SKIMS collection in Flavor Flav's Instagram photo. As Elle notes, the rumored couple spent Davidson's birthday together along with wearing matching outfits, so it could either be a close friendship or a bit more. The publication also indicates that Kardashian and Davidson are, in fact, reportedly dating. 
It's not just the matching outfits that have people turning heads, though. As People reported, Kardashian and Davidson were seen holding hands on a Knott's Scary Farm ride back in October. The photo, which looks pretty darn similar to the one that surfaced in 2018 when Ariana Grande and Davidson announced their engagement, came right after the couple kissed on "Saturday Night Live" during a sketch (via Page Six). 
While only time will tell whether these two are dating or not, it's nice to see that both of them are happy and living their best life.