The Truth Behind Da Brat's Calf Tattoo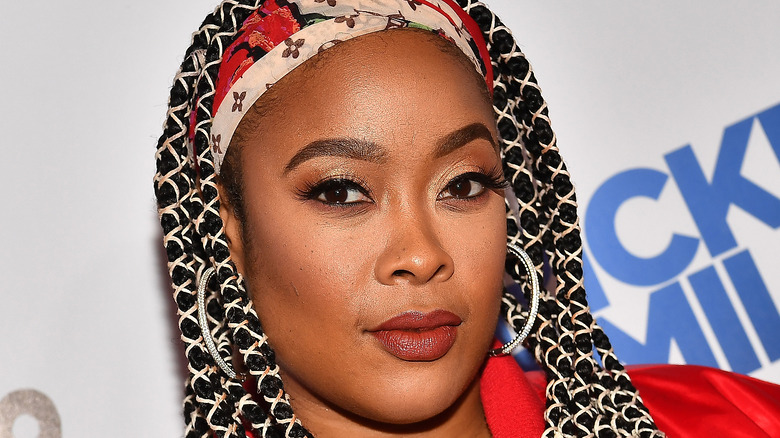 Paras Griffin/Getty Images
Living legend Da Brat has made a lucrative career out of speaking her mind and telling anybody who doesn't like what she has to say where they can go. However, there was one thing about her life that Da Brat was reluctant to share. 
The Grammy-nominated rapper went public about her bisexuality in 2020, revealing long-time girlfriend Jesseca "Judy" Dupart to the world in the process. During an interview on Kandi Burruss' "Speak On It," Da Brat admitted she was worried about disappointing her family by coming out. 
"I was nervous but I was like, 'F*** it. I'm happy, I don't care,'" the rapper revealed, per Vibe. "I'm in love with this woman, she completes me, she makes me feel like I've never felt before." Thankfully, the reaction to her coming out was overwhelmingly positive. 
Da Brat also notably served time in prison, and she regaled Burruss with stories about how impressed other prisoners were with her fame — even getting a special visit from BFF Mariah Carey. The "Dish Nation" host began writing her memoir behind bars, but, because a friend who's serving life was helping her do it, she's been unable to get the pages just yet. 
"I would love to like do a movie or docuseries, so people could see what the f*** I been through," Da Brat explained. She definitely has some stories to tell, including about her eye-catching calf tattoo.
Da Brat honored a superstar with her tattoo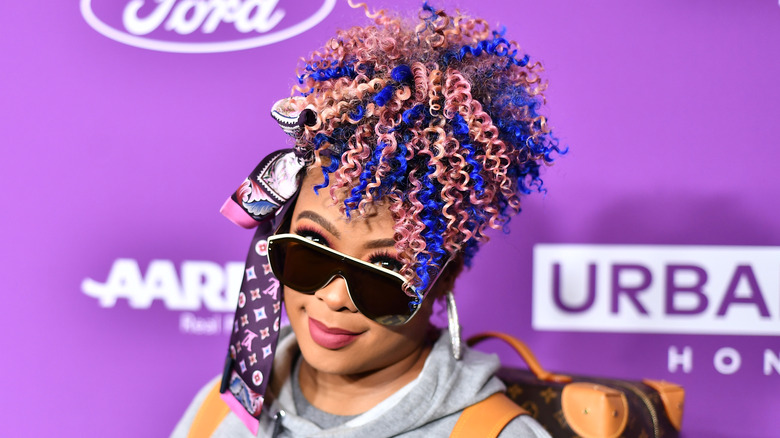 Paras Griffin/Getty Images
In an interview with Us Weekly, legendary rapper Da Brat revealed that she has another music icon tattooed on her calf: Michael Jackson. Da Brat explained succinctly, "His music is what gets me through." 
According to Rap-Up, she got the ink, which shows the King of Pop in one of his signature power stances, back in 2011. None other than Jermaine Dupri shared a photo of the tattoo, enthusing, "BRAT JUST GOT THIS, SHE MAKING ME WANNA GO." Da Brat herself also shared a (somewhat blurry) pic to Twitter, writing alongside it, "Michael Jackson is ALIVE! On ME!!" 
As Starcasm notes, the rapper explained the choice in a series of responses to curious fans. "I love him," she said. "He has been my inspiration since I was a kid. I had all da jackets, did the dances, had the glove, and got a curl!" Da Brat also acknowledged that Jackson passed away while she was behind bars, which made the tattoo extra special.
Da Brat isn't the only one with an MJ tattoo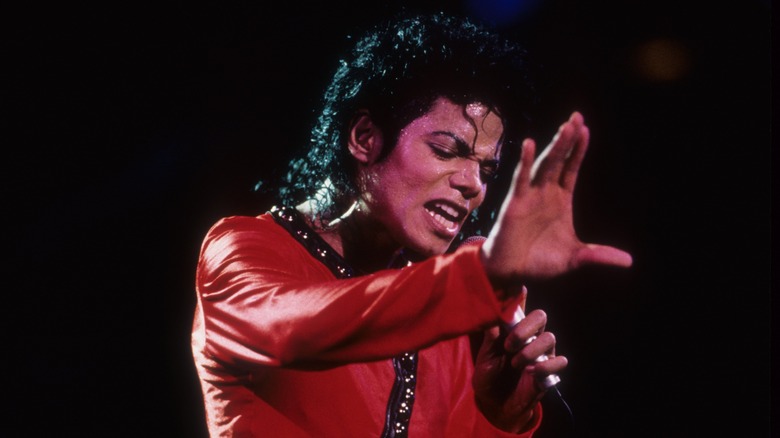 Michael Ochs Archives/Getty Images
Unsurprisingly, given Michael Jackson's prolific and widely celebrated career, Da Brat isn't the only celebrity who has the King of Pop tattooed on her body. Evan Ross, husband of Ashlee Simpson, brother of "Black-ish" star Tracee Ellis Ross, and son of superstar Diana Ross, also has an image of Jackson inked on his bicep. As a shot on Instagram shows, Jackson is striking much the same pose as he is on Da Brat's calf, funnily enough. 
Likewise, as Elite Daily notes, Jackson's daughter, Paris, has several tributes to him inked on her body, including the "Dangerous" album cover memorialized via the singer's eyes, which are on Paris' left forearm. 
Jackson tattoos are hugely popular with normal folk, too, per Inked. However, disturbing allegations of child abuse against the singer (via NPR), which gained traction following his death, might have certain owners questioning their choices.