One Of Meghan Markle's Favorite Charities Is Having Big Problems. Here's What We Know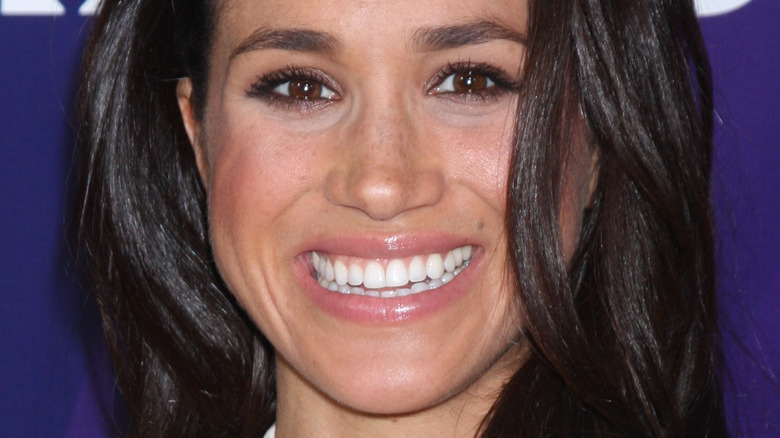 Kathy Hutchins/Shutterstock
It's no secret that Meghan Markle is a charitable person. Along with her husband, Prince Harry, they matched a public donation of $130,000 to CAMFED, an African girls' education charity, in September 2020, per Global Citizen. It's not the only large amount they've given, either. But this time, one of Meghan's favorite charities is getting some publicity that isn't so shiny.
According to the Daily Mail, the Mayhew Foundation, which runs animal kennels in northwest London, is in hot water. We're talking strikes, whistleblowers, and some pretty hefty allegations. Of course, Meghan has nothing to do with how the charity is run, having only given money to fund some of the charity's operations. 
Meghan gave Mayhew a glowing review in June, saying the charity helped "foster the healing connection between animal and human" (via the Daily Mail). While that could still be true, some Mayhew employees have lodged some pretty serious allegations against the charity's management. 
There are allegations of bullying and racism at Mayhew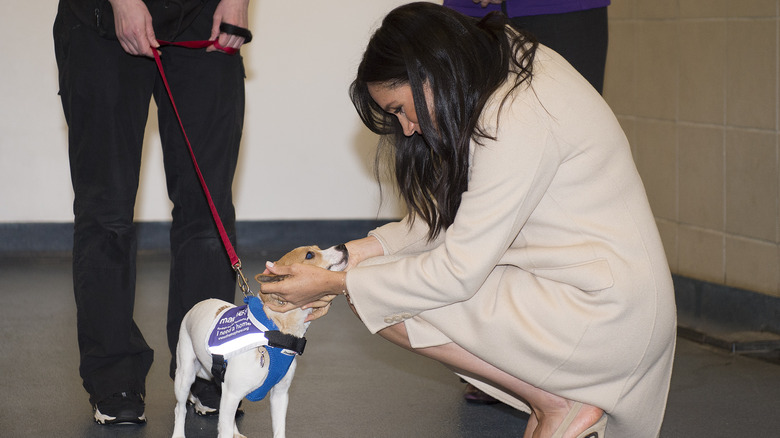 Wpa Pool/Getty Images
Let's get down to it, shall we? According to the Daily Mail, there have been allegations of bullying and racism against employees at Mayhew, a charity previously praised by Meghan Markle. The publication reports that a whistleblower employee says that nicknames are used by upper-level employees, describing lower-level employees using slurs. The name-calling was allegedly so bad that a volunteer of seven years told the Daily Mail that some employees had left the organization entirely. 
"This person was racist, sexist, homophobic. I reported it but nothing was done," one whistleblower told the Daily Mail of an unnamed upper-level employee.
Mayhew employees are reportedly upset about the cut in staff as well. The Daily Mail says that the staff members have been cut from 58 to 49 employees, while the "head of engagement" from the company still makes £80,000 ($90,280) per year. 
Meghan Markle's last contribution to Mayhew came in May 2020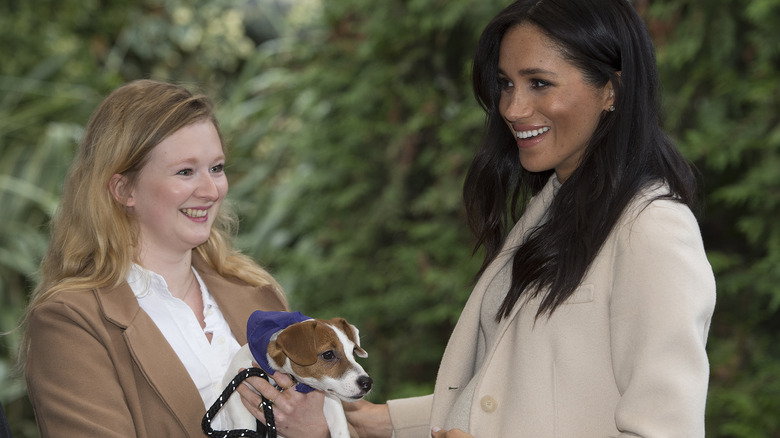 Wpa Pool/Getty Images
Meghan Markle has no connection to how the Mayhew charity is run, with her involvement going only as far as monetary donations. At the time of publication, she has not made any statement or remark about the charity. According to Newsweek, the last time Meghan worked with Mayhew was in May 2020 during the pandemic. "We receive no government support or anything so we rely completely on public donations, which are for the most part gathered from fundraising events," Mayhew's media officer Sarah Hastelow told Newsweek at the time. "It's been a steady decline of operations and funds. We are trying to be as adaptive and reactive as possible."
That wasn't the first time that Meghan helped the charity, though. According to Harper's Bazaar, Meghan visited Mayhew as one of her last official trips as a royal. 
At the time of publication, there is no statement from Meghan or the charity regarding the allegations outlined by the Daily Mail.