You Star Love Quinn Has The Coolest Layered Necklace Hack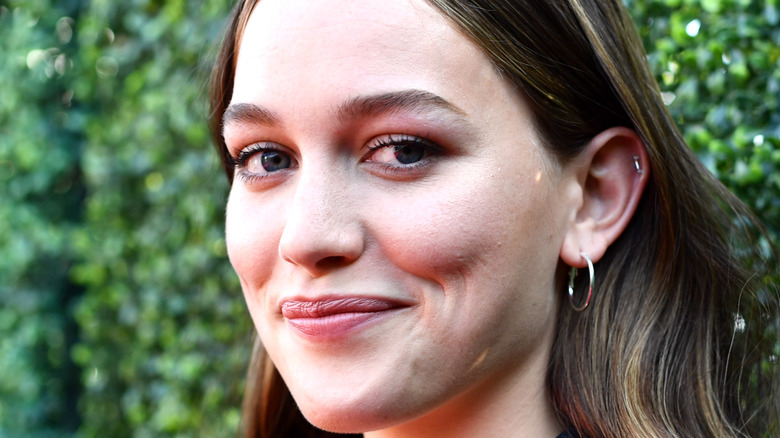 Emma Mcintyre/Getty Images
Ah, Love Quinn. She's the character from Netflix's "You" that people love to hate, but no one can deny that the woman's got style. In-between discarding dead bodies and trying her best to manage her rage, it turns out that the on-screen character also has a knack for styling. As OK! Magazine found, Love Quinn, played by Victoria Pedretti, also has the coolest hack for layering necklaces. This little accessory is a must-have for keeping your necklaces in place all day, whether you're busy starting your own bakery or just running to and from the office. 
The layered necklace look is one of the most fun styles to try out. It also turns out that it's one of the easiest to mess up — literally. While you can wear as many necklaces in as many different styles as you'd like, the jewelry items can easily tangle as you're wearing them. In comes Love Quinn's jewelry hack — Necklet. The tiny little clip was designed to clip onto necklaces to hold them in place while you do, well, whatever you'd like to do.
Necklet holds your necklaces in place so they don't get tangled
Let's just be honest, there is nothing worse than tangled necklaces. It can take hours to untangle necklaces, especially if they're dainty. In the worst cases of entanglement, sometimes, the chains break and you're forced to stock up on new accessories. Say goodbye to those day with Necklet. The accessory, as OK! Magazine reports, was created to make layering super easy, and it definitely delivers.
The item is a tiny little stainless steel accessory that attaches to all the necklaces that you want to layer. Then you clip them on your neck with Necklet, like you would a regular necklace. Necklet makes sure your necklaces stay in place all day. You know, in case you need to get it on with your husband or lug around dead bodies like Love Quinn does in "You." Kidding, kind of. 
The Necklet isn't just for dainty necklaces, either. Any necklace that has a clasp on the end can be attached to this accessory to help you layer. Who knew that your jewelry needed jewelry.
Victoria Pedretti layers two necklaces from Necklet as well
In the Netflix show "You," character Love Quinn uses Necklet to style two dainty golden chains, according to OK! Magazine, but there are tons of different ways to style with the styling helper. The brand created a Double-Layering Clasp and a Triple-Layering Clasp so you can achieve any layered look you'd like. The double clasp accessory is $32, while adding an addition necklace clasp is $42. That's a small price to pay for nailing your look.
If gold isn't your color, you'll be happy to know that the brand also offers rose gold and white gold options as well. It turns out that the Necklet wasn't the only accessory that Victoria Pedretti wore from the brand, either. The exact necklaces that Pedretti wears on-screen are the Positano 17.5 chain and the Bali 15.5 chain.
While we don't recommend you channeling all of Love Quinn's energy, we definitely stand by the need to recreate her exact fashion looks.