Megan Fox's $12 Secret Skincare Product That Beats Luxury Products
Mike Coppola/Getty Images
Throughout her career, Megan Fox has always had bouts of viral fame. Some may remember the star as far back as her role in "Confessions of a Teenage Drama Queen," while most remember her iconic performance in "Jennifer's Body." And, of course, Fox starred in the "Transformers" franchise, too.
Since the start of her relationship with Machine Gun Kelly in early 2020, Fox has re-entered the scene with yet another phase where she's all anyone can talk about, per Cosmopolitan UK. The couple was so obsessed-over that they became a popular Halloween costume, per Nylon.
Fox has always garnered attention due to her stunning beauty. From her style to her hair to her makeup, Fox is just one of those stars everyone finds themselves trying to emulate. So, naturally, when she chose to drop her go-to favorite skincare product — and it just so happened to be super affordable — fans were on it instantly.
Megan Fox swears by all-natural grapeseed oil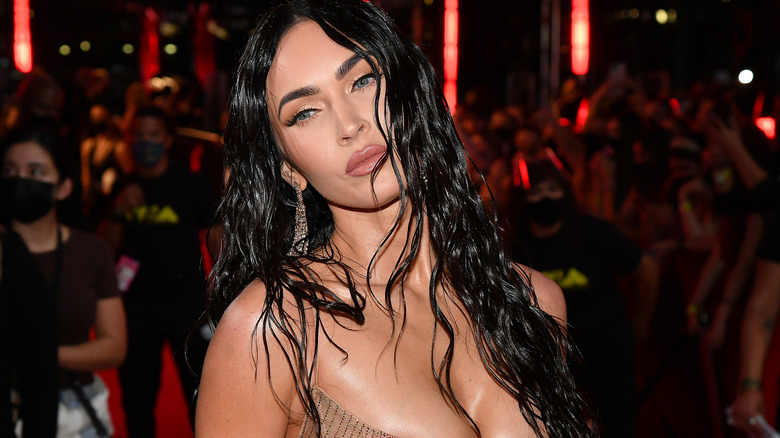 Jeff Kravitz/mtv Vmas 2021/Getty Images
For years, people have watched stars drop their beauty routines and taken notes. Unfortunately, as they're substantially richer than the average person, this often ends in having a $500 moisturizer on your new wish list. That's why it's so refreshing when a celebrity like Megan Fox lets us all in on her skincare secret — and it's one we can easily afford.
Fox shared her holy grail skincare product with Marie Claire UK (via HuffPost), and it only costs $12 at Whole Foods. When asked about her skincare routine, the star dished, "I have to wash my face every 12 hours and then moisturize," she said. "I only take showers as I don't like sitting in bathwater. After my shower, I moisturize with grapeseed oil from Whole Foods. It's a great moisturizer and lighter than olive oil."
Grapeseed oil is a popular skincare ingredient that can be found in many products, while Fox prefers it in its purest form. She isn't the first celebrity to give the powerhouse ingredient a shoutout, model Ebonee Davis once shared in a Vogue "Beauty Secrets" video that she loves using it to remove her makeup.
According to Healthline, grapeseed oil has many skincare benefits. While it is anti-inflammatory, it also contains tons of vitamin E, which works to leave your skin feeling softer and more elastic over time. Fox definitely knows what she's doing!