Outrageous Outfits Worn By Celine Dion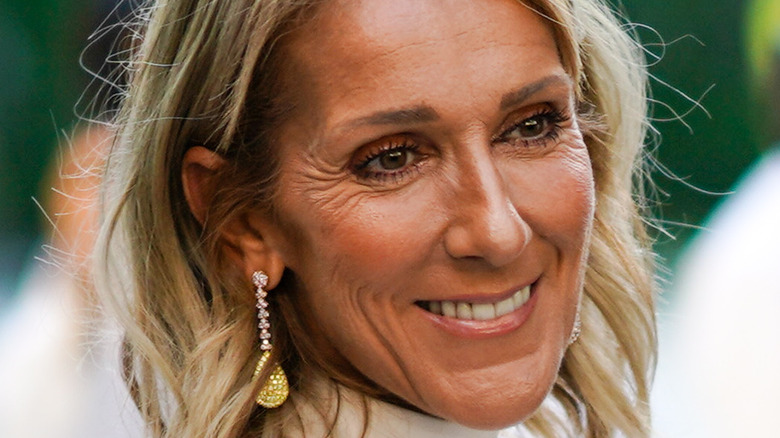 Edward Berthelot/Getty Images
Undoubtedly one of the best female vocalists of our time, Céline Dion is known for her intense vocal range and incredible music career. According to Billboard, Dion, one of the top selling recording artists of all-time, has lent her voice to multiple motion picture soundtracks (we all know "Titanic" wouldn't have been the same without her iconic tune "My Heart Will Go On"), and she has inspired the trend of establishing concert residencies in Las Vegas.
Over her 40-year-long career, Dion has also been known as a "fashion icon," with outfits known to range from risqué to outrageous (per The Guardian). Fortunately, this Canadian pop star has never seemed to be bothered by people's judgments of her taste in clothes. In fact, she keeps everything she wears as part of her huge personal clothing collection. In 2017, Dion told "Women's Wear Daily" (per Hello!) she had 10,000 pairs of shoes and that she continues to grow her clothing collection to such an extent she's had to rent out larger and larger storage spaces throughout the years. She explained her self-diagnosed "hoarding," saying, "I cannot give anything away because every piece that I buy has brought me to where I am." Stay tuned for some of Céline Dion's most outrageous outfits.
Céline Dion's backward tux was ahead of its time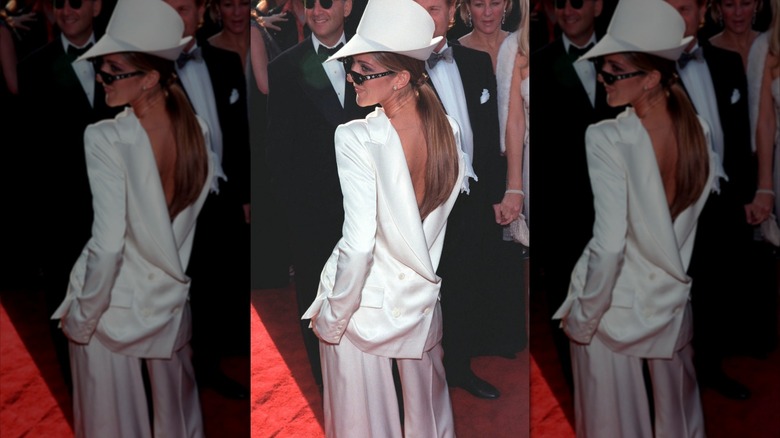 Featureflash Photo Agency/Shutterstock
One of the most "out there" looks that helped Céline Dion earn her reputation for her "quirky" style was her fully white tuxedo she wore (backwards even!) at the Oscars in 1999. The look was accompanied by a solid white hat best described as part cowboy hat, part fedora.
John Galliano designed the not-so-well-received ensemble. However, in 2017, Dion told People she doesn't have any "regrets about the bold look" that launched her reputation for wearing "odd" outfits. She speculated that the look may have been "a little too avant-garde at the time" and commented that it may have worked better today than it did then.
Considering how far the fashion world has come in terms of quirkiness and gender roles since, her comments seemed to display a keen understanding of the fashion industry that was ahead of its time. But, sometimes, wearing an "out there" outfit is just what you need to keep people talking, and this ensemble definitely did the trick, considering the media is still talking about it all these years later.
She wasn't afraid to show some skin at the 2003 Billboard Music Awards
Featureflash Photo Agency/Shutterstock
Céline Dion took a temporary break from show business in 2000 to "spend more time with her husband" who was ill and to "try to become pregnant," according to her spokeswoman at the time (per CNN). Despite her respite, a mere two years after giving birth to her first child, René-Charles Angélil, in 2001, this fashion icon exuded confidence, grace, and genuine happiness to be back in front of the camera in one of her sexiest and quirkiest outfits yet.
Dion entered the 2003 Billboard Music Awards wearing a cream-colored dress that was completely open on the sides, seemingly tied around her lower hips and chest in sparkly belt-like ribbons. The floor-length dress also featured a slit down the middle that extended past her knees. According to Billboard, this was one of the "most memorable moments" of the 2003 award show. The singer completed the look with a pair of silver strappy heels, simple dangly diamond earrings, and her bleach-blond, grown-out, pixie-cut hair lightly curled.
The singer made a statement at the Met with a headpiece and high slit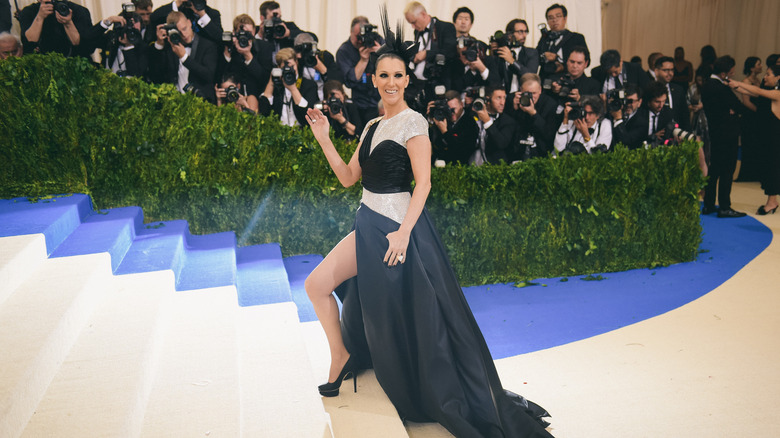 J. Kempin/Getty Images
Céline Dion attended her first Met Gala in 2017 wearing a Versace dress designed for her that looked part bejeweled t-shirt, part black gown that had been disassembled and buckled back onto the shirt with gold buckles (an interesting concept that totally worked). The dress included a high slit typical of some of the more elaborate dresses donned by Dion — and who can blame her? Most of us would be inclined to show off those legs, too.
A pair of black heels completed the look, along with pearl earrings and a black headpiece that appeared as if an artist had specifically drawn it on her head. The headpiece evoked images of an elegant black crow, reminding us there will "nevermore" be someone who can so effortlessly pull off such a peculiar look. Dion told E! (via Vanity Fair) she requested this particular dress to have something every modern-day woman can get behind: a pocket to hold the essentials such as her invitation, identification, and a tissue.
Céline Dion's white dress was sleek apart from its headline-making sleeves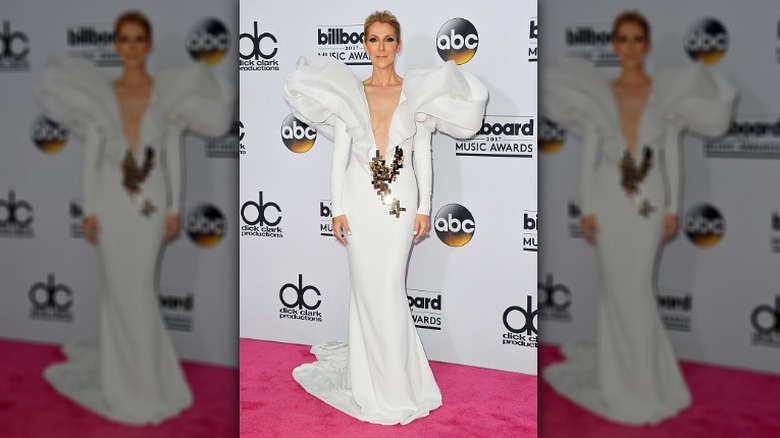 Kathy Hutchins/Shutterstock
To celebrate the 20th anniversary of her infamous song "My Heart Will Go On," Céline Dion performed the classic song at the 2017 Billboard Music Awards wearing a celestial, white, floor-length gown with long sleeves and neckline plunging down so far as to barely conceal her belly button, leading into a gold-plated mosaic design. The elegant dress included shoulder pads so intense they were compared to angel wings, clouds, and even the iceberg that took down the Titanic in 1912 (very on-theme for the anniversary of the song that captured the movie).
The dress was designed by Stephane Rolland Haute Couture whose stylist, Law Roach, kept the focus on the dress by accessorizing it with nothing but a simple ring and updo. It's possible that, as of 2016, Roach may deserve some of the credit for Dion's daring and fun style. Here's to hoping this inspiring performer will continue to include other Titanic-inspired attire in her wardrobe.
The singer stunned in all white in 2017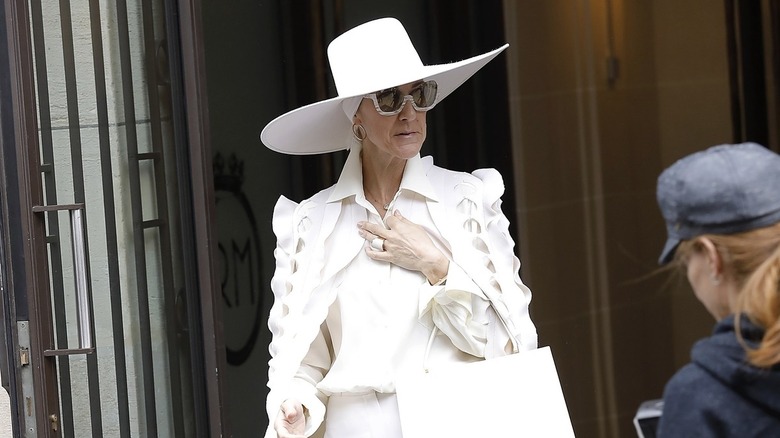 BACKGRID
In 2017, Céline Dion was spotted leaving a Parisian hotel wearing full-length white dress pants, a white long-sleeved blouse, white sunglasses, and a wide-brimmed, cowboy-esque, all-white sun hat, while carrying a solid white handbag, according to Refinery29, which cleverly noted in the caption how Dion didn't "car[e] at all about potential stains." Not only was this look incredibly unique, but it also included a pure white cape designed with perfectly circular holes and wavy ruffled fabric.
In all fairness, anyone of Dion's prestige deserves to wear a cape without their motives being questioned, and we all know we're loving the boldness and size of this hat. Plus, it's fun to see her rocking yet another killer all-white look as she did back in 1999 with her headline-making white tux. As if to tilt her literal and metaphoric hat to the 1999 look, she also worked in another super unique, all-white hat. Most of us might look drab going monochromatic, but Dion pulls off the look effortlessly. What can't this woman do with a single color?
Céline Dion was all legs and fringe at the 2019 Met Gala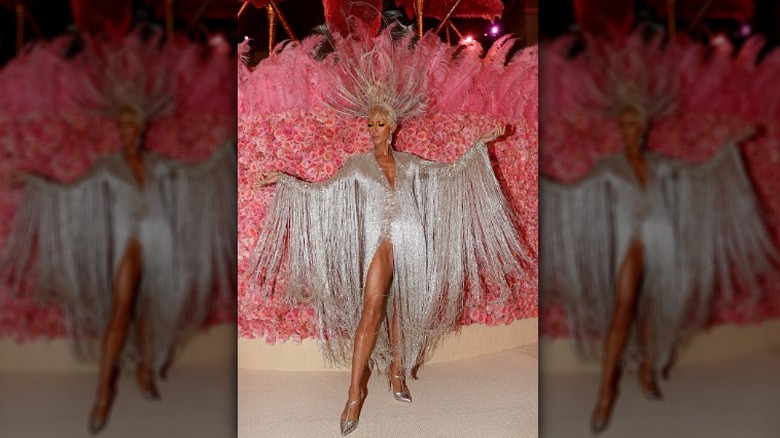 John Shearer/Getty Images
In one of her most flashy looks yet, one can only imagine Céline Dion must have floated like an elegant bird into the 2019 Met Gala in this elaborate outfit designed by Oscar de la Renta. Per The New York Times, this look included fringe constructed from 3,000 strands of micro-cut glass and bugle beads attached to a metallic bodysuit and a headpiece adorned with real peacock feathers, which were dyed and singed just right to complete the look. As for accessories, matching Alexander Wang ankle heels were all that was needed. This pop icon sure knows how to be over-the-top yet still somehow understatedly gorgeous.
As if to capture the elegance of bubbly and Dion herself, the nude-colored, long-sleeved bodysuit featuring silvery designs and high shoulders took approximately 3,000 hours to create, according to The New York Times. It's no wonder Dion has been dubbed the "queen of the fashion world" (per InStyle) and that her designer, Law Roach, has described her as fearless. Roach explained that "picking an outfit for someone like Céline who has no fear" means "the sky is really the limit." And thank goodness for that.
This Céline Dion dress was basically an optical illusion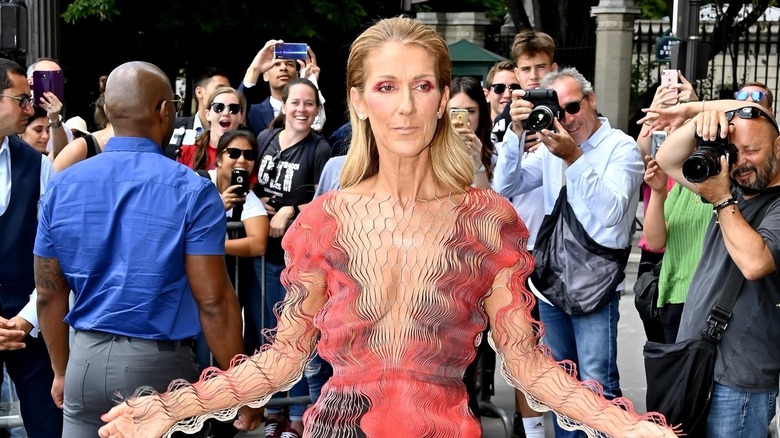 BACKGRID
Céline Dion's fashion sense has, on occasion, been known to be a bit risqué, but with one specific dress, she hit "a bit racy," "a bit odd," and "completely awesome." all at once. Dion has been known for her self-described "avant-garde" fashion sense since the late '90s when she wore the all-white backward tux. However, in 2019, when she wore this floor-length, long-sleeved dress made from strands of red and grey that gave off the illusion of wavelengths of color (per InStyle), she may have become a staple in avant-garde fashion that will stand the test of time.
Most of the dress was practically see-through (perfect for summer) and gave the impression of a plunging neckline and a cinched waist. Dion completed the look with nothing but bright red nail polish, diamond stud earrings, and a sleek 'do, because who really needs to accessorize an outfit this mesmerizing?
The star isn't afraid to be asymmetrical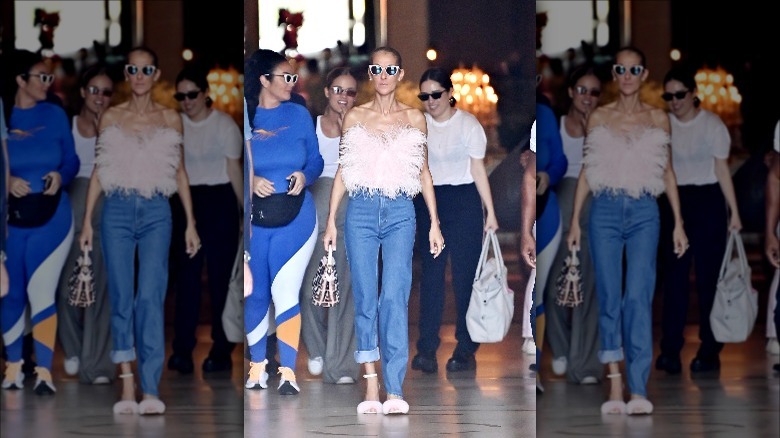 BACKGRID
Let's be honest — it's always a tad surprising to see a celebrity of this caliber wearing blue jeans. It was even more surprising to see Céline Dion not only wearing blue jeans in Paris in 2019 but to see her wearing a pair that featured one skinny leg and one flared leg. Then the pop star even went so far as to roll up only one pant leg. The look was completed with a fluffy light pink feathered top and complementary fluffy heels. This seems to be where Dion's fashion statements began to evolve.
Dion's jeans were designed by Ksenia Schnaider, while her stylists, Sydney Lopez and Pepe Muñoz, were responsible for the rest of the ensemble, according to Vogue. The look was complemented with minimal accessorizing of simple pearl earrings, white cat-eye sunglasses, and a black-and-white handbag, while her hair was pulled back into a tight bun. It seems accurate to say that Dion's fabulously bizarre outfits paired with classic, simple accessories works well for the Canadian icon.
Céline Dion has a thing for statement sleeves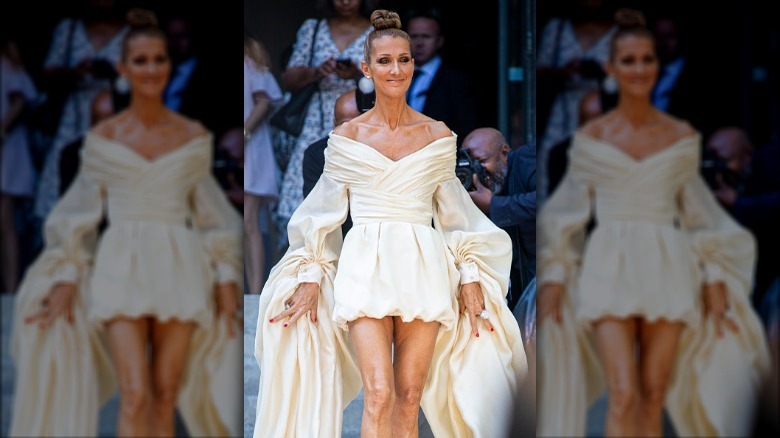 Claudio Lavenia/Getty Images
During Paris Fashion Week 2019, Céline Dion wore a dress that, upon first glance, was reminiscent of the iconic wedding dress Stephanie Seymour wore in the "November Rain" music video for Guns N' Roses. But, unlike Seymour's dress, this dress got its dramatic floor-length appeal from its floor-length sleeves. The Alexandre Vauthier-designed gown (per Insider) was accompanied by diamond stud earrings, silver sparkly rings, a simple top-of-the-head bun, bright red nail polish (on her fingers and toes), simple-yet-elegant strappy gold heels, and a simple silver anklet on her right ankle.
Dion knows one shouldn't be limited to only looking their best on the best day of their life (for many, their wedding day). She decides to be just as glamorous as a bride and just as over-the-top as she wants to be every day of her life — whether she's attending a fashion show or not.
Her bright blue jumpsuit was full of '80s nostalgia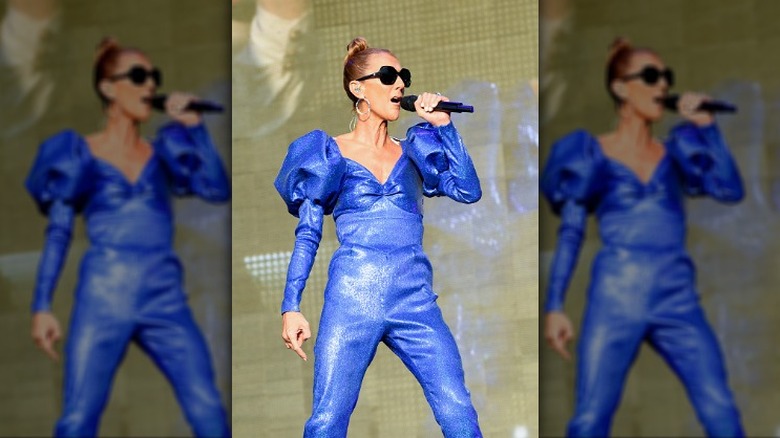 Dave J Hogan/Getty Images
It's safe to say that Céline Dion hits new heights of eccentricity as the years go by. This was further proven when Dion donned a bright blue jumpsuit with puffy shoulders in a 2019 performance at Hyde Park in London, according to Metro UK. In keeping with her showgirl style, Dion's jumpsuit was not only a brilliant shade of blue, but it also included hints of sparkle. The jumpsuit was paired with sparkling hoop earrings with tiny pearls attached and large black sunglasses (but, of course, as the spotlight can surely get awfully bright).
While Dion is no novice to being center stage — having performed in Las Vegas since 2003 where she holds the record for "highest-grossing Las Vegas residency for a musical artist" (per Billboard) — it seems she doesn't have to perform to look the part of the fantastic performer she is.
Céline Dion isn't afraid to wear bright colors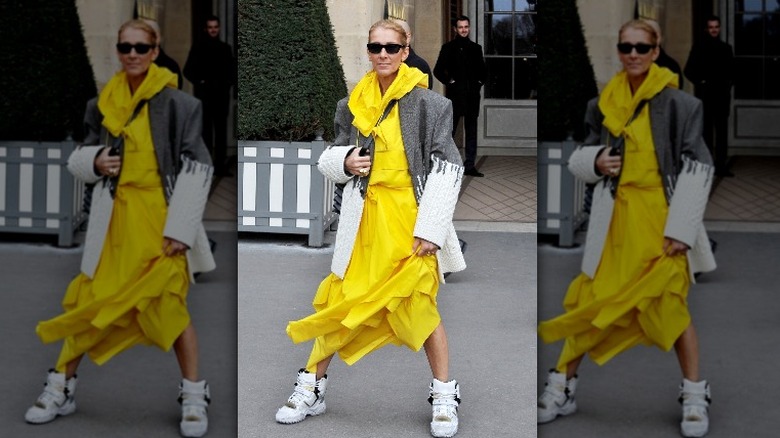 BACKGRID
In 2019, Céline Dion was spotted in Paris wearing an ensemble designed entirely by Maison Margiela that included a neon yellow dress reminding us of a bright yellow tarp. Over top, she wore a sweater that started out like a grey suit jacket at the shoulders but that "melted" into a cream-colored wool sweater at the ends along with high-top sneakers that would have made Marty McFly envious. The shoes alone were priced at $1,160, according to Insider.
Accessories for this bold look were her thick gold rings, simple gold earrings, a yellow bow, and black cat-eye sunglasses. Dion completed the look by wearing her hair tightly pulled back. This distinct shade of yellow along with the large sneakers is a difficult look to pull off together, but Dion isn't afraid of a fashion challenge (even one outside of her norm). Considering Dion typically seems to opt for tiny, elegant footwear with a heel, this look was a bit surprising, as the shoes alone made this look outside her "usual" (if you can use that word to describe anything Céline Dion does in fashion) — an admirably bold move.
Nor is she afraid to wear head-to-toe floral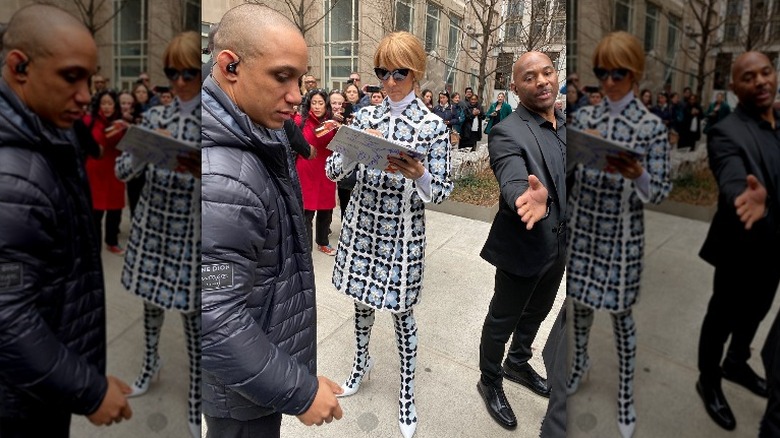 BACKGRID
In 2020, Céline Dion continued making fashion statements — although these statements have started to become a little less shiny and even more flamboyant and nostalgic. Dion is always mixing it up with different looks that range from wacky and creative to edgy and royal, but — no matter what — she's always glamorous. She was photographed walking the streets of New York City in a knee-length, '60s-style floral trench coat in shades of blue, along with perfectly-matching tights, a white turtleneck, and elegant white heels. The coat was adorned with white pearls and sparkling centers to create the flowers (per "Good Morning America"). 
A CR Fashion Book article from 2021 may explain why Dion is so interested in fashion and doesn't seem to have one specific "look." Dion explained that she's "crazy about clothes" and that clothes "help [her] to express [her]self, borrowing characters to help [her] perform." She compared clothing to being "like songs," explaining how she doesn't just "do ballads all the time" and that she also has "uptempo songs" — just as she sometimes wears outfits that are edgier, more fun, or more creative instead of always wearing a ballgown. As long as you feel alive, Céline, we're down with it.
She channeled her inner Sherlock Holmes in a spy-like outfit in 2020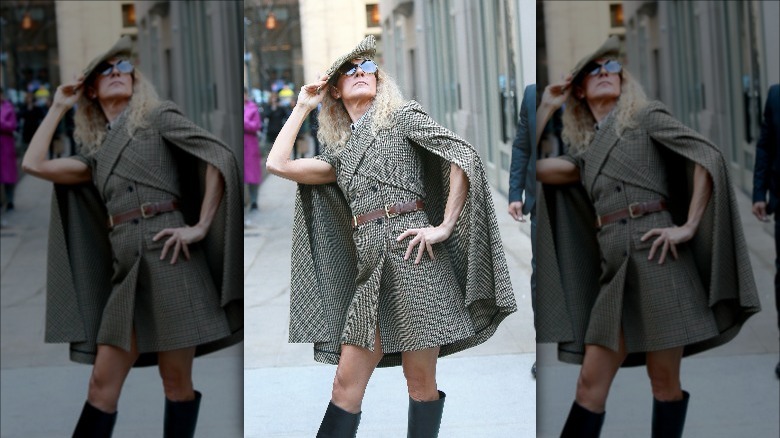 BACKGRID
In March 2020, Céline Dion was photographed strutting the streets of New York City in a piece from the Michael Kors Collection (per Red Carpet Fashion Awards). This outfit featured a medium khaki-colored, guncheck print dress with an attached cape adorned with six black buttons and a brown double-buckled belt. The talented Canadian pop star star completed the look with knee-high black boots and a tilted light khaki hat with elaborate golden feather attachment. She wore her hair down and wavy, making the hat look even better, in our opinion.
For accessories, Dion stuck with simple pearl earrings and sunglasses, although these were round and camel-colored as opposed to her usual black or white cat-eye frames. The whole look came together to make Dion look like a modern-day Nancy Drew all grown up.
In 2021, Dion postponed her scheduled shows as part of yet another Las Vegas residency because of muscle spasms. However, it seems that none of her fans doubt she'll be back just as talented, glamorous, and outrageous as before (per Hello!) — or even more so. While she recovers, we await her next outrageous, extravagant outfit.