Brock Davies Gets Real About Vanderpump Rules Drama - Exclusive Interview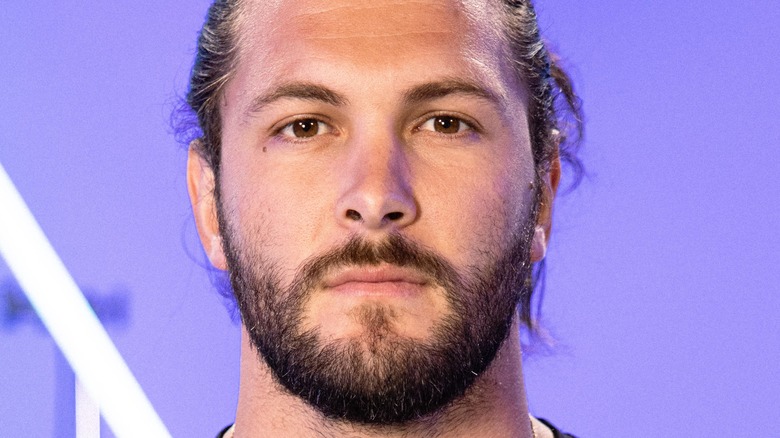 SmashBox Studios
Season 9 of "Vanderpump Rules," starring Brock Davies, was the season that almost didn't happen. In some ways, 2019 was a perfect storm of bad circumstances. Not only did the coronavirus pandemic shutter the TV industry amidst ongoing lockdowns, but the series relies on filming at Lisa Vanderpump's restaurants. When California's restaurants are closed, so is Bravo's production.
With filming indefinitely postponed, the cast was hit with another blow — largely at their own hands. First, new SURvers Max Boyens and Brett Caprioni came under fire for a string of past racially-charged tweets. Next, former SURver Faith Stowers came forward accusing Kristen Doute and Stassi Schroeder of racist bullying. All four cast members were fired, and Jax Taylor and Brittany Cartwright later decided to leave the show too. After that came the rumors that "Vanderpump Rules" was canceled — but then it wasn't.
More than 18 months after the series last filmed, Variety revealed that production on Season 9 was just about to start. Among the new cast members was Scheana Shay's fiancé, Brock Davies. For Davies, the pandemic was a blessing in disguise. He fell in love with Shay away the camera, and the pair welcomed their daughter in April. He also laid the groundwork for Homebody, the Cameo-meets-Peloton fitness app he plans to launch in January.
Though Davies is a reluctant reality star, he's at the center of one of Season 9's most epic blowouts. In this exclusive interview, Davies sounds off on his relationship, his drama with Lala Kent, and how Homebody hopes to inspire.
It was love at first party for Brock Davies and Scheana Shay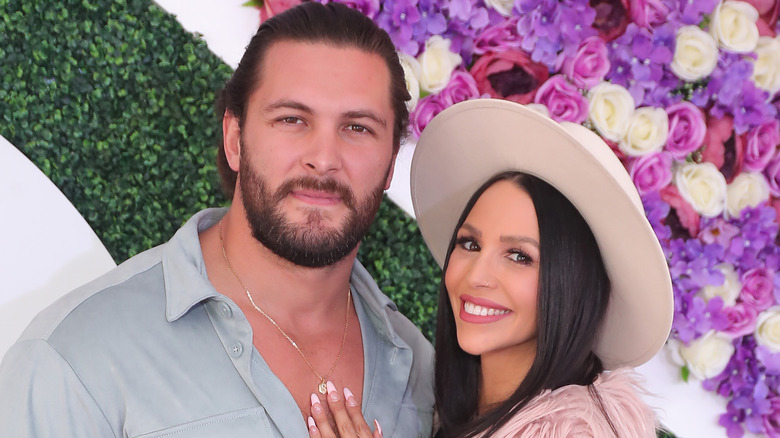 Leon Bennett/Getty Images
I have been following Scheana's story since the beginning. I love Scheana. I think she's one of my favorite ones on the show.
She has a really good heart, and that was what got me when we first started dating. She was just a good person. I haven't gone back to see much of the show because I just don't want to do that to myself. Randomly I watched an episode the other night actually, which was the wedding — Katie and Tom Schwartz's wedding. I saw it went to her and her divorce on that episode, and I went in and gave her a big hug, and I was like, "I'm sorry, honey. I love you." It annoys me to see her left out to dry, all these episodes before. I just don't watch it because I'll get upset with the whole situation. It will p**s me off.
I feel the same way watching her. I'm always rage tweeting about things that people do to her on the show because she really is kind throughout, always. I want to ask you how you first met Scheana.
We met in San Diego. It's where we are right now. We met down here at an after party at 2:30 in the morning. She went to a music festival. I didn't go, and then I was at home, and if people wanted to come over, I was having the after party. She was on the way to my house, and then as I realized, more people were coming, I was like, "Okay, we got to take this to somebody else's place."
We went to my friend's house for an after party, and I met her in the kitchen there, and we just started talking. I leveraged the accent because, when we met first met, she was, "Oh, I just went to Australia." I was like, "Perfect. I'm from New Zealand, which is next to Australia, but we'll just say I'm an Australian."
That was it. We met back in the day in San Diego and then went from there. It was pretty cool because it took all of the outside elements that — or that control — that surrounds her life. It's a lot of craziness, and then we just got to meet each other and got to know each other that way. The best part for that was the timing.
Obviously, if we were to date, then six months later start filming when we were meant to start filming, I think that would be very difficult for me to be as open as I was this season filming — because it was such a new relationship. In the COVID mix, it got pushed a year and a half, and then we got to actually have a solid relationship and build that up before filming became a thing. Before that, she was going from relationship to relationship, which was seasonal, and it takes a lot of time. It's a lot. It's definitely a lot.
Brock Davies doesn't consider himself a reality star
You did have that opportunity to be with Scheana, not the reality star. Now, you've played pro rugby and football, so you're used to some sort of level of attention and fame, but this is totally next level. What's it like suddenly becoming a reality star?
I definitely don't consider myself a reality star. That's first and foremost. In my world and in our world in San Diego, I already considered myself the man. I thought I was the mayor of San Diego, but in the non-cocky way — was just a fun way to kind of like [say] I knew a lot of people and I really enjoyed people.
So, when we started filming the show, and now they say "reality star," I don't see that because I think it's different. That's how I approached it, just filming. It was just like, look, these are real people. We've got real issues. Just be real. Don't try and say something that you say, that you don't own up to — because if you say it, you said it, bro. If you say those words, you are accountable for what you say. I think I learned that really quickly in filming because obviously, it's not scripted, but production will be like, "Hey, I heard that this was said," and it'll be like, "Oh really? Well, I'm not going to repeat that because I'm not going to say that."
Lala Kent's drama made Brock Davies a 'better person'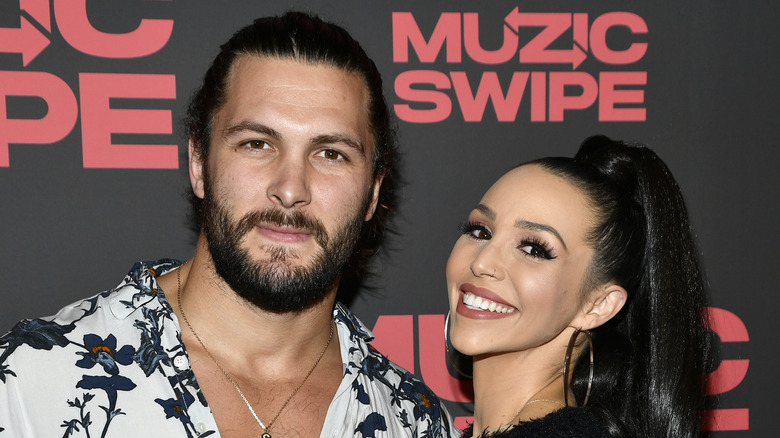 Michael Tullberg/Getty Images
It seems like you've carried that attitude throughout the whole thing, and it has led to some drama with you and Lala Kent, who is the firecracker of the show. She does hold it together with creating interesting plot points. What did you think about her criticism of Scheana? Do you think she had a right to get involved?
It was a right, and any one of Scheana's friends, anyone, has a right to be like, "Look. He has a past and this is the past." It was after that point, when I spoke to her, when we went out, I was like, "Look. I understand you. I heard your concern. I wanted to just to let you know this is an issue that I'm dealing with."
At that point, that's when you needed to be like, "Okay, look. We spoke," but then the next day to go and take what I've divulged to you, and then just throw it out there. That is when you went from respecting Scheana's wishes and looking out for her to just stirring the pot — which is fine. This is what this group does.
It makes this group deeper, which is really weird to say. Before, from an outsider coming in, I would've been — and I started like this — I was like, "I don't have time for Lala's bulls***. F*** off. I'm drinking scotch." But then, as we went through this relationship building — which has made me a better person 100% because I actually spoke about the trauma of that, of my past, and that was something I never thought was an issue until I started talking about it — I realized that my viewpoints of it were a little skewed and how I handled that situation.
I still am working to do it better, so it kind of made our relationship better ... saying it like that. But it started off, she was being a b****. Then it evolved into, "Alright, well, we're people that have pasts and we have to live through that." You guys got to see that firsthand.
Sometimes the whole situation is 'unfortunate'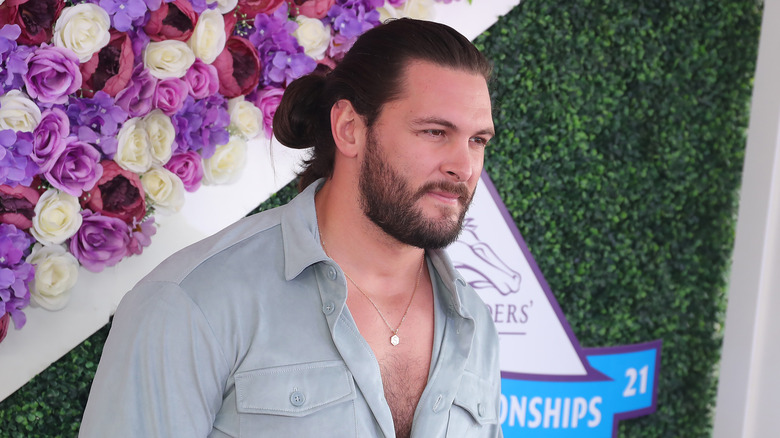 Leon Bennett/Getty Images
Do you think Tom Sandoval was right calling out Lala out for being a little hypocritical about being so persistent with the criticism of you or was it unfair? What do you think?
I think [Lala] was uneducated. It came from a point of like, "Oh my God." In her terms, she'll do anything for her child. She'll kick in a front door. ... Who knows, you know? Then the forthcoming of that relationship is look where we are now. There was so much energy put into something else when your own house is on fire.
It's definitely unfortunate, and I look forward to you guys finding out more about my past and then seeing that transpire. You guys, at once, just got dumped on your laps a whole bunch of information. A whole bunch of stuff was just thrown at everybody and was, "Oh, Brock's this" and all of ... that was because of me because I was open about it.
I said, "Yeah, I did this, this, and this," because there's no way to tiptoe around my past. It's only own it, say my truths, and then really ... Then for me, now, I'm going through the journey of really understanding what that meant and how did that affect my two kids? How does that affect our future relationships? You guys get to see that now. You guys got all of [the] information, and now over the next hopefully however long, you guys get to see that unfold.
Brock Davies was 'always' working to be better for his kids
This plays out over the next season, but have you been working on repairing your relationship with your ex-wife? Have you spoken to your kids yet?
Yeah, so we were talking before we started filming — even before filming was an idea because no one knew if production was going to get picked back up. There's some people talking about like, "Oh, you did it for the show." And I was like, "No, I've always wanted to work towards a better place in my life to be able to have access to my kids."
When I was younger, I wasn't in a good position. We weren't in a good environment for my kids. They're in a productive environment with their stepdad, and that's a responsibility I took on. I'm like, "Look, well, okay." But could I handle it differently? Potentially. But during my years of growing up, I went from moving to America, doing football, and then applying that, then transitioning to, "Well, I didn't make the NFL. How am I going to explain this? To be away from my kids for [so] long? I have nothing."
That pushed me to go into the next venture, which was owning F45 gyms. That drive pushed me to ... I was setting myself up for success, and then we had the pandemic ... It was so long ago, it was 2019, mate. It was 2019. January, February, and March we shut down. From there, we went into lockdown. It's crazy. We've been dealing with COVID for over a year and a half. During that year and a half, it put a cog [in] my wheels.
Before that, in 2018, I was speaking with child support. We split up. When we split up, we had an agreement that I would send her money — that's it — and there's no child support needed. There was no actual government-enforced [child support]. Once we stopped communicating ... I was like, "Well, I'm not going to send you more money if you're not going to talk to me about the kids." There was like very bad [bickering].
At that point, she started claiming child support, which I was not aware of. I didn't pay attention to it, to be honest. That was a downfall from me. They contacted me. They're like, "Actually, just so you know, Brock, you owe four years of child support ... so you need to pay that." That was in '20. That was before the pandemic. I was like, "Perfect." Pandemic hit. I was like, "Look, I have plans to pay this back, but we have to stretch that through this year." My one goal was to get to the ["Vanderpump Rules"] reunion, to have it completely paid off, so no one can say anything about child support.
Brock Davies is all about that dad life with daughter Summer
I'm no therapist, but it sounds like an unfortunate breakdown of communication. Where do you and Lala stand right now?
We're very close. We're really close, and I think it's because of the fact that she is great for Scheana to have around. They're moms. They're going through the same s*** every day together, but they have spent so much time being upset with each other because of communication breakdown. I didn't want to become a part of that breakdown, so that's why this season, you see me have my say, and then apologize for mine, and move on — because I think a lot of us can have mistakes and make mistakes. As long as you own up to that and really make an effort not to do those same mistakes again, perfect. If Lala comes for me next season for some reason, whatever. But we're pretty good right now.
You're a dad again for the third time. Your first with Scheana. What have you brought from your past experiences to this new baby?
Here's a fun one. I didn't think I was a good dad, and I knew I was good with kids. I knew I was great with my other two, but I believed I wasn't a good dad because I wasn't with my two other kids. Once we've had Summer, I just really enjoy it. I really enjoyed being able to watch her [mannerisms] and kind of just train her.
She's a whiteboard, and we get to teach this human how to be a good human. With my first two, I was involved. When we broke up, and she was like, verbally, was like, "Oh, you're a bad dad." Like, rah, rah. I believed that. I was like, f*** it. I'm not good for my kids. Now, I'm a different situation, different partner, different support system. Now I'm good at this job. I look forward to mending that bridge and bringing that love to all of them — because I just love everybody, including my children, even more, so I got to make sure they feel that.
What is the one thing you love most about Scheana?
There's a lot, but I think it's just her presence for me. How she just makes me slow down and just think outside of my own objective. She's a good person. She [has] a good heart. She takes care of everybody. That's a few things, but that's it: her heart and she's all right.

Brock Davies' Homebody app is like Cameo for fitness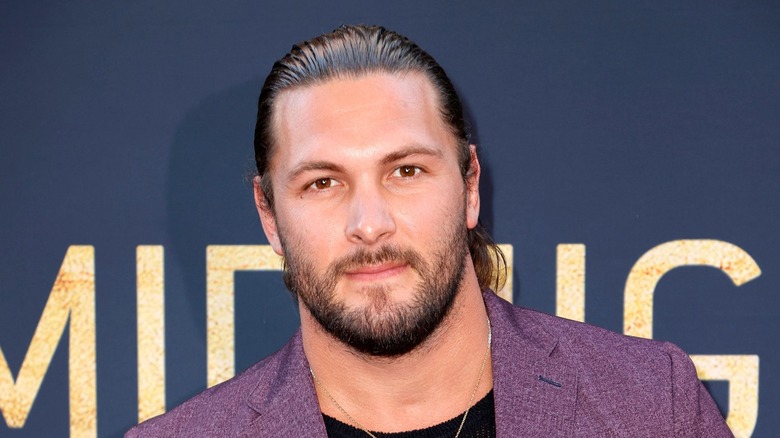 Frazer Harrison/Getty Images
All right, so let's talk about your app, Homebody. You have a live-streaming fitness and health app. How did you decide to get into the wellness app business?
I think during the pandemic, a lot of businesses had to pivot. We went into the pandemic as a business as a brick-and mortar-gym. It didn't really help. So we went to live class. We were doing Zooms — just like this — and I just felt there was a better way to do this. I wanted to have a way where we can still connect with people. We don't have to be in each other's faces but also have a premium experience where you were to watch a workout online where they have the timers and what exercise it is — just to make that live a bit more of an experience.
We just wanted to deliver that, so that was the forthcomings of how we could build Homebody out and what I wanted to do with it. I don't expect myself to be a tech startup guy. I thought about this, and I was like, "Surely somebody has this. Surely something's going to pop up, and I'm just going to be like, alright." And it didn't. I was expecting Cameo to do something because Cameo is a really good replica of what we want to be doing. Cameo takes celebrities and gives you a way to interact with them from a video shout-out.
What we want to do at Homebody is take celebrities, let them coach classes and post them, and you can join them and do a live workout with that celebrity. I really thought it was going to pivot, someone was going to pick it up, but they just missed the boat. Homebody came and swooped in.
Is that how it differs from the Peloton app, where they have their select group of trainers? Yours is any celebrity can sign up and do their classes and whoever wants to be part of that can?
Yeah. Peloton has a great, probably let's say 400 coaches. They might have 100 really great quality coaches. We have a platform that's an open ecosystem. Anyone that has a following or anyone that has followers and people want to go and interact with that creator, we're going to give them a premium fitness space — health and mental health, as well. A fitness place where people can go, search around celebrities, search what classes are happening, and join in a variety of classes, in an open ecosystem.
That's such a good idea.
I'm really excited to have that connectivity with people. For me, I want to take a vinyasa flow class from a guru in India and pay five bucks. Perfect. Not a problem, and I get to do that from my own house. It's not going to be a full-time workout schedule. It's just going to be something that you can supplement in and have that connectivity aspect.
Brock's advice for fitness newbies? It's about creating habits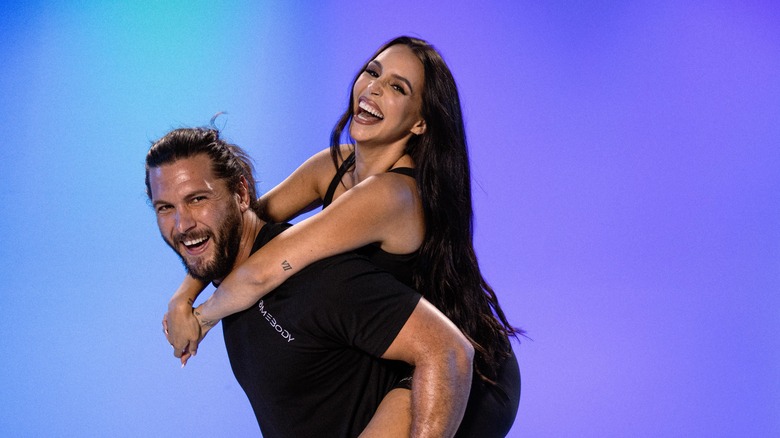 SmashBox Studios
For people who haven't really gotten into physical fitness before, especially with the pandemic, a lot of us are very out of shape. What advice do you have for someone who's never worked out, but wants to start getting into fitness?
That's going to be our biggest niche of our market. If we can figure out how to take that new person and introduce them into fitness and educate through that, that's how we build life longer. I truly believe that the there's a big stigma to like, "Oh, I have to do workouts every day to be fit." But fitness is mentally fit. It is more than just physically, so for someone to start, we would recommend doing a habit — habit creator, which is on our platform. Our first 28 days, we do a 28-day habit creator. All this is is you writing simple things down every morning to complete. Mine is brushing my teeth, making my bed, drinking lemon water, and writing in my diary in the morning. That's just my routine.
All you got to do for 28 days is do that. Because if you start doing that for days, what you tell yourself is, "I can do this," and you're not even focusing on fitness goals or you're not even focused on ... actually physically doing workouts every day. What you're teaching yourself is building accountability up. You're telling yourself like, "Oh, I set my mind to something, to this task, and I can do it."
Once we go through that for 30 days, 28 days, and it's the simple things to do, then you add more into it slowly. Slowly add more things. I think in the health and fitness space, I really want to provide a platform where people realize it's not all about busting a sweat. It's about connecting with other people and sharing stories and being inspired. Be an inspiration for some others, and then inspiring them to do things. and then also leveraging that.
Brock Davies is gearing up for his app's January launch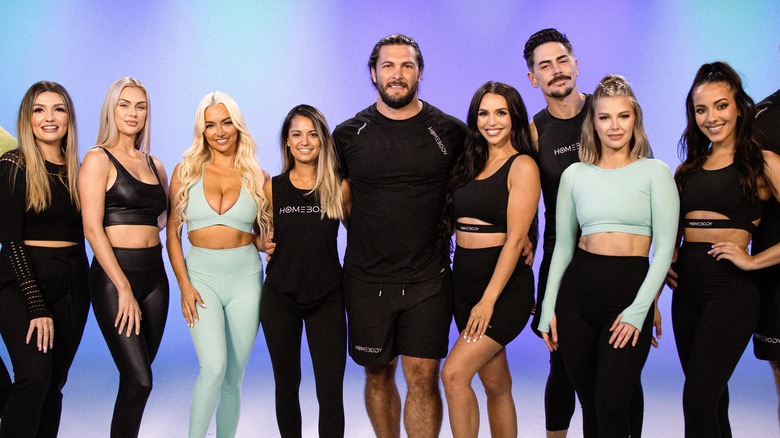 SmashBox Studios
It's all about building a healthy lifestyle. It seems like this app will really help.
Start off slowly. For the app, we're going to offer that going into the new year — I'm going to offer 40 members [the app] for free. I want to do a beta [test]. We're going to bring in 40 [users], anybody that wants to work on any type of health and fitness ... goals they want. We'll be doing a 28-day challenge for free, for the first three months, for the new year. There'll be cash prizes, so we'll cash incentivize, and there'll be apparel and everything. There'll be merchandise given out through the challenge. It's going to be completely free because what I want to do is really prove a concept of Homebody — that we can offer a platform that works. People find that similarity in it. We're looking forward to the new year.
It launches in January?
Yeah. So we'll be launching in January, and then we'll be doing three back-to-back 28-day habit creators. Because, like I just said to you, if we can convince our foundational audience, our seed members, that you can flourish and grow by just being consistent with yourself, and then adding more as we go along — it's not going to happen in 28 days. It's going to take time. If we can add those one percenters to everybody, then we do our job, and we'll have fun doing it too.
Yes, Brock Davies does actually relate to Aquaman
You are a reluctant reality star. I'm going to call you that because I think you are one. Do you watch reality TV outside of it? What's your favorite reality show?
My favorite show is "Below Deck Med" just because the concept of the drama is perfect. You've got the cabin crew for a season, but then you've got weekly guests that are coming in and just stirring the pot. And Dan [Zureikat]. I told Scheana when Homebody, when we do really well, we're going to take the team out. We're going to do a collab, and we're going to hire that boat, and we're going to go party.
That would be an amazing crossover that I will definitely be watching.
Perfect.
You're a celeb couple. Once you're on "Watch What Happens Live," it's cemented. Other than you, who's your favorite celebrity couple?
Yeah. Ooh. Favorite celebrity couple. Oh, I guess you could go ... You got John Legend and Chrissy Teigen. They support each other, and I'm wavering really. If I could serenade Scheana, like he does to her ... ooof.
Alright, one of your castmates compared you to Aquaman, but is there any celebrity look that inspires you?
To be honest, how Jason Momoa is as a person, he's a free-spirited island boy. I'm from New Zealand. I'm very traditional as well. I vibe with his look. I really do. Now Jason Momoa, if I can hang out and drink with him, that'd be fine. I'll throw axes and drink some Guinness any day of the week.
Homebody App is expected to officially launch in early 2022. In the meantime, trainers, creators, and fitness lovers can sign up for early access via the waitlist at homebodylivefitness.com.