Why Breakup Rumors Are Swirling About Priyanka Chopra And Nick Jonas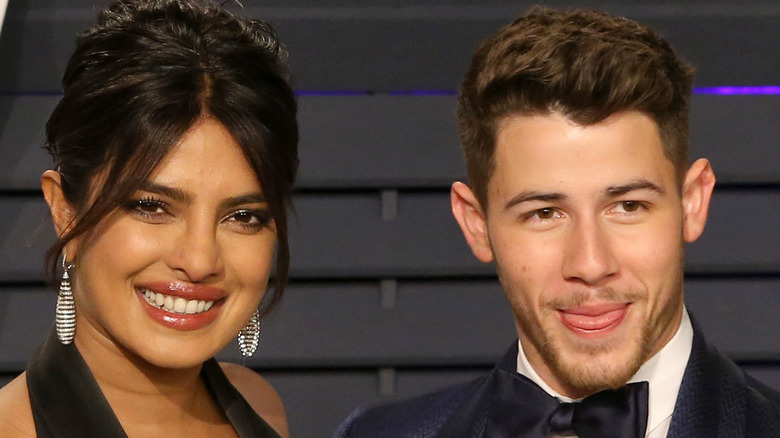 Kathy Hutchins/Shutterstock
There are few celebrity couples who embody #relationshipgoals quite like Priyanka Chopra and Nick Jonas. Ever since the pair first attended the Met Gala together in 2017, fans all over the world have been unable to resist the glamorous couple and the way they always show up for each other (via Glamour).
"We were on the same table and we already know each other," Chopra told Jimmy Kimmel on "Jimmy Kimmel Live!" following the event. "So he was like, 'Hey, you wanna go [to the Met Gala] together?' And I was like, 'Yeah, okay, let's go together.' It ended up working out"
A year later, relationship rumors about Jonas and Chopra begin to swirl as the two begin dating in earnest, openly spending time together and eventually becoming more affectionate. In July 2018, after only two months of dating, Jonas and Chopra were engaged; Jonas, who maybe has seen "Sweet Home Alabama" a few too many times, even closed down a Tiffany's so that Chopra could have whichever ring in the store she desired.
By December 2018, the pair wed lavishly with two ceremonies in Jodhpur, India, with Chopra adding "Jonas" to her last name. Now, about three years later, Jonas and Chopra continue to share their affection for each other with the world.
Trouble in paradise?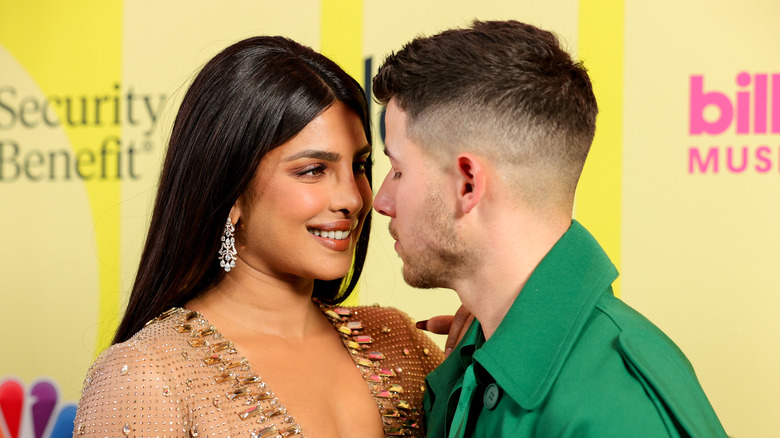 Rich Fury/Getty Images
Given how cute Priyanka Chopra and Nick Jonas continue to be together — even adopting a dog named Panda — so you could understand how devastated one might be should the two ever decide to go their separate ways (via Glamour).
And that's exactly what fans thought had happened when Priyanka Chopra Jonas dropped the "Jonas" from her name on Instagram (via Cosmopolitan). But while Chopra's reasoning behind altering her name on the social media platform is unclear, there doesn't appear to be any trouble in paradise.
The pair recently celebrated Diwali together, with Jonas taking to Instagram to share a gorgeous GIF of the two and writing, "My beautiful wife has introduced me to so many wonderful Indian holidays and traditions. My heart is so full to be able to share this with our friends and family." Then, just yesterday Chopra left a flirty comment on Jonas's video of him lifting weights. "Damn! I just died in your arms," she wrote.
And it seems as though Jonas and Chopra are together for the right reasons, with Chopra gushing on Diane Von Furstenberg's podcast about how Jonas supports her. "I really feel like being with someone like my husband now, there's such an incredible power, and it's so attractive to me that he has no — he, he feels empowered when he sees me empowered ... Like, he feels so proud."
So, good news, Chopra-Jonas stans, the two appear to be as happy as ever heading into the holiday season.