Chrissy Teigen's Latest Cosmetic Procedure Is Raising Eyebrows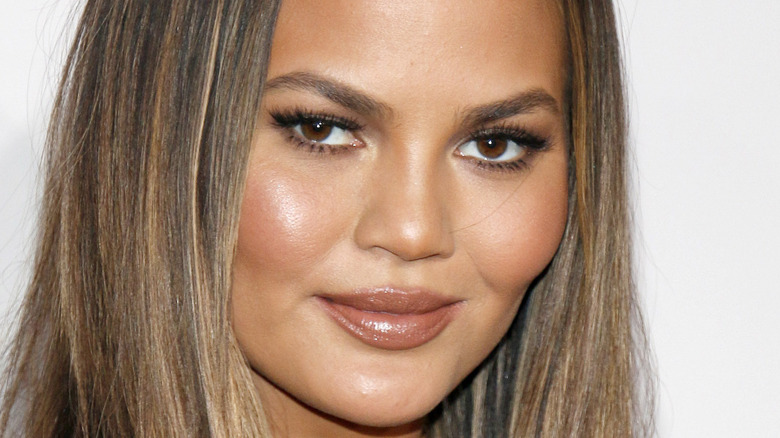 Tinseltown/Shutterstock
Yes, it is true: Chrissy Teigen got an eyebrow transplant.
The procedure — which, according to People, can cost between $4,000 and $7,000 — required taking hairs from the back of the head and using them to create fuller brows. "I never wear makeup if I can avoid it, so I was so excited for this eyebrow transplant surgery," she shared earlier this week via her Instagram Story. Soon after, people were responding negatively, though, so she turned back to social media, saying, "WHY are people so f***ing riled up over any little thing I do? You're gonna give yourselves a heart attack" (via People).
Some feel like this was a pointless procedure. "Waste of money," wrote one user on Twitter. "She was already a model." Another person on Twitter said, "If she doesn't want people giving their opinion on EVERYTHING she does then she shouldn't put EVERYTHING she does out there."
This is just the latest of Chrissy Teigen's controversies
A good amount of the comments about Chrissy Teigen's eyebrow transplant criticized her for flashing a cosmetic procedure and proceeding to clap back at haters, all while there are bigger and more serious problems in the world. "All these people suffering and just trying to live right now. [They're] trying to pay [their] bills. They have real issues," read one tweet. "Why even talk about some ... eyebrows?"
And this is just the latest news that has people talking about Teigen.
Earlier this year, Courtney Stodden spoke out on abusive messages from Teigen, and the backlash led to the model stepping away from social media for a while. However, she has returned, and one recent post features a party that she threw, along with her husband, John Legend, themed around "Squid Game." The South Korean Netflix show focuses on characters with financial debt literally fighting for their lives, all in order to win money. The party transformed the couple's home into the set, the two dressed up as characters, and many, in turn, called them "tone-deaf" (via The New York Post).