Mineral Vs. Chemical Sunscreen: Which Is Better For Sensitive Skin?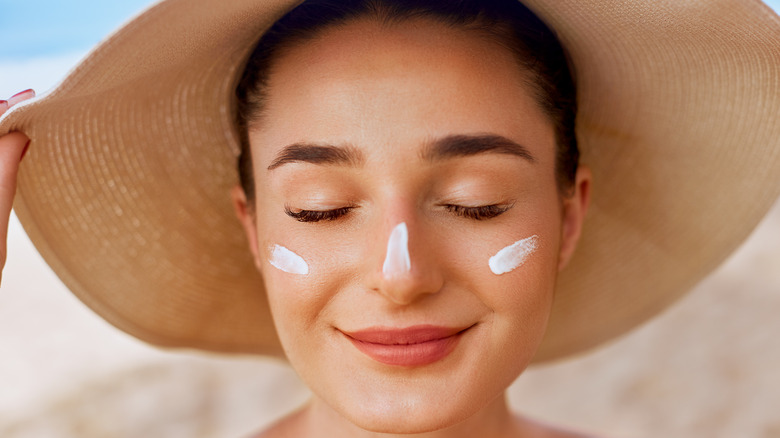 verona studio/Shutterstock
We may receive a commission on purchases made from links.
Even as the days get shorter and the leaves change colors, it's still important to continue to wear sunscreen everyday. With so many SPF options out there though, it can get confusing as to which kind of sunscreen works best for you. This is especially true for those with sensitive skin who need to take extra precaution in purchasing gentle, non-irritating skincare products.
First and foremost, it's important to note that there are two general types of sunscreens: mineral and chemical. Mineral sunscreens, otherwise known as physical sunscreens, are made up of either zinc oxide or titanium dioxide and block UV rays from penetrating your skin. As esthetician Candace Marino told Byrdie, "They form a physical barrier that reflects the light rays away from the skin."
On the other hand, active ingredients in chemical sunscreens penetrate the skin's pores and are made up of oxybenzone, avobenzone, and/or octinoxate, per Everyday Health. Once in the pores, they absorb the UV rays, which causes a chemical reaction that converts the light into heat. The heat then evaporates from the skin. Chemical sunscreens take 20 to 30 minutes to penetrate the skin and start being effective, while physical sunscreens work immediately after being applied.
Mineral sunscreens are the best bet for sensitive skin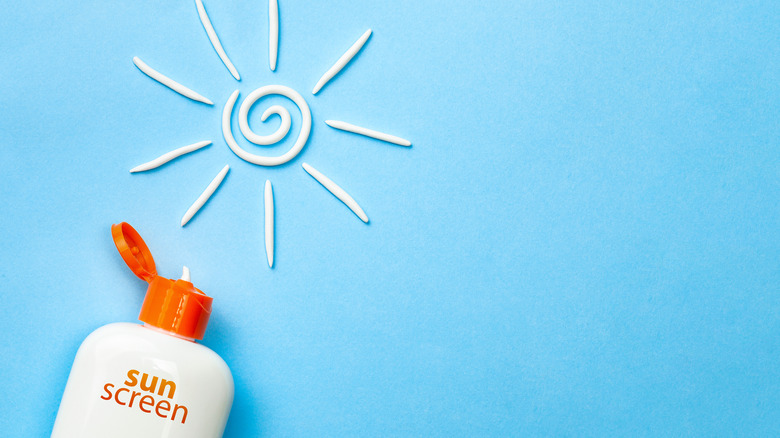 ADragan/Shutterstock
According to the American Academy of Dermatology, people with sensitive skin should use mineral sunscreen. Byrdie adds that acne-prone skin may benefit from avoiding chemical sunscreens and using mineral-based ones as well. The active ingredients in chemical sunscreens can trigger allergic reactions and/or irritation in those with sensitive skin. It can also exacerbate rosacea or melasma (hyperpigmentation), per Everyday Health.
Dermatologist Lauren Ploch told Everyday Health, "[Mineral sunscreens] are much safer for people who are concerned about long-term exposure to chemical ingredients," adding, "The heat dissipation of chemical sunscreens can exacerbate melasma." Since the active ingredients in a chemical sunscreen do absorb into the skin, they can potentially get into the bloodstream as well. This is why pregnant women should also avoid chemical sunscreens. "I tell my patients that mineral sunscreens are like a healthy, home-cooked meal, [while] chemical sunscreens are like the fast food of sunscreens," Ploch said.
Dr. Hadley King, a dermatologist, spoke to Byrdie and added that the pores being blocked by ingredients in sunscreen can cause breakouts and recommended looking for mineral SPF that is oil-free and/or non-comedogenic. Healthline suggests Elta MD UV Clear Broad-Spectrum SPF 46 ($37) for all skin types, while influencer Lindsay Silberman recommends Coola Sun Silk Moisturizer SPF 30 for those with drier skin ($42).
Mineral sunscreens that won't leave white residue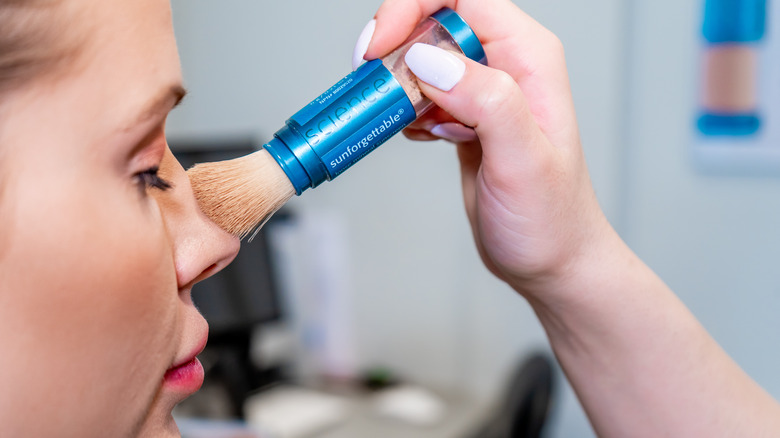 thoughtsofjoyce/Shutterstock
One downside to mineral sunscreens is that they can be tougher to blend into the skin and can sometimes leave a white hue. This can especially be tougher for those with darker skin tones. "Chemical sunscreens will be easier in this regard, but there are physical sunscreens, particularly tinted ones, that shouldn't have this issue either," Dr. Hadley King told Byrdie. InStyle recommends Live Tinted Hueguard ($32), while CNET suggests Unsun Mineral Tinted Face Sunscreen ($29) as great, mineral-based tinted sunscreen products. Plus, the SUPERGOOP! 100% Mineral Smooth & Poreless Matte Screen SPF 40 ($38) is a mineral-based 2-in-1 sunscreen-primer that blends effortlessly into your skin and also blurs your pores, according to Lindsay Silberman.
Another downside to mineral sunscreen is that you have to reapply it more often than chemical sunscreen, Everyday Health notes. While this can especially be a hindrance if you wear makeup, there are mineral powder SPF options that make re-application a breeze and won't mess up your makeup. Lindsay Silberman recommends Colorescience Sunforgettable Total Protection Brush-on Shield SPF 50 ($48.30). 
So while it may take more time to blend in mineral sunscreens, and though you may have to re-apply them more often, Everyday Health concludes that using a mineral sunscreen will give you healthy skin and a healthy body in the long run.