Meet Barbie's Doppelganger On Lookalike Love
Barbie was first introduced at a New York toy fair, and the doll's official birthday is March 9, 1959, according to Barbie Media. Funnily enough, she still doesn't look a day over 21. Over the decades, the popularity of the Barbie doll has both waxed and waned. Yet, the cultural impact she has made in the U.S. is undeniably strong. Especially strong for one woman.
Meet Nannette Hammond, the 47-year-old mother of six who aspires to look like the iconic Barbie doll — and who is telling her story (and showing off her physical transformation) on the current season of "Lookalike Love." Hammond has been steadily working on her doppelganger dreams for three decades getting her first of many cosmetic surgeries in her 20s. "I loved playing with those Barbies. Growing up, I felt shy and self-conscious about my looks and wanted to be just like the dolls," she once admitted to News Dog Media (via Us Weekly).
So, what does it take for a middle-aged woman from Cincinnati to look like Barbie's twin?
Nannette Hammond says she's 'spent over a million dollars to look like Miss Barbie'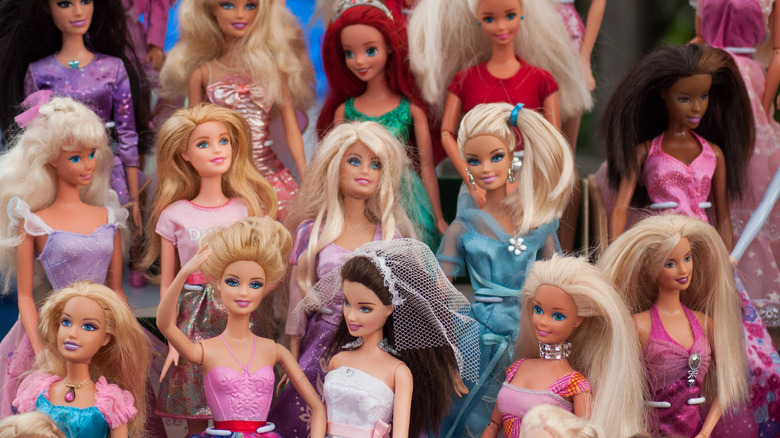 NeydtStock/Shutterstock
If Nannette Hammond looks familiar — other than her similarities to the famous doll — it's because the Barbie enthusiast has also been on the reality television series "Botched." During an interview on the show, she revealed (via The Sun), "If I had to guess, I've probably spent over a million dollars to look like Miss Barbie. And it's freaking expensive, but it's well worth it. And you know what, I deserve it."
Like a true Barbie doppelganger, Hammond's look also comes with accessories. She shares on her newest series she has a Barbie pool, a pink gym, several Barbie closets, a glam room, a pool house, and a pink Barbie convertible. "I'm a living doll," she said (via the Daily Mail). "I cook, I clean, and I come with six kids," she jokes in the series trailer.
If you thought your fascination with your childhood toys was strong, tune into "Lookalike Love" to see fascination on another level. Hammond looks a lot like the famous doll, but she's far from finished, she explained, claiming that she has many more Barbie-inspired cosmetic surgeries lined up for the future. Hammond is clearly committed to twinning with Barbie, though there is no official word if she is pushing her husband to look more like Ken.