Christina Haack Reveals Her Favorite Flooring She Has Ever Done
Allen Berezovsky/Getty Images
Christina Haack has been in the home remodeling business for over a decade. The designer formerly went by the last name El Moussa when originally starring on the hit HGTV show "Flip or Flop" alongside ex-husband Tarek El Moussa, before the pair separated in 2016 (via People). 
Although their marriage didn't last, Haack and El Moussa continue to work on the remodeling program together, where they tackle the process of buying and flipping houses in California (via HGTV). Haack handles the design aspect of the duo's ventures, and her stylistic choices are popular amongst viewers and homebuyers alike.
Haack's impressive design skills earned her a spin-off series for HGTV, "Christina on the Coast," in 2018. The show follows her as she transforms properties throughout Southern California and works on her independent design business.
Even though she's still running a successful business with El Moussa, Haack said she was excited to have the opportunity to showcase her own projects. "Design is my favorite part of the house-flipping process and I can't wait to be able to now work directly with clients and create a space they've always dreamed of having," she told E! News when her show was announced.
During Haack's time on both "Flip or Flop" and "Christina on the Coast," she's created some truly inspirational ideas. But what are some of the design star's favorite projects? Christina Haack recently revealed her favorite flooring she has ever done, and, after seeing these gorgeous floors for ourselves, we'd have to agree that it's her best work yet.
Chevron-patterned wood flooring is Christina Haack's favorite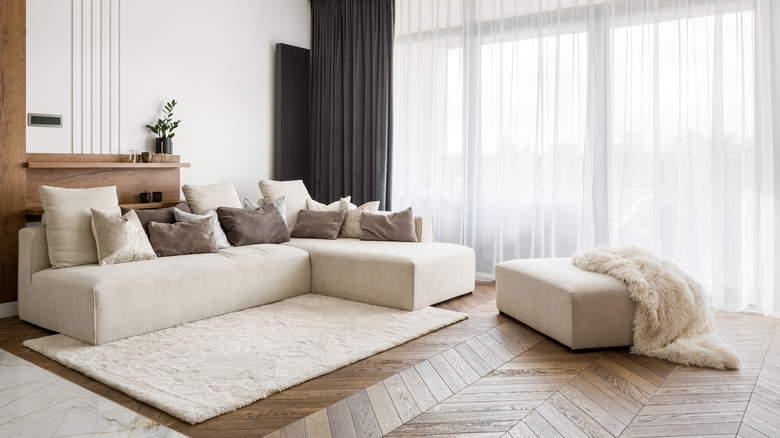 Dariusz Jarzabek/Shutterstock
Christina Haack has created some memorable designs during her time on "Flip or Flop" and her spin-off series, "Christina on the Coast." From sprawling living rooms to cozy outdoor sitting areas, she knows how to arrange each space in the most visually appealing way (via HGTV). She's best known for using neutral color palettes and modern finishes, but Haack always strives to meet the homeowner's preferences when she's designing a new home.
Though it's often difficult to please couples featured on "Christina on the Coast," particularly those who have completely different styles, Haack usually finds materials that suit both parties to ensure she's respectful of everyone's preferences. 
On one such occasion, Haack even surprised herself by selecting a kitchen floor that quickly became her favorite flooring she's ever done. Considering the fact that Haack has completed hundreds of home flips with ex-husband Tarek El Moussa and on her own, this says a lot (via House Beautiful).
During an episode for Season 4 of "Christina on the Coast," Haack selected a beautiful vinyl floor in a chevron pattern for a couple's kitchen remodel (via Realtor). The vinyl, which gives the appearance of a real wood floor, beautifully complemented the overall color scheme of the room. 
When Haack saw the finished product, she said (via Realtor): "The flooring is, I think, my favorite flooring I've ever done, and I love that it flows in all the rooms."
Chevron flooring is growing in popularity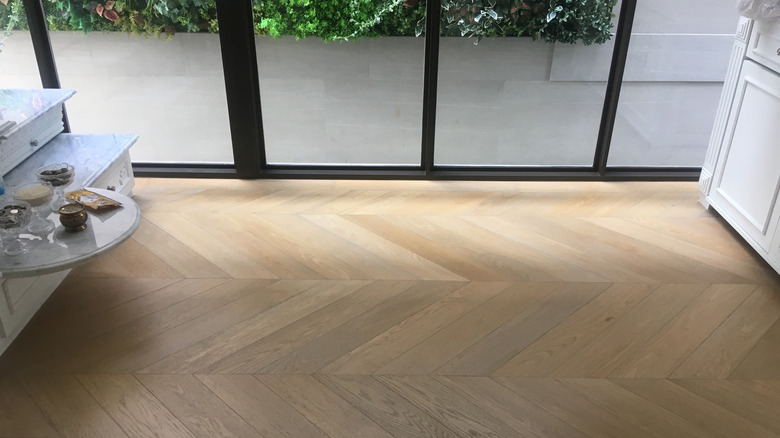 Charoenphol Anchana/Shutterstock
If you've always been in love with hardwood floors but you're looking for something fresh and exciting for your own home, look no further than Christina Haack's favorite chevron-patterned flooring. 
According to Architectural Digest, chevron is currently one of the most popular patterns due to its uniquely elegant style. For this type of pattern, the wood planks are arranged to create perfect points that mirror a string of arrowheads.
The finished product is pleasing to the eye, and it's a favorite of designers Nate Berkus and his husband, Jeremiah Brent, too. Berkus and Brent opted for a chevron-patterned wood floor in the kitchen of their Fifth Avenue apartment in New York City (via Architectural Digest). 
Although it has grown in popularity in recent years thanks to designers like Haack, Berkus, and Brent, chevron flooring has actually been around since the Bronze Age. The pattern was first used in Knossos, Crete, before gaining favor throughout Europe in the 16th century.
Stylish floors that have a rich history? Sign us up!