Why Donald Trump's Praise For The Queen Has Royal Fans Scratching Their Heads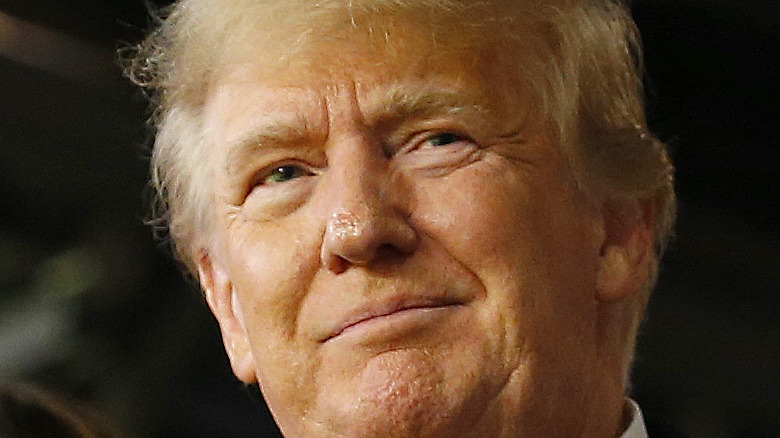 Michael Zarrilli/Getty Images
In a recent interview, Former President Donald Trump celebrated Queen Elizabeth II. This comes as a surprise to some, based on how Trump's visit to Britain a couple of years ago went, and based on how he has treated other world leaders in the past.
During his first official trip to Britain in 2018, Trump broke protocol twice, indicating, to some, a lack of respect for the monarch. First, when he and his wife, Melania, met the queen, they did not bow/curtsy. Then, while walking, Trump walked ahead of the queen, making her have to catch up to him, as reported by The Independent.
As pointed out by USA Today, Trump has also gone off on several people online, including other world leaders. And in the same interview during which he praised Queen Elizabeth, he shared his real thoughts on Meghan Markle. "I'm not a fan of hers. I wasn't from day one. I think Harry has been used horribly" (via indy100).
Donald Trump is a huge fan of Queen Elizabeth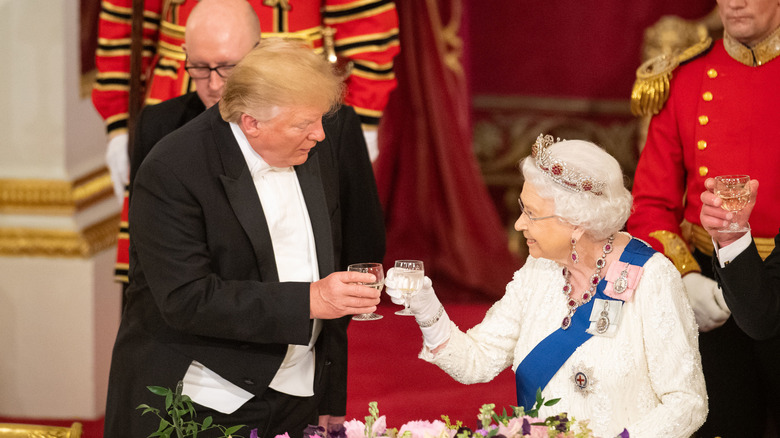 Wpa Pool/Getty Images
Despite his feelings on others and despite how he acted when visiting Britain (which, he says, was not rude), Donald Trump thinks Queen Elizabeth is "incredible."
In an interview with Nigel Farage of GB News, Trump said, "I think she is a great woman. I was supposed to spend half an hour, I ended up being there for much more than an hour, and people said 'that's so rude,' but she liked it, and I liked it. I'm not going to be rude. We had a great time together. We then had an evening the likes of which you rarely see. She was laughing and smiling, we got along great. And to think she's done this for more than 70 years, and she's never had a scandal about herself. An incredible woman."
And when discussing Meghan Markle, Trump added that he thinks the Duchess of Sussex "is very disrespectful to the Royal Family and maybe, most importantly, to the Queen" (via indy100).