Rita Ora's Blue Hair Look That Fans Envy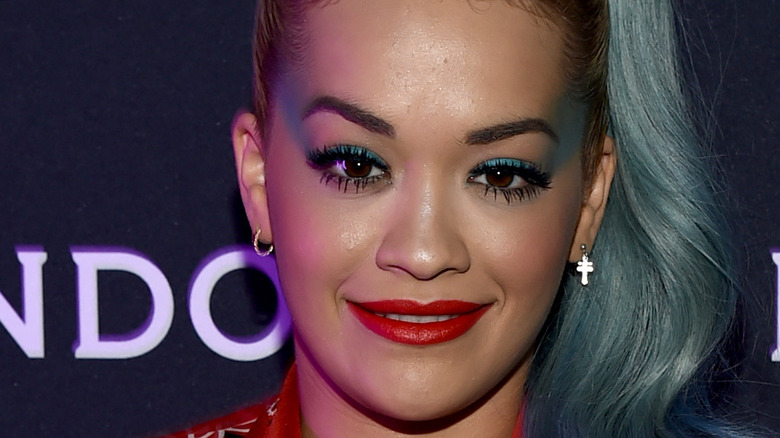 Michael Buckner/Getty Images
Rita Ora is known for her fashion sense and her daring makeup. The "Hot Right Now" singer has experimented with many bold hairstyles. Do you remember her platinum blonde pixie at the Met Gala (via Glamour) and the super long waves at the 70th Canne Film Festival (via PopSugar)? She is not one to shy away from pushing the limits, so it was no surprise that she debuted an enviable ocean blue hair look in 2013. If there is anyone that can pull off such a bold hair color it is Rita Ora!
Ora shared her transformation on Instagram with the caption, "Today its smurf day," while wearing a cozy hoodie and must-have cat-eye sunglasses (via E! News). It is not easy to pull off blue hair, but she does it like a pro. In 2015, Ora went blue again but this time it was more of a blue cotton candy for the Teen Choice Awards (via The Hollywood Reporter). A few days later, she stepped out with a different take on the blue by adding some periwinkle to the bottom of her hair with the help of her hairstylist Chris Appleton.
This British singer is versatile with her looks because she can go from high-street trends to red carpet glam in the blink of an eye, leaving us wanting more. Known for her blonde hair, dark brows, and red lipstick, Ora keeps us guessing on what she will do next!
How to pull off Rita Ora's ocean blue hair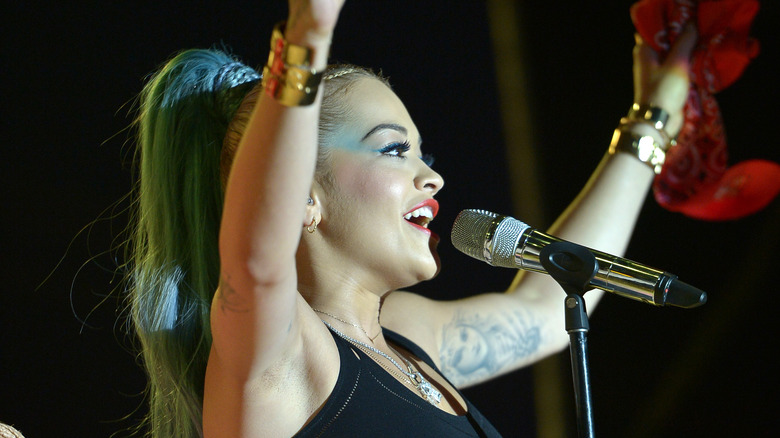 Charley Gallay/Getty Images
Rita Ora has naturally curly hair, and in a 2014 interview with Cosmopolitan UK, Ora said, "I always try and mix my outfit with my hair — it's part of the outfit, so it depends on what I'm wearing." She added that she also likes to do a hair mask once a week to take care of her hair. Ora is not the only celeb to have experimented with some sapphire in her hair — celebs like Gwen Stefani and Hilary Duff have also taken that route, and it definitely makes you want to try it out on your own.
If you want to go blue, just remember that it will require care because you have to bleach your hair first as the blue doesn't show on dark hair. Celebrity hairstylist Danny Jelaca – who has worked with celebs like Jennifer Lopez and Naomi Campbell – told Byrdie, "It [bleaching hair] leaves it compromised and weak, and because the cuticle is open, that's why your hair has that rougher texture," 
With the proper care for your hair, you can dazzle the world with your blue hair like Ora. Just take it easy on the curling irons and flat irons for some time to keep your hair looking healthy so the color can last longer — going blue is a lot of work, so why not make the color hold as long as possible?