Donald Trump Jr.'s Comments About This Year's White House Decorations Have The Internet Talking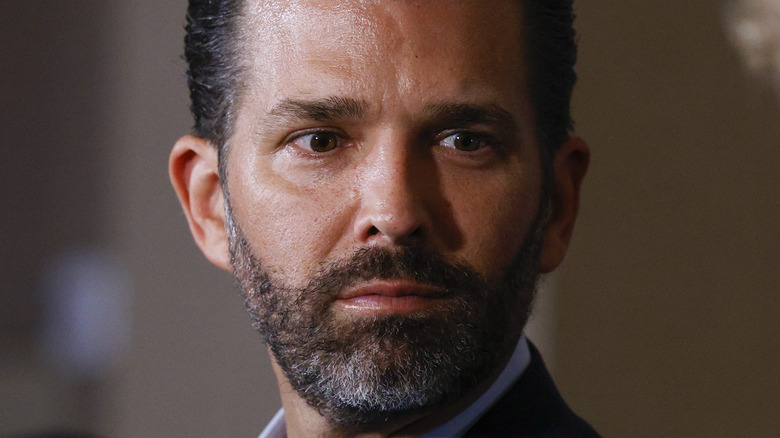 Douglas P. Defelice/Getty Images
A lot of people have found this year's White House holiday decorations, unveiled by first lady Dr. Jill Biden, a welcome sight compared to the decor during the Trump years. Donald Trump Jr. isn't one of them. He took to Instagram to post two side-by-side comparisons of White House holiday decorations designed by his stepmother, then-first lady Melania Trump, and this year's decor.
He posted, "Anyone who ever criticized Melania's Christmas decorations needs to apologize right now." On the second image, he added the text, "Lower expectations! The official Brandon administration." The "Brandon" mention is based on the "Let's Go Brandon" chant that Trump supporters have embraced as a way to say "F*** Joe Biden" (per AP News). In the caption for the side-by-side images, Trump Jr. wrote, "If we lower our expectations any further we're gonna turn into an S-hole country."
Many Trump fans have sounded off in the comments in support of Trump Jr.
Trump fans seem to completely agree with Trump Jr. on White House decor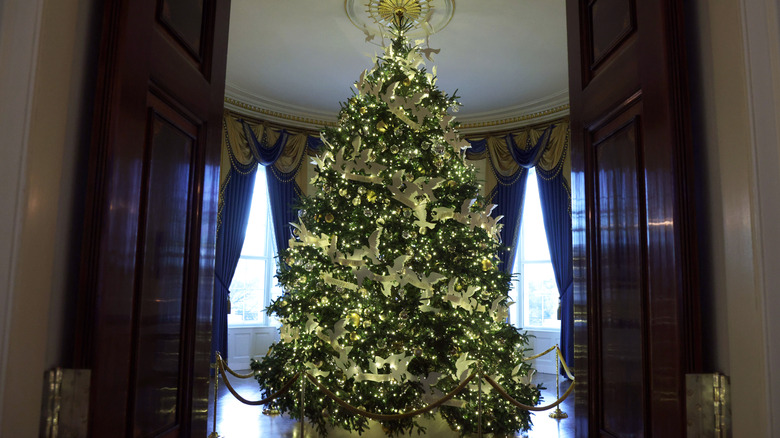 Alex Wong/Getty Images
In response to Donald Trump Jr.'s post, one wrote, "We went from Louis Vuitton to trailer park real quick. #BringBackMelania." Another wrote, "What is this?! It looks like the Christmas department at Walmart." There wasn't much love for the Biden decor on Trump Jr.'s post: "Melania's decorations were beautiful!!!!!! jill's look like she had a kindergarten class make them."
One commenter noted how much holiday decorations have become politicized: "If a Democrat would have decorated the WH like Melanie did you would think it's the ugliest thing you ever seen. It's said that we are at a point where people base their "opinions" on what political party they follow. The real 'sheep' are people who loyally follow their political party (it applies to both sides). Google to see how it's really decorated & not some doctored up version that this clown is using to fit his agenda."
Trump Jr. didn't include the more mocked decor of the Trump term. In 2018, it was the "blood red" trees, and in 2017, the all-white, bare branches that were deemed creepy (from Daily Mail).