Adam Levine's New Tattoo Is On A Surprising Part Of His Body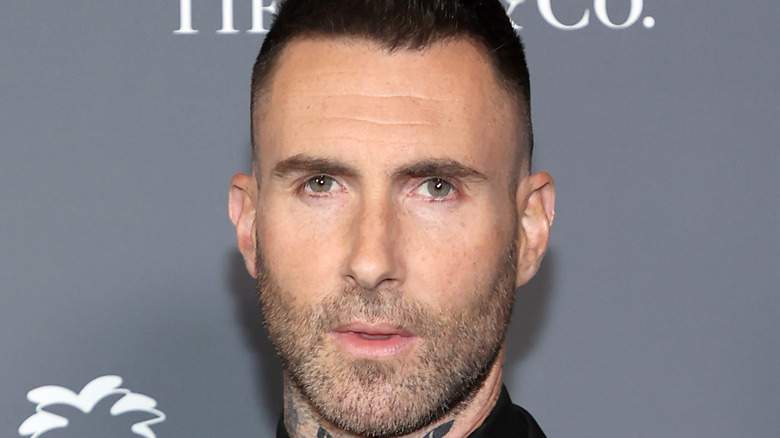 Amy Sussman/Getty Images
Apart from his chiseled abs and musical chops, Maroon 5 singer Adam Levine is known for his large collection of tattoos. In fact, according to Body Art Guru, Levine has at least 31 tattoos that cover a large portion of his torso, arms, and legs. Upon first glance, one will at least notice his tattoos like the phrase "true love" across his knuckles, "you're so cool" in cursive three times on the inside of his right arm (a matching tattoo that he got with his wife, Behati Prinsloo), "California" across his stomach, among many other interesting tattoos.
While speaking with People, Levine revealed the very first tattoo he received, the dove on his left arm. "I was 21," Levine told People. "It was five days after 9/11. I felt this needed to say something with this peaceful thing on my body." Most recently, in the past year, Levine got ocean waves tattooed on his left leg by tattoo artist Nathan Kostechko, which took 13 hours to complete, and a moth caught in a spiderweb, which is located on his neck, according to Page Six.
Though not every tattoo on Levine's body was born out of some deep or philosophical idea, he told People that he can appreciate the story that these tattoos provide. "Tattoos wind up being this strange road map or narrative over the years," Levine told People. "They always remind me of this long, weird, awesome journey life has been."
Levine's latest tattoo is located on his face, but will it last?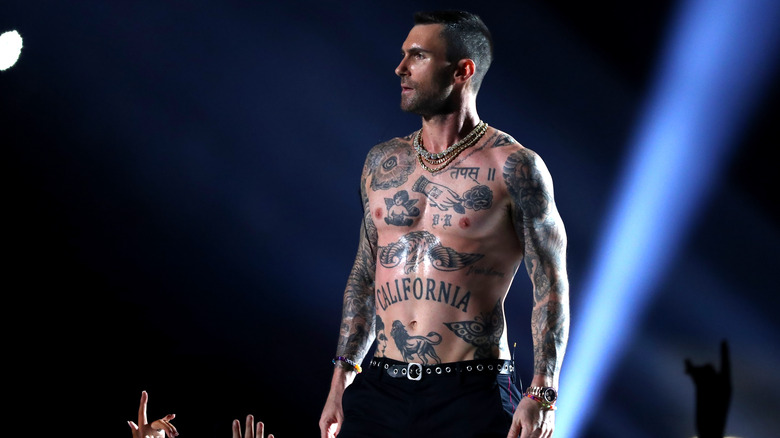 Al Bello/Getty Images
While promoting the brand new Calirosa Tequila at an Architectural Digest party at Art Basel Miami on Wednesday, December 1, 2021, Adam Levine appeared to be showing off his latest tattoo: a rose on the side of his face. The simple rose on the left side of his face was on full display, and, at the time, according to Page Six, some theorized that the tattoo might be in reference to his new tequila brand or a tribute to his daughter, Dusty Rose.
After many expressed their surprise at Levine's new face tattoo, the Maroon 5 singer took to Instagram to finally reveal the truth about this latest addition to his large collection of tattoos. In an Instagram story posted on Wednesday night, Levine revealed that the rose on the left side of his face was simply a temporary tattoo. "This message is for my mother: I do not have a tattoo on my face," Levin said in the Instagram story. "I'm too f****** vain to get a tattoo on my face. I'll tattoo the rest of this, but no, the face has gotta stay the same."