Martha Stewart Said This Never Happened Between Her And Larry King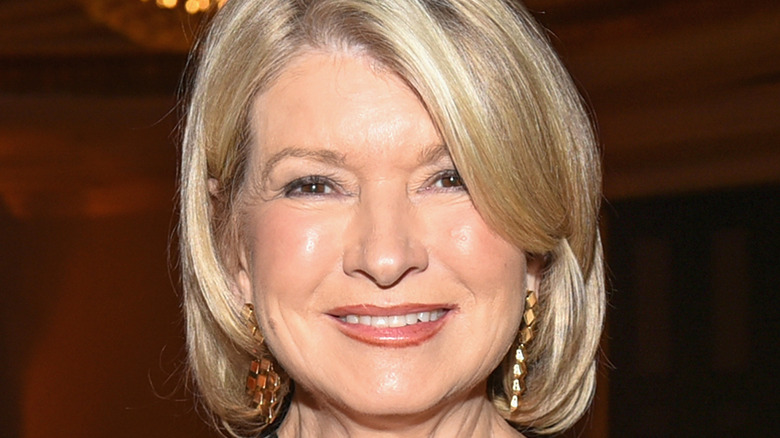 Denis Contreras/Getty Images
Lifestyle guru Martha Stewart has always been impressively honest about her personal life, particularly when it comes to her jail stint. "I knew I was strong going in and I was certainly stronger coming out," she told Harper's Bazaar emphatically. Stewart clarified that she took the situation seriously, of course, and while she not "bitter" about it, prison definitely changed her in a significant way. The experience even brought Stewart close to rapper Snoop Dogg, with whom the homemaking icon has since forged a fruitful partnership, per Independent. "(P)eople knew how crazy and unfair" her conviction was. "And in Snoop's world, it gave me the street cred I was lacking."
Stewart revealed another unlikely celebrity pairing of which she was a part, following the death of legendary TV personality Larry King. Taking to Instagram, the lifestyle guru acknowledged King had interviewed her several times over the years. Alongside the sweet tribute to her old friend, Stewart shared a clip from her show during which she revealed, "We went out on a dinner date." Now, however, Stewart is clarifying her stance on the matter.
Larry King wanted to be more than friends with Martha Stewart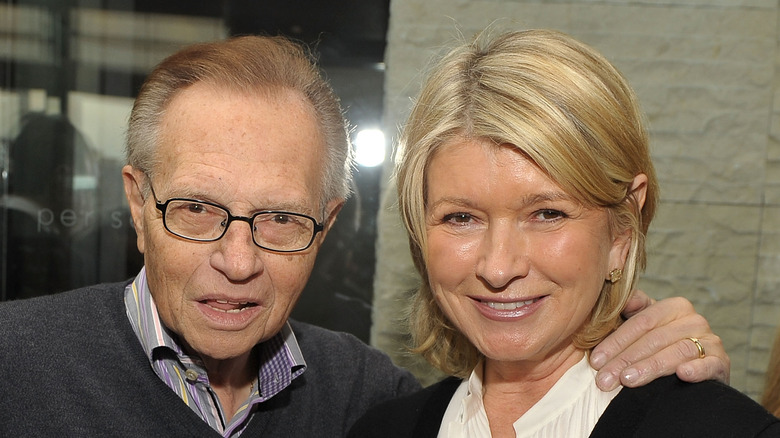 Stephen Lovekin/Getty Images
According to the Daily Mail, during a recent appearance on "Watch What Happens Live," Martha Stewart walked back comments she'd previously made about dating TV legend Larry King. Acknowledging the two did go for dinner once, as she'd previously shared, Stewart explained that it was strictly business — at least, as far as she was concerned. When King suddenly "got a little amorous," Stewart realized he thought there was something more to it and set the legendary interviewer straight. "Larry King was not my type romantically, if you get what I mean," the homemaking icon told host Andy Cohen matter-of-factly. 
He might not have been to Stewart's liking, but the TV icon managed to rack up eight wives over the course of his long life, per Cheat Sheet. "I got married a lot," he told People. "But in my head, I'm not a marrying guy. When I grew up, nobody lived together. If you fell in love, you got married. And so I married the ones that I loved. But what I loved at 20 is not what I loved at 30 and what I loved at 30 is not what I loved at 40." If only Stewart were more interested in pleasure than business, she could've been wife No. 9.