Is Alec Baldwin's Career Really Over?
Mark Sagliocco/Getty Images
While on the set of the western "Rust" in New Mexico in October, actor Alec Baldwin was handed a gun that he was told was "cold," or a gun that did not contain live rounds. However, the gun he was handed did contain live ammunition. When Baldwin was holding the gun, it went off, causing him to shoot and kill cinematographer Halyna Hutchins and injure director Joel Souza, who was standing behind her, per AP News.
While it has been called a tragic accident, some have pointed out that the incident was almost inevitable, given the history of issues related to the safety of the cast and crew on the set of "Rust." According to The Detroit News, safety procedures involving gun use on the set were limited at best. A few days before Baldwin was mistakenly told that a firearm was cold, his stunt double fired two live rounds after being told that gun was "cold" as well, when it actually did contain live ammunition. A text message obtained by the Los Angeles Times also revealed that crew members were concerned about "three accidental discharges" from prop guns, meaning that the aforementioned discharge was not an isolated incident.
For the first time since giving a brief interview to TMZ shortly after the shooting, Baldwin revealed quite a bit about what really happened, when he sat down with George Stephanopoulos in an exclusive interview with ABC News that aired on December 2, per BBC News.
Baldwin admitted that his acting career could be over in an exclusive interview with ABC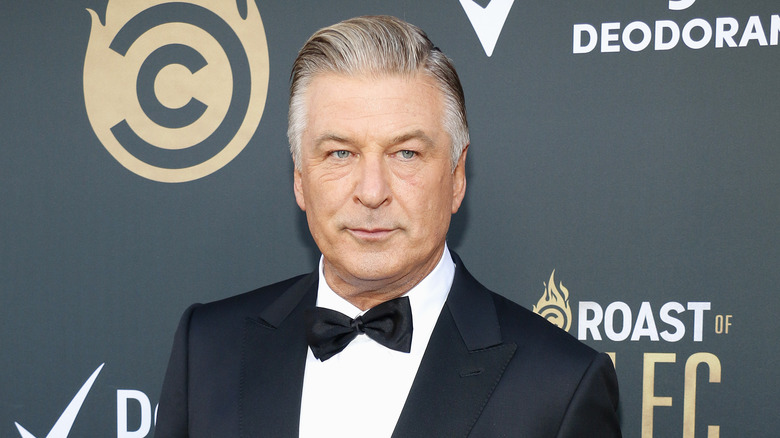 Tinseltown/Shutterstock
While speaking with George Stephanopoulos in his first interview since speaking with TMZ right after the accidental shooting on the "Rust" set, Alec Baldwin admitted that he had wondered if the incident might put an end to his acting career. When asked by Stephanopoulos if his career is over, Baldwin said it "could be," according to Yahoo! News. "If I decide that I — I mean, could I work? I'm going to go make another movie in January. And I said to them, 'Do you want to get out of it? Do you want to get rid of me 'cause of what happened?' They said, 'No.' But I say to myself, 'Do I want to work much more after this? Is it worth it?'"
The "30 Rock" star also discussed his mental health since the accidental shooting. "I have dreams about this constantly now," Baldwin told Stephanopoulos in the ABC interview, per BBC News. "I go through my day, and I make it through the day. Then I collapse at the end of the day. Emotionally, I collapse." After his interview aired on ABC (streamed on Hulu), Baldwin posted a heartfelt tribute to his wife, Hilaria Baldwin, on his Instagram page. "No matter what happens to me," Baldwin wrote in the Instagram post. "No matter what I suffer. If I win or lose, anything. Anything. No one can take away from me the joy and love you have given me."