What We Know About Dr. Dre's History With Women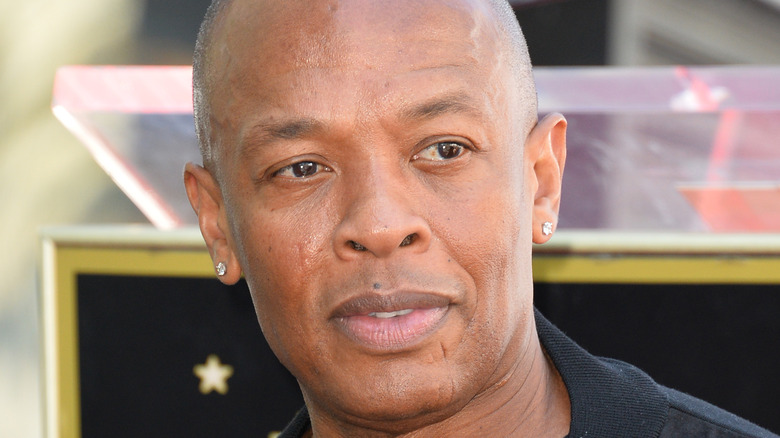 Jaguar PS/Shutterstock
"Straight Out Of Compton" co-producer Dr. Dre is recognized for a lot more than his role in the biopic, which was released in 2015. The movie amassed an impressive box office return of $210 million, an amount that is over four times its budget.
But the truth is that long before Dr. Dre, whose real name is Andre Romelle Young, was co-producing the movie, he had become a well-known, well-respected name in the entertainment industry for his contribution to rap music in the early '90s alongside other members of his group, N.W.A. He has also had a successful solo career as a rapper and a hugely-celebrated career as a businessman, music producer, and label executive who signed global talents like 50 Cent and Eminem, per Biography.
Among other things, Dr. Dre's seven Grammys and 26 nominations (via Grammy) attest to his mastery in music production and performance and just how influential his contributions have been to American music since he became a household name in 1984, per Vogue. His $820 million net worth further underscores his success.
Seeing how accomplished he has been in music and business, we wonder if Dr. Dre been this successful with women also.
Dr. Dre's history with women hasn't been pleasant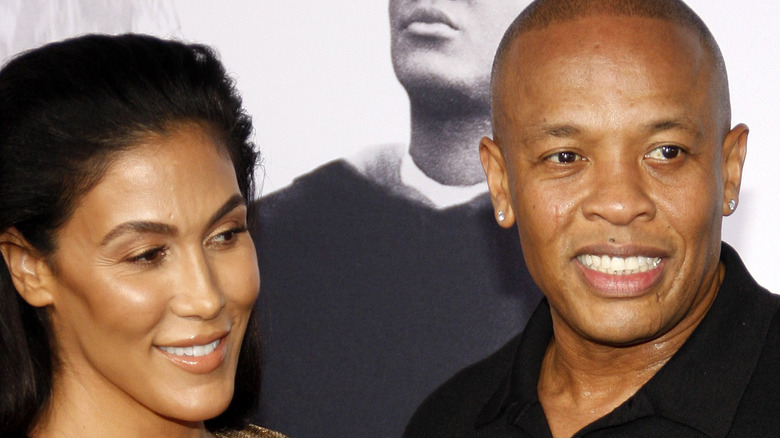 Tinseltown/Shutterstock
For starters, Dr. Dre was getting physical with the ladies from as early as 16.He had his first child with Cassandra Joy Greene at that age but wanted nothing to do with him until his son was 20 years old, according to Ben Westhoff in the book, "Original Gangstas: The Untold Story of Dr. Dre, Eazy-E, Ice Cube, Tupac Shakur, and the Birth of West Coast Rap."
That first experience kind of set the tone for the kind of relationship Dr. Dre would have with women for a long time. His relationship with many women would include assault and abuse allegations from multiple women. The music mogul himself confirmed this in an expletive-filled interview with in 2015. "I made some f***ing horrible mistakes in my life," he said, adding that: "I was young, f***ing stupid. I would say all the allegations aren't true — some of them are," per The Fader.
The women who have a terrible history with Dr Dre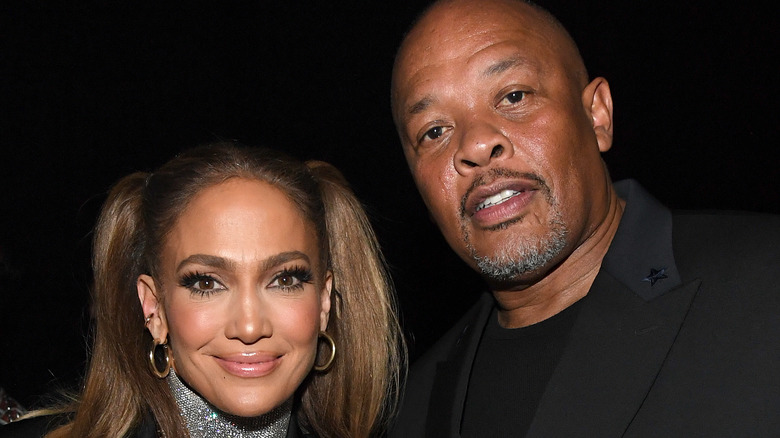 Kevin Mazur/Getty Images
The allegations and occurrences Dr. Dre was referring to in that interview may or may not include the assault of Dee Barnes at a nightclub in 1991. Barnes, a TV personality, had reported during an episode of the show that there was beef between some members of the N.W.A — a report that Dr. Dre did not agree with.
Dre's ex, Michel'le also accused him of physically abusing her. The mother of one of Dre's 7 children even went as far as portraying the alleged abuse on her 2016 biopic: "Surviving Compton: Dre, Suge & Michel'le." Dr. Dre was displeased about this and threatened to take legal action at the time, per Forbes. Tairrie B, a recognized rapper of the '90s also accused Dr. Dre of assaulting her in 1990, per Useless Daily.
"I apologize to the women I've hurt. I deeply regret what I did and know that it has forever impacted all of our lives," Dr. Dre has said in response to these multiple allegations in 2015, per NY Times.
The music exec was married to Nicole Young for almost 25 years between 1996-2021 when their divorce was finalized on the ground of irreconcilable differences, Per Vulture.