Who Is Chris Evans' Famous Uncle?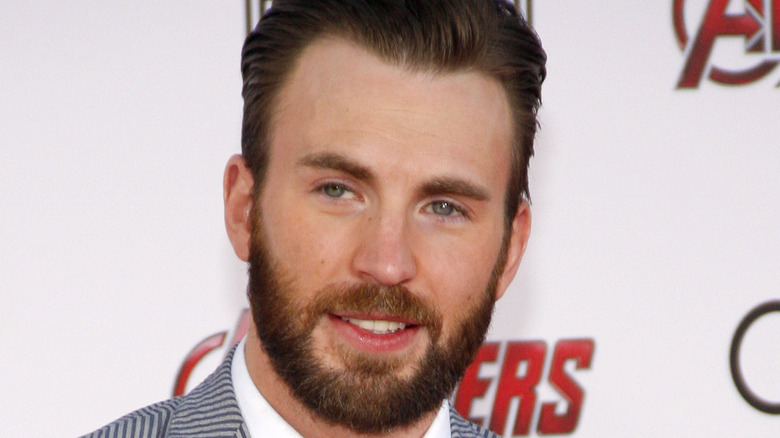 Tinseltown/Shutterstock
Movie fans all over the globe know Chris Evans as Steve Rogers — aka Captain America — making him one of the most famous celebrities around the world. The Marvel franchise has given him many great things, like a huge paycheck, a legion of loyal fans, and the hilarious Chris Evans Marvel nickname of "Captain Small Ass." However, Chris Evans is far more than just Captain Steve Rogers. His portfolio includes many more memorable TV and movie characters, and also directing, theater performances, voice-over work, and a music video.
Yes, Chris Evans is quite famous, but he's not the only famous person in his family. He may soon be one of those celebs who have really successful siblings, with his brother Scott Evans also making a name for himself in the film and television industry. Scott has appeared in "One Life to Live," "Grace and Frankie," "Confessions of a Shopaholic," "Playing it Cool," and in his brother's film "Before We Go" (via IMDb).
But wait — there's more. Chris and Scott aren't the only famous people in their family. Their uncle, Mike Capuano, may be even more famous than both of them — at least, in the Massachusetts area.
Chris Evans' uncle, Mike Capuano, is a well-known politician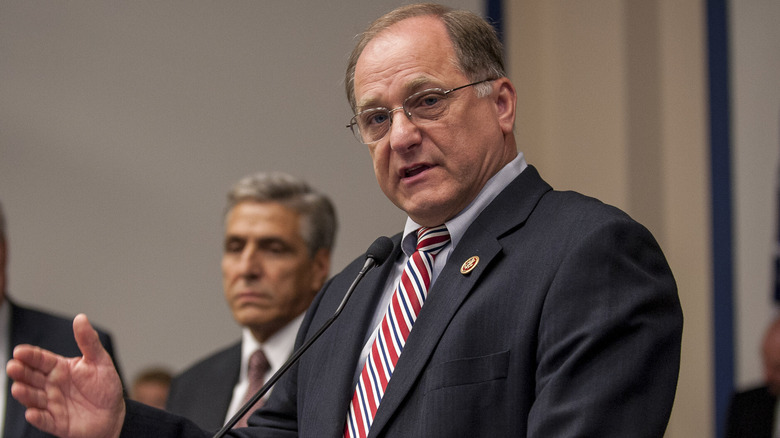 Bloomberg/Getty Images
Mike Capuano first got into politics on a major scale in 1977 when he became alderman of Somerville, Massachusetts. He held that position from 1977 to 1979. Capuano then became alderman at large for Somerville, from 1985 until 1989. His political ambitions took an even bigger turn when Capuano became the mayor of Somerville from 1990 to 1998 (via the Biographical Directory of the United States Congress).
Capuano was elected Massachusetts's 8th District representative to the House of Representatives in 1999. He left that position in 2013 and became the representative for the 7th District (via Boston). He was Massachusetts's 7th District representative until he lost reelection to Ayanna Pressley in 2018, and he left office in 2019 (via Ballotpedia). Through the course of decades in politics, Capuano fought for such things as protecting citizens' privacy, getting federal funding for public housing projects, community health centers, and often spoke against former President Donald Trump (per the Boston Globe).
Chris Evans has often shown major support for his uncle. He helped him in two campaigns, first appearing in a 2009 rally for Mike Capuano (per Boston) and then helping with his reelection bid in 2018 (per the Boston Globe). Chris Evans even mentioned how proud he was of his uncle in an Esquire interview. He also mentioned maybe one day following in his uncle's political footsteps.
Mike Capuano now works at a law firm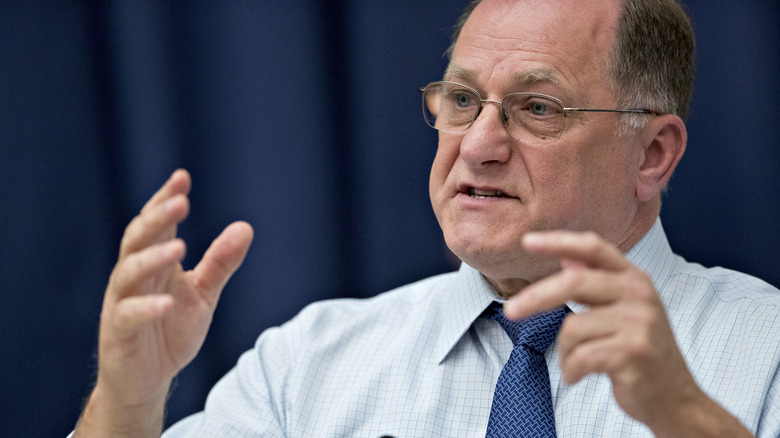 Bloomberg/Getty Images
Mike Capuano earned his law degree from Boston College Law School in 1977. He then had a private practice before getting involved in politics (via Congress). The Boston Globe reports that since leaving office in 2019, Capuano has been working for the firm Foley & Lardner LLP. He holds the position as a director of public affairs. Capuano joined Foley & Lardner LLP to become part of their Government Solutions division.
The Boston Globe says that his duties include instructing clients on how the government bid process works, campaign financial advice, communicating the ethics with compliance issues, and lobbying. Despite being a well-known figure, Capuano has managed to live a rather private and quiet life. (Chris Evans may be getting some tips on how to successfully be a private celebrity from his uncle, because despite rumors about Chris Evans and Selena Gomez and other celebrity gossip involving the "Avengers" star, he has managed to keep a lot of his personal life private.)
Also like Evans, Capuano has earned a lot of respect and admiration through the years from colleagues and peers. The late civil rights activist John Lewis endorsed Capuano during the 2018 reelection campaign, saying, "I know Mike Capuano as a champion and fierce advocate for those who have often been forgotten or left behind" (via Boston Globe).