How To Gift Wrap A Candle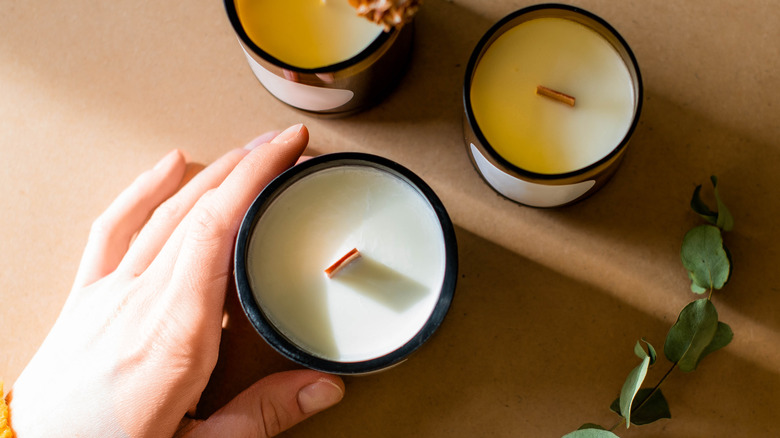 Norb_KM/Shutterstock
Learning how to wrap gifts like a pro every time is challenging, especially when dealing with items of different sizes and shapes. There are some sure fire tips, but nothing is universally applicable. And then there's wrapping fragile gifts, a task that can end in heartbreak if not done carefully and correctly.
Ultimately, one of the hardest gifts to wrap are candles. They're one of the best gifts because everyone loves them, and they come in endless scents, meaning they can be hand-selected for each person to whom you're gifting them. Some candles can even be customized through special services to make them that much more intimate. However, they're a beast to pack because of their cylindrical shape.
One steadfast option is always "wrapping" candles simply by putting them in gift bags with tissue paper as secure padding (via Fernweh Editions). However, this option feels less personal than traditional wrapping — and if you're someone who empathizes with things that feel more personal and intimate, this option may not be appealing to you. Fret not, though: There remain two easy ways to wrap a candle without leaving a bunch of extra wrapping paper in a clump on its top or bottom.
These two methods show off your wrapping skills effortlessly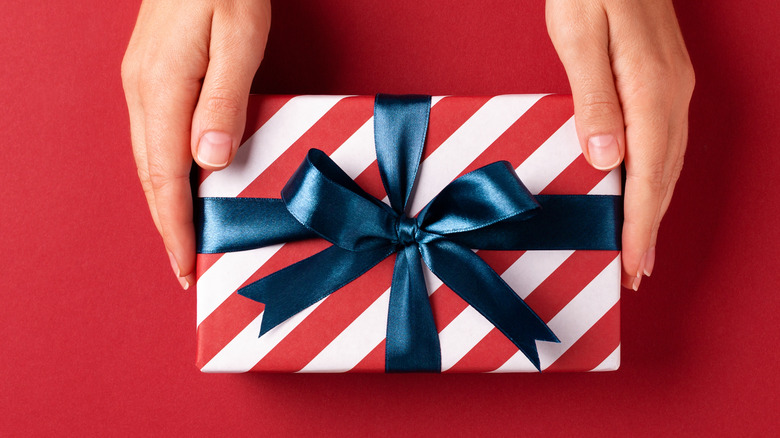 Olga Zarytska/Shutterstock
Wrapping candles is hard, but if you're precise in your actions, you can pull off a seamless look that will make others think you're a wizard. In fact, your first option is also a really easy one. According to The Wax Candles, an easy method will simply see you laying out a sheet or two of tissue paper and then setting your candle in the middle of it/them. Then, bring up the corners of the paper until they're gathered at the top of your candle. Here, you can meld the corners into a design of your choice, but for a simple solution, just tie them with ribbon or a bow, and you'll have chic packaging. (Just ensure your paper is big enough before you start!)
On the other hand, if you want to seriously wrap your candle like a professional, there's another method you can take. According to Groupon, this method involves not using too much paper and first starting by wrapping your paper around the candle to mark where your paper will need to be cut (leave 2 inches on the top and bottom to cover them). Then, once you've cut your paper, fold and tape down the paper on both ends in small triangles, like pleating or forming a dumpling or the top of a pie crust. It's a repeated motion that will lay flat once all of your triangles have been taped down. This circumvents the usual issue of candles having too much paper on one side, because it's hard to tape it flat.
Go forth and wrap your candles assured of yourself! After all, they're great presents and some of the best stocking stuffers.