Lacey Chabert Would Be Open To A Mean Girls Sequel Under One Condition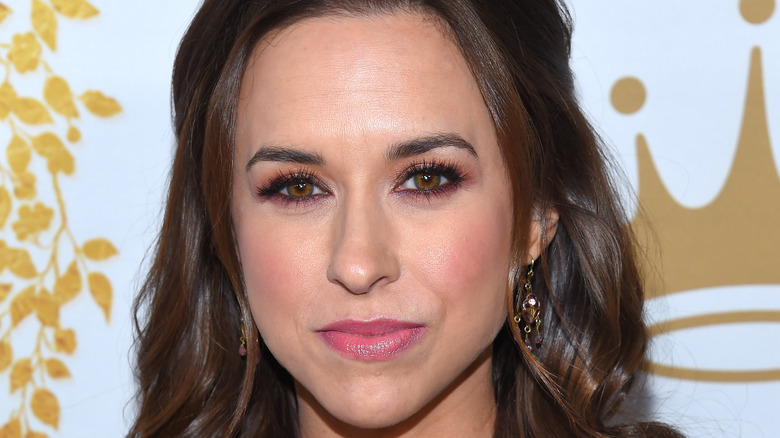 DFree/Shutterstock
Lacey Chabert has been a beloved Hallmark movie actress since 2010. With memorable appearances in films like "Christmas Waltz," "All of My Heart: Inn Love," and "A Wish for Christmas," Chabert has effectively cemented her spot as the Holiday Hallmark Queen (via Hallmark Channel). Prior to her heartwarming appearances in these films, she played a much different type of character in 2004's insanely popular "Mean Girls," where she starred opposite Lindsay Lohan, Rachel McAdams, and Amanda Seyfried.
In "Mean Girls," Chabert plays the lovable — albeit slightly neurotic — Gretchen Wieners, BFF to McAdams' iconic character, Regina George, and Seyfried's ditzy character, Karen Smith (via IMDb). Throughout the movie, Gretchen's friendship with Regina is put through the ringer once Lohan's character Cady Heron is brought into the group. Despite having limited screen time though, Chabert delivered an unforgettable performance. Who can forget her hilarious meltdown scene after Regina finally pushed her to her breaking point? (via YouTube).
With a movie this beloved, you'd think fans would be clamoring for a reboot of the original, especially since those seem to be all the rage these days. And while "Mean Girls" did get a Broadway rendition thanks to Tina Fey (who wrote the original movie, too!) it sadly hasn't been picked up for a reboot or a sequel ... yet (via Mean Girls Broadway).
Chabert herself has said that she would be open to a "Mean Girls" sequel under one condition, and frankly we think the other girls should follow her lead on this.
Lacey Chabert would be open to a Mean Girls sequel if the original cast returned
According to OK! Magazine, Lacey Chabert told her friends she would be open to a "Mean Girls" sequel under one condition. A source revealed to the magazine, "There's been a lot of talk about a sequel, and privately, Lacey's told friends she'd do it if Lindsay Lohan, Rachel McAdams and Amanda Seyfried were in." The source went on to add that Chabert isn't close with her "Mean Girls" castmates anymore, but "she doesn't have a bad thing to say about them and is happy for all of their successes" (via OK! Magazine).
McAdams had previously spoken about her desire to play an older version of her iconic character, Regina George, during an appearance for the Heroes of Health: COVID-19 Stream-a-thon in April 2020. "I always want to go back and do all of them again. You really fall in love with them. I mean it would be fun to play Regina George later in life and see where life took her after Mean Girls," McAdams said (via Heart Radio).
Lohan echoed these same sentiments during a 2020 appearance on "Lights Out with David Spade," where she mentioned "I wanted to come back with a Mean Girls 2 with the same cast, work with Tina Fey, and the whole crew again. I was excited to do that. But that's all in their hands, really." (via YouTube).
Sounds like it's time to get the gang back together!