Why Blake Lively's Pressed Flower Nails Are The Most Beautiful Manicure We've Ever Seen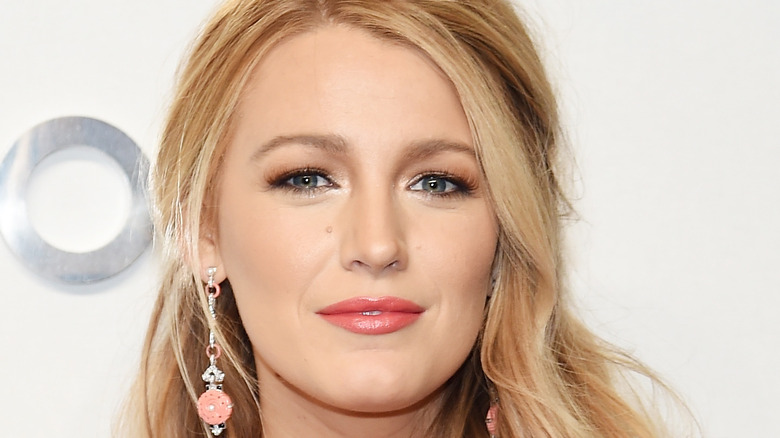 Jamie Mccarthy/Getty Images
Nail art trends are constantly changing. New styles, like colorful French tips and delicately drawn details, are poised to take center stage in 2022, but a few classic styles still make the list every year. Floral nails are always a favorite for springtime, but this manicure staple is getting a serious makeover thanks to Blake Lively. When Lively attended the movie premiere of "Free Guy" in August 2021—starring her husband Ryan Reynolds—she sported the most beautiful manicure we've ever seen for the event. 
The delicate style featured pressed flowers and a gorgeous light gray shade of polish. The fact that Lively used actual flowers instead of drawn designs is the detail that made this manicure unique. Celebrity nail artist Elle is the mastermind behind these stunning pressed flower nails, and she was kind enough to detail the exact process she used to create the design for Refinery29. Once you've got a glimpse of Lively's beautiful pressed flower nails, you'll want to give yourself an at-home manicure so that you can sport this same look to your next big event. 
Blake Lively's pressed flower nails are going to become your favorite manicure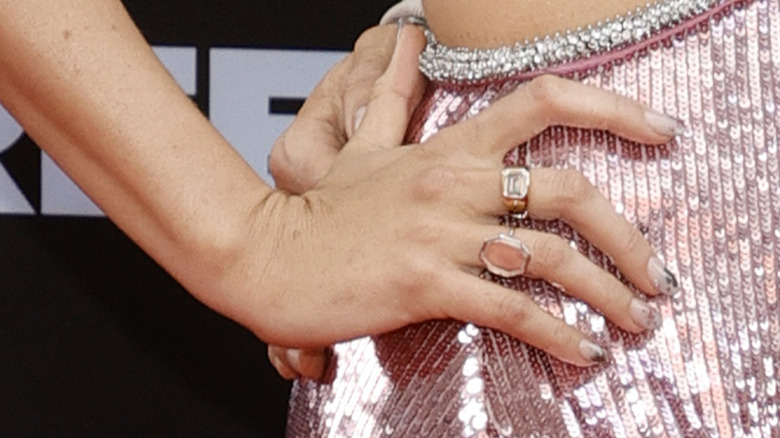 Jamie Mccarthy/Getty Images
We've heard of pressing flowers into books before, but pressed flower nails? Now that's an entirely new idea! According to Bustle, celebrity nail artist Elle dreamed up the idea when she was commissioned by actor Blake Lively for the premiere. To start, Elle applied a coat of LeChat's Liquid Gel Builder in a clear shade before applying LeChat's Smoke Show nail polish, which is a beautiful shade of pale gray. Elle created an ombre effect using the pale gray shade faded into the clear polish, which is one of the key factors to mastering this manicure at home. Next, Elle explained the process of pressing the flowers into the polish to create this signature look.
"I took tiny pressed flowers, which you can find at a craft store, soaked them first in alcohol to soften them up, and then placed them on the nail," Elle told Refinery29. "Because the flowers are 3D, you need to case them into the gel; I finished with a top coat, cured for 30 seconds, and then added LeChat Cuticle Oil for extra shine." To recreate this manicure at home, assemble the right LeChat polishes and oils and pick out a few pressed flowers you like at your local craft store. The manicure is easy to complete and looks professional, and it's the perfect option for office parties, weddings, and every event in between!