Victoria Beckham Is Bringing These Colors Into 2022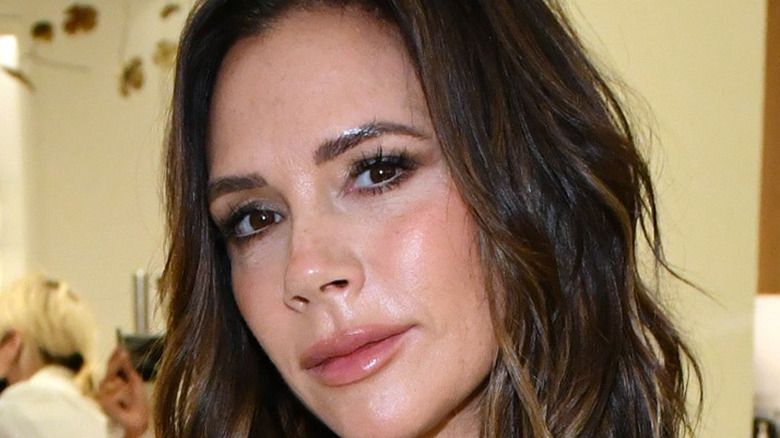 Craig Barritt/Getty Images
Victoria Beckham is and has always been a fashion icon. She made a name for herself in the fashion world during her Spice Girls days, somehow making the little black dress even more iconic than it already was. Afterward, she started her own fashion line, which is doing pretty well, considering celebrities like Meghan Markle are fans (via Grazia). Now, it looks like the little black dress lover is switching it up for 2022 and bringing the color.
According to Yahoo! News, there are 3 colors that Beckham is loving lately, and no, they aren't black, gray, and tan. We're talking true colors that are the brightest that she's worn in a while. Oh, and she's wearing them all at the same time.
Here are all of the colors that the fashion maven is loving for the upcoming year. When the queen of the little black dress says that color is in, people notice.
Victoria Beckham is loving red, yellow, and green
As you can probably already tell, Victoria Beckham is bringing red, yellow, and green into 2022 style. She's not just creating an outfit based around one color at a time, though. Instead, she's rocking all 3 bright hues together. 
According to Yahoo! News, Beckham recently stepped out in New York wearing a bright-colored outfit that was the exact opposite of the all-black ensembles that she typically wears. The look featured a bright yellow flare-leg, high-waist pants, and a bright red long-sleeve top with a black color block on the sleeves.
She finished the look off by rocking a bright green bag that took the Pooh Bear chic outfit to a whole new level. All the colors are true, bright colors, too. Think of the colors that you would find in a crayon box. As W Magazine put it, Beckham has worn more hue in this one look than in her 25-year fashion career combined. It looks like 2022 is all about bringing the color, and you can sign us up.
You can shop the colorful look right now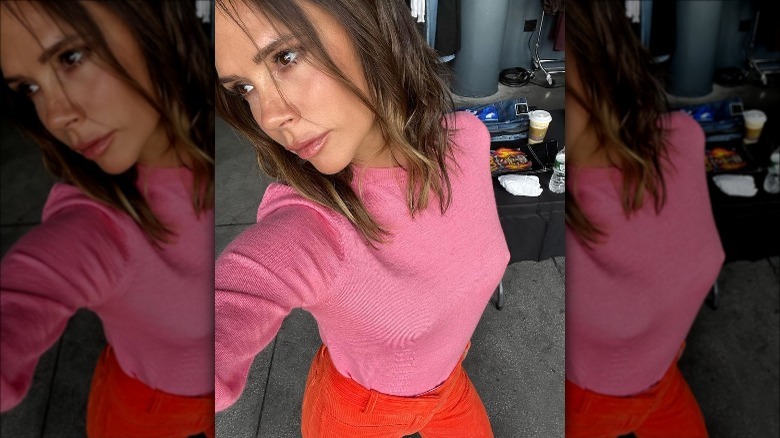 Victoria Beckham / Instagram
If you're still convinced that this colorful look was a fluke, think again. One look at Victoria Beckham's Instagram and you'll see that she's bringing the color this season. It almost looks like someone took over her social media page for her (You know, if she wasn't actually standing there and wearing the color herself).
She also rocked a pink sweater with bright orange corduroy pants that were, in her words, "a color clash so wrong that it's right." If you're dying to nail the look, you can rock the color combo as well. All the items, including the red and yellow separates, are available on her website.
Before you get too excited, you should know that they cost a pretty penny. You can shop the bright yellow pants on The Outnet right now on sale. The pants are down from their original price of $775 to $387. Not exactly affordable, of course, but they do make a statement.
Needless to say, 2022 is going to be all about the color. Go ahead and stock up on your color-blocked items now. If Beckham says the trend is here to stay, you can count on it.