The Foolproof Way To Style A Pair Of Overalls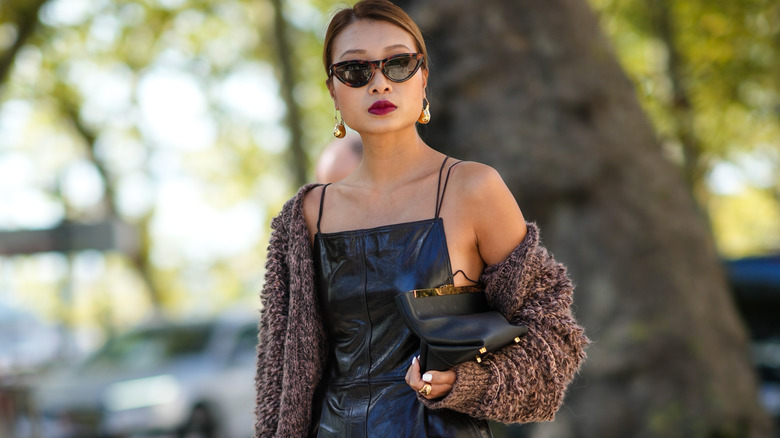 Edward Berthelot/Getty Images
Overalls are in season year-round, and we have 1990s fashion to thank for that. Harper's Bazaar accurately summed up fashion's love/hate relationship with overalls, while also pointing out their biggest appeal: they can be styled in a plethora of ways. When you're trying to orchestrate the perfect look, Marie Claire advises choosing the right top and shoes. What you pair with your overalls can make a difference between being in vogue and outdating yourself.
Whether you dress them up or down, the goal is to avoid looking like you're trying to relive your childhood. If money isn't an object, fashion blog More recommends adding luxury accessories, such as your favorite designer handbag, to give your overalls an adult look and feel. If you're not comfortable with splurging, a simple crossbody bag and embroidered top do the trick without the hefty price tag. Here are more grown-up ways to style your overalls.
How to give your overalls a modern, stylish look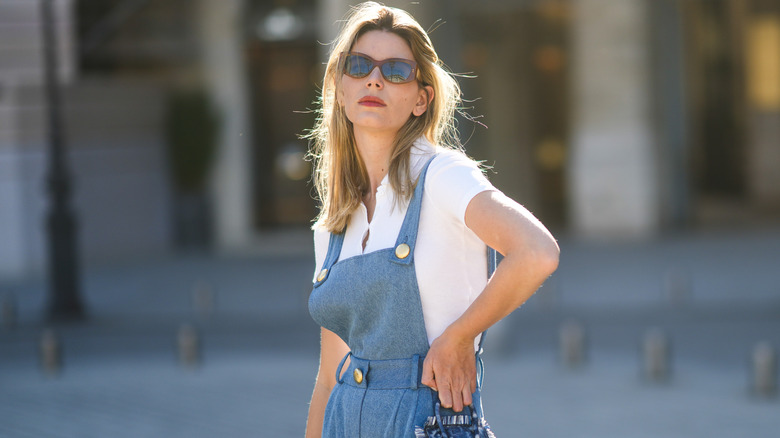 Edward Berthelot/Getty Images
Overalls are ridiculously easy to style and are fuss-free. The Trend Spotter name-dropped fashion goddess Alexa Chung's love of overalls and praised her natural ability to style them as if they're straight from the runway. Draw inspiration from Chung's lookbook by picking up a pair of denim overalls. Depending on the look you're going for, you can go for either a fitted or loose pair. The outlet recommends dressing them up with a pair of killer heels and a pristine blouse.
Fashion blog The Everygirl recommends keeping it casual with loafers and, if you're brave enough, a denim jacket. Denim on denim sounds like a fashion don't, but as long as the washes aren't too similar, you're in the clear. Channel California's sunny rays with a fitted pair of overalls, an influencer-approved wide-brim hat, and a peasant blouse (via The Everygirl).
Take your overalls from summer to winter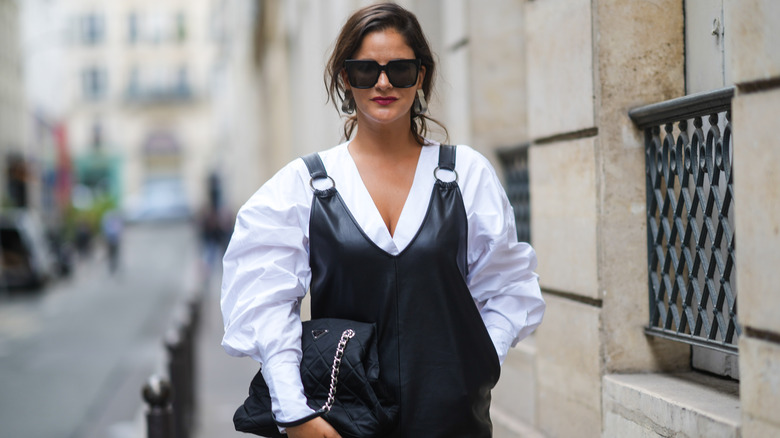 Edward Berthelot/Getty Images
During warmer months, Who What Wear champions the short overalls look. Pay tribute to the 90s with a sports bra, low-top sneakers, and dark lipstick. Give your outfit a more feminine look by pairing an overall dress with dramatic sleeves and a bold print, per fashion blog Simply Sutter.
In the winter, fashion blogger Hallie Abrams from The Wardrobe Consultant rocks a turtleneck underneath her overalls and pairs them with heeled boots to avoid farmer vibes. In a November 2021 Instagram post, Abrams replaced a turtleneck with a flouncy top with flutter sleeves and cuffed her pants, which added dimension to her outfit. Who What Wear is a firm believer in layers and proposes a tailored, lightweight coat to complement your look.
Harper's Bazaar strongly suggests going for a cream monochromatic look. Your inner minimalist will thank you later. The outlet also shared that a jumpsuit with a belt will accentuate your curves and give you a streamlined look. Overalls are the answer to all of your fashion problems. All you need is one pair to transform your closet.