The Truth About Cara Delevingne And Selena Gomez's Friendship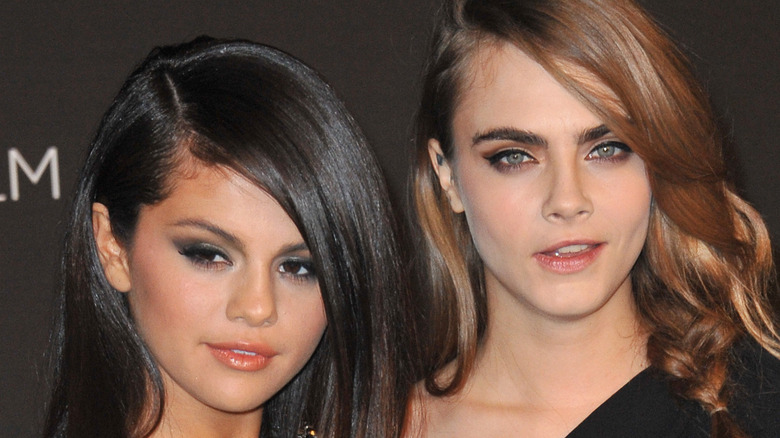 Featureflash Photo Agency/Shutterstock
As magazines attempt to repeatedly remind us, celebrities are just like us. So, why is it that we get so starstruck at the sighting of one? It's a rush that logic simply can't explain. It's similar to the inexplicable excitement of witnessing a crossover of your two favorite celebrities hanging out or forming a friendship. From Lizzo and Harry Styles to Cardi B and Penn Badgely, there's just something so endearing and heartwarming about watching their worlds collide to form a bond (via Buzzfeed). 
Some inevitably end in a feud and public drama, while others stand the test of time, like the iconic Martha Stewart and Snoop Dogg (via Delish). Well, when fans of Selena Gomez and fans of Cara Delevingne realized this international duo were friends they were certainly excited, especially with the pair sharing something that would link them for life — this friendship doesn't look like it's going anywhere.
Delevingne and Gomez cemented their friendship with some ink
Fans have been stanning Selena Gomez and Cara Delevingne's friendship for years now. The two 29-year-olds have been longtime friends, and they even took things to the next level by vacationing together for Christmas with family back in 2014 (via Page Six).The BFFs have gushed about their friendship repeatedly, and the pair even shared an adorable kiss when they were caught by a Knicks game Kiss Cam (via Page Six). 
Needless to say, they've become somewhat of friendship goals. Gomez and Delevingne decided to cement their friendship and give the public yet another cute moment by getting matching tattoos (via Buzzfeed). Tattoo artist Bang Bang shared a shot of a beautiful watercolor rose on Gomez's back on December 29, 2021 with her iconic bob draping above it (via Instagram). And just a few hours later Bang Bang shared a video of supermodel Delevingne posing with an identical tattoo on her ribcage, and he captioned it "Fyi I didn't tell them til the end that these were my first watercolor tattoos ever" (via Instagram).
So precious. And fans will get to see the BFFs acting side by side on the upcoming season of "Only Murders in the Building," Gomez has already shared how much fun the friends had on set, "We were just dying and laughing most of the time because we just know each other so well" (via Elle).