Betty White's Last Social Media Message Is Heartbreaking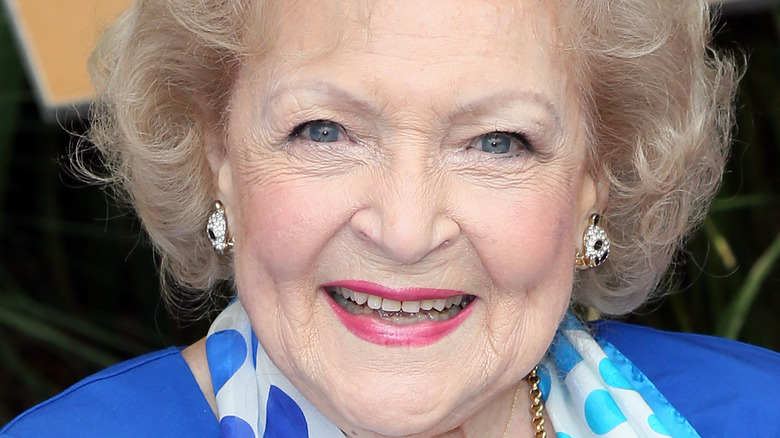 David Livingston/Getty Images
On January 17, 2022, Betty White was supposed to be celebrating her 100th birthday. The party had been planned, invitations sent — or in this case, tickets bought. "Betty White: 100 Years Young," a documentary about the life of Betty White, was set to play select theaters on her 100th birthday (via Fathom Events). The movie, directed by Steve Boettcher and Mike Trinklein, includes major guest stars like Ryan Reynolds, Clint Eastwood, and Carol Burnett (via ET Online).
In an exclusive interview with Entertainment Tonight, which aired on December 29, White said she was "amazed" to be turning 100. "No, seriously," the actress and comedian said, "I'm the luckiest broad on two feet to be as healthy as I am and to feel as good as I do!" However, on Friday, December 31, 2021, it was announced that Betty White had died at the age of 99, according to TMZ — just days short of her 100th birthday. Since White had been joking about a crush Ryan Reynolds had on her with People, anticipating her birthday, and didn't appear to have any illnesses, it's been reported by Us Weekly that her cause of death was natural causes. 
White had even been keeping safe at home during the COVID-19 pandemic. It was reported by CNN that "no one [was] allowed inside her home except those helping her," and she was keeping busy by reading the newspaper and doing crossword puzzles. 
Betty's last Instagram post mentioned her upcoming birthday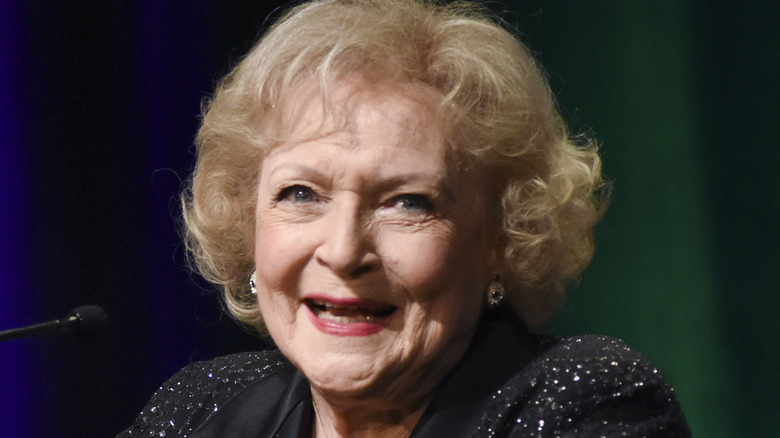 Vivien Killilea/Getty Images
"Betty Turns 100!" the cover of People Magazine said on December 28, 2021. This cover was the last thing Betty White shared on her Instagram. "My 100th birthday ... I cannot believe it is coming up," she wrote in the caption. The last social media post White shared is now heartbreaking knowing that the late actress died just days shy of her milestone birthday. 
"Even though Betty was about to be 100, I thought she would live forever," said her agent, Jeff Witjas, to People in a statement after her death was announced on December 31. White actually credited Witjas for having helped kept her happy and healthy for so long. "Having a good agent who keeps me busy all the time" was one key to a long, happy life, she told to People in January 2021. There's no denying he kept her busy right up until the end.
White first started acting in 1945 when she played Lou's Girl in a short called "Time to Kill" (via IMDb). From 1945 on, there barely were years where she wasn't guest starring in a television series. Later in her career, White went on to play her most iconic roles: Sue Ann Nivens in "The Mary Tyler Moore Show," and of course, Rose Nylund on "The Golden Girls." 
Other tips White had for a long and happy life included "having a sense of humor" and "just looking at the positive side and not dwelling on the downside." Her only diet tip? Avoiding "anything green" (via CNN).
Betty White's 100th birthday celebration is still happening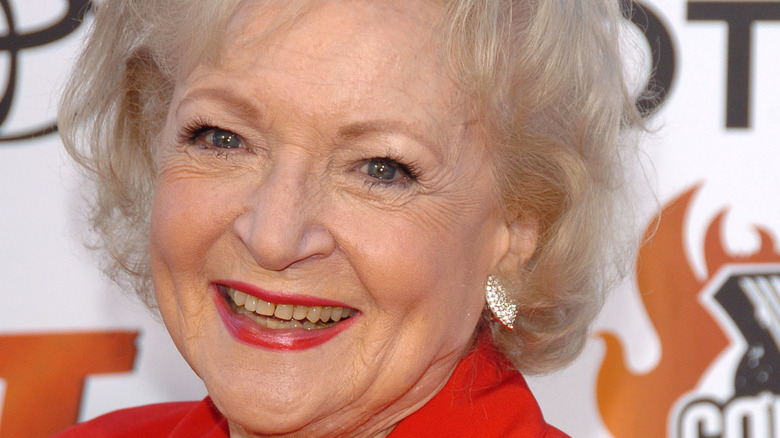 s_bukley/Shutterstock
What about the major movie celebration that had been planned for Betty White's birthday? "We will go forward with our plans to show the film on January 17," said the producers of the event, Steve Boettcher and Mike Trinklein, in a statement (via People). It is their "hope" the film "will provide a way for all who loved her to celebrate her life — and experience what made her such a national treasure."
The movie event has major names to help celebrate the late actress's life. Their tributes, filmed anticipating White to still be alive for her 100th birthday, will undoubtedly hit harder with her gone. Besides hearing from those who knew her and loved her, the film will include White's "funniest moments" from "The Golden Girls" to when she hosted "Saturday Night Live." Anyone attending the one-day-only event will also get to see a lost episode "from Betty's very first sitcom," a "backstage look" at her long career, and "insights into what was most important to her," per Fathom Events.
Some of her closest friends and biggest fans have already made tributes following White's death. "The world looks different now," Ryan Reynolds said in a tweet. Kathy Griffin wrote a threaded tribute (we're talking seven tweets), and said how White treated her "like [they] were in the same club or something." Griffin ended the tribute with: "No matter how long this world continues to spin, there will be only one Betty White."