The Truth About Betty White And Sandra Bullock's Relationship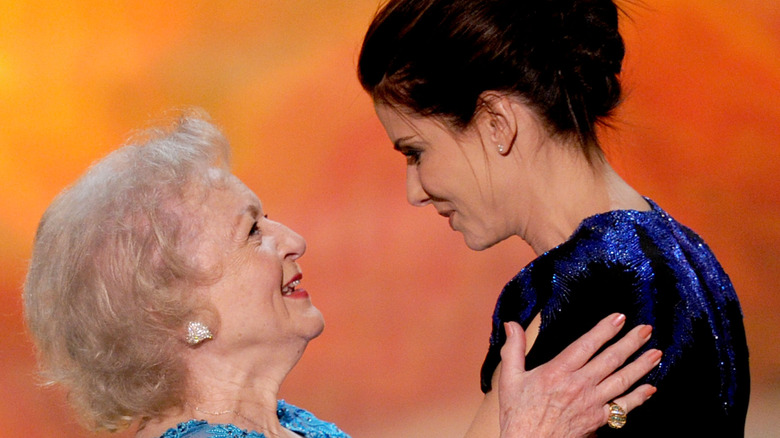 Kevin Winter/Getty Images
Working together can make or break relationships, and it's not too different for entertainment celebrities, who spend hours together and in some cases, need to feign intimacy in order to make a story more believable. But there was no need for Sandra Bullock and Betty White to pretend they got along when they first met on the set of the 2009 movie, "The Proposal" where White played the grandmother of Bullock's love interest, portrayed by Ryan Reynolds. Since that time, Closer Weekly says, the two actresses ended up sharing a close friendship. As one source described the dynamic, Bullock and White were drawn together because "they are both honest people who wear their hearts on their sleeves. Neither takes themselves too seriously."
The source added that White "taught Sandra a lot about comedy, timing, and staying in power in the business. Betty's been in the game from the beginning, and as Sandra says, she's still 'kicking it.'" It was said that the two women eventually became so close that Bullock would take her children to see White. "They'll bring lunch or dinner with them, or if Betty feels up to it they'll rent a back room at a restaurant. She appreciates her history in Hollywood. Betty was breaking barriers for women before anyone," the source said.
Bullock: White 'had gratitude' for what she had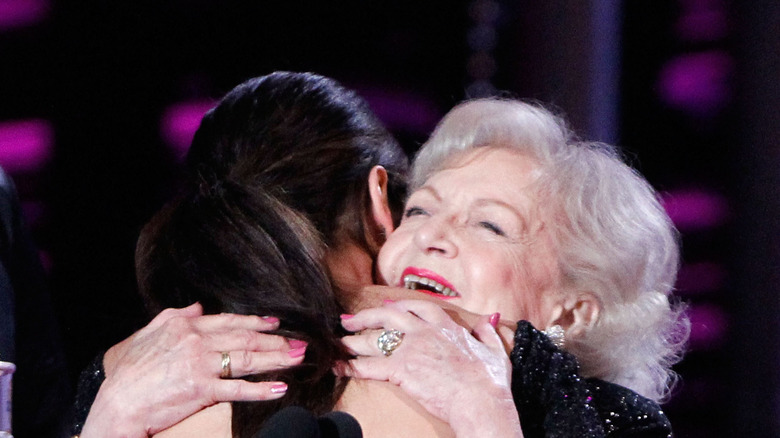 Christopher Polk/Getty Images
Sandra Bullock didn't seek to hide her affection for Betty White, and throughout the time they knew each other, both women took every moment to show it. For White's 98th birthday, Bullock and Ryan Reynolds shared a video on Twitter to play-fight over which of the two loved the veteran actress more. A month before White died, Bullock got the chance to explain why she appreciated their friendship. She told ET Canada that White "had such gratitude for what she had. You know, I would keep looking at the ring she had on her finger that was given to her by the love of her life [who] passed away and how she spoke about that time with him. They built this house ... and he passed away shortly it was built."
Bullock recalled being moved when White shared the story about a moment between herself and her husband of two decades, Allen Ludden, saying, "Just her description of being able to sit with him in front of the fire and savor those moments when they knew they didn't have a lot left and how she saw her stepchildren by marriage and the gratitude and the joy she had for every single thing that she'd been blessed with." Bullock went on to say, "I thought to myself if I could have half of her gratitude for the life that I live, I would consider myself so blessed."
Bullock on White: 'She's changed a lot for me'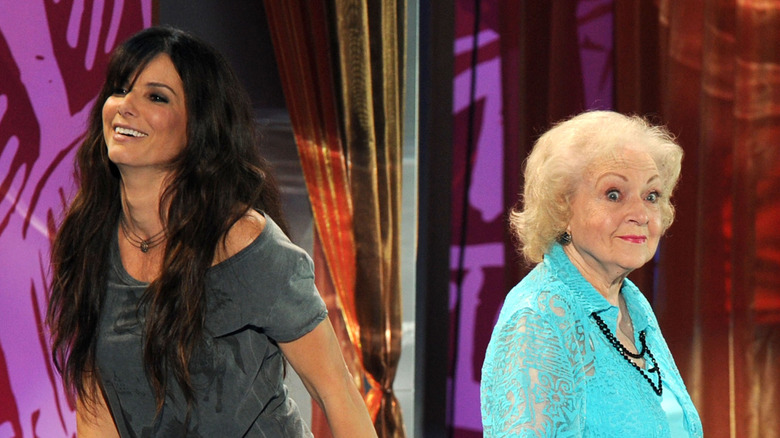 Kevin Winter/tca 2010/Getty Images
Sandra Bullock seemed to value how much Betty White appreciated her life and how powerfully she could touch others with that appreciation. As Bullock put it, "She recounts every moment of her life with such reverence. And it was an eye-opener for me because she remembered everything" (via ET Canada). "Every detail. Every moment ... every time she recounted a story I feel like thinking of that story I was in the room with them ... that's why we all loved her – because she can break your heart and make you laugh at the same time."
Bullock also paid tribute to White's contributions to the entertainment industry, calling her a maverick. "She's changed a lot for me, blazed a path for me, and I'm not blind to it." White's death on New Year's Eve has changed the way Bullock said she would celebrate the coming of 2022. The veteran actress told People, "I don't drink vodka ... but I will tonight, on ice, with a slice of lemon with a hot dog on the other side and just be okay being sad. I'll have to buy some rose-colored glasses because Betty was that for all of us."