This Is Where Ron DeSantis Was When He Dropped Out Of Public View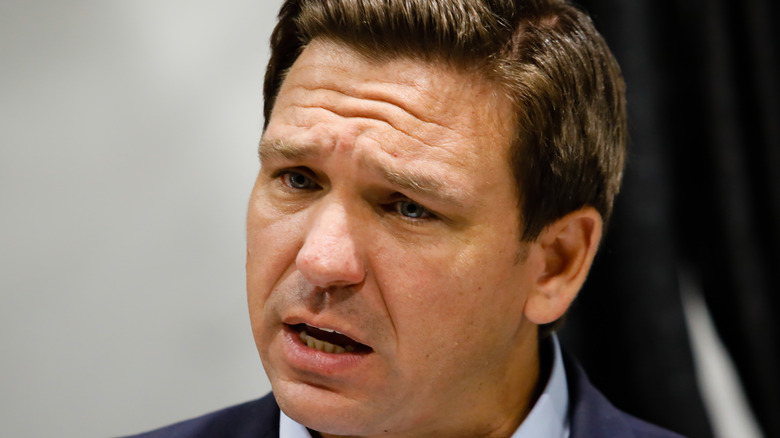 Bloomberg/Getty Images
Florida is breaking records with its COVID numbers. On the final day of 2021, 75,962 cases were reported — the most for any single day for the state (via Miami Herald). With the quickly spreading Omicron variant, Florida, and much of the US, has faced skyrocketing numbers of COVID-19 cases. With the surge, Republican Governor Ron DeSantis had a press conference on December 17, but nothing after that (via Forbes). This led to an outcry from some.
One Democratic Florida state senator, Senator Shevrin Jones, tweeted on December 30, "Counties are overwhelmed [with] lines that stretch for miles, [Governor Ron DeSantis] said FL will not open state run testing sites, [Florida Department of Health] has basically declared the pandemic is over, and FL has over 46K COVID cases today. It's every man/woman for themselves, because leadership is MIA."
Alexandria Ocasio-Cortez aka AOC, a US Representative from New York, tweeted on New Year's Eve, "Hasn't Gov. DeSantis been inexplicably missing for like [two] weeks? If he's around, I would be happy to say hello. His social media team seems to have been posting old photos for weeks. In the meantime, perhaps I could help with local organizing. Folks are quite receptive here
."
Here was DeSantis' team's explanation for his absence from the public eye.
Ron DeSantis accompanied his wife to cancer treatment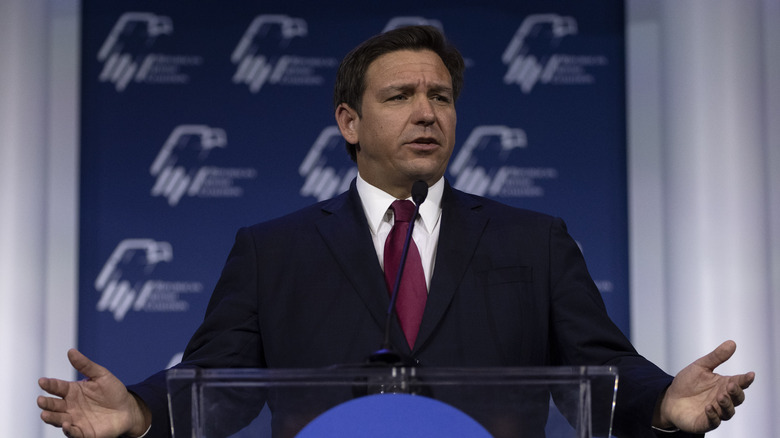 Bloomberg/Getty Images
On December 29, according to Fox News, Governor Ron DeSantis was missing, because he went with his wife Casey DeSantis to cancer treatment. Casey's breast cancer diagnosis was announced in October 2021, and she has a message for others facing a fight against cancer: "Just never give up. Don't quit. Just keep fighting. And just [be]cause you get some bad news doesn't mean you need to crawl into a hole and a tunnel and pull the wool over your head — get out and do as much as you humanly can and try to make a difference and do what you know in your heart is right" (from WTSP).
Granted that seems to only cover one day of the governor's seeming absence, but other DeSantis staff gave more context to his schedule. Kyle Lamb, on the communications team for DeSantis, tweeted "Just FYI, [Governor Ron DeSantis] is not on vacation. Literally no one from our office has said that he is. Anyone pushing that could have easily seen the public schedule and seen that he's taking calls and meetings this past week. Not having public events does not = 'vacation.'"
And DeSantis press secretary Christina Pushaw tweeted on December 30, "The public schedule for [Governor Ron DeSantis] and [Jeanette M. Nuñez] goes out every day. Here's part of the Governor's public schedule for [two] days ago. Today and tomorrow are holidays for state employees."