Why Ivanka Trump And Donald Trump Jr. Were Just Issued Subpoenas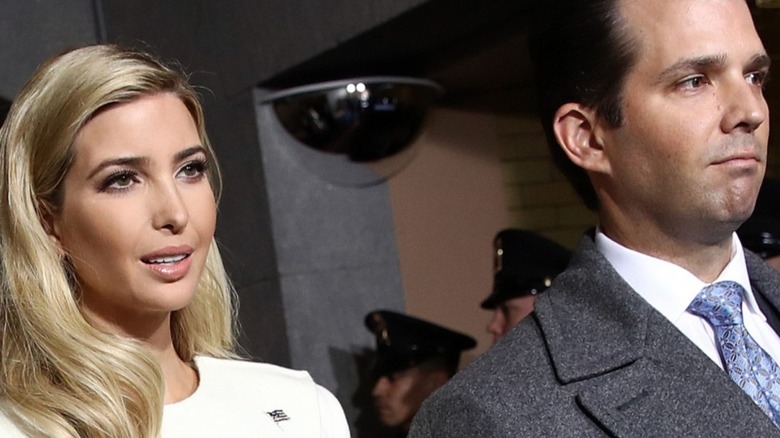 Bloomberg/Getty Images
On December 1, 2021, Former President Donald Trump's children Ivanka Trump and Donald Trump Jr. were subpoenaed by the New York State Attorney General Letitia James' office. People reports that the subpoenas, which only became public on January 3, 2022, are part of an investigation determining if the Trump Organization misreported property values in order to reduce taxes. The Associated Press surmises that Ivanka and Donald Trump Jr. were recently named in the investigation because of their roles in the family business.
Trump's eldest are not taking this inquiry lightly. According to The Guardian, their sibling Eric Trump was already forced to testify in October 2020. An August 2020 official press release from Attorney General James' office listed a series of attempts by the Trump Organization to slow down the investigation, including withholding key financial documents and Eric Trump's initial refusal to provide testimony. But despite their brother's forced cooperation, ABC News reports that Ivanka and Donald Trump Jr. are both fighting the subpoena and subsequent tax fraud allegations. Former president Donald J. Trump was also named.
The Trumps respond to the James investigation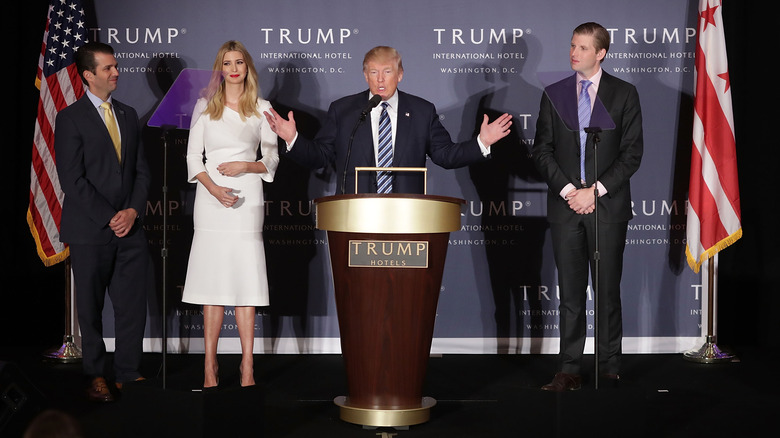 Chip Somodevilla/Getty Images
According to NPR, the Trumps (including the former president himself) have dismissed the investigation as politically driven and are fighting for the subpoenas to be thrown out. This past December, Donald Trump filed a lawsuit against Attorney General Letitia James to halt the probe into his business. In his lawsuit, he adamantly claims that James political standing as a democrat is her true motivation behind the lawsuit, as reported by the New York Times. 
"Her mission is guided solely by political animus and a desire to harass, intimidate, and retaliate against a private citizen who she views as a political opponent," Trump's lawsuit read in part. Trump deemed the investigation as "a continuation of the political witch hunt that has gone on against me."
On January 3, James and a lawyer for the Trump Organization jointly filed papers to name Trump's eldest as respondents and confirm that they would contest the civil investigation, per ABC News. A spokesperson for the Attorney General's office released a statement in response. 
"As her investigation into financial dealing of the Trump Organization continues, Attorney General James is seeking interviews under oath of Donald Trump, Donald Trump Jr., and Ivanka Trump," they explained (as reported by the news outlet). "Despite numerous attempts to delay our investigation by the Trump Organization, we are confident that our questions will be answered and the truth will be uncovered because no one is above the law."