Everything We Know About Donald Trump Jr.'s Engagement To Kimberly Guilfoyle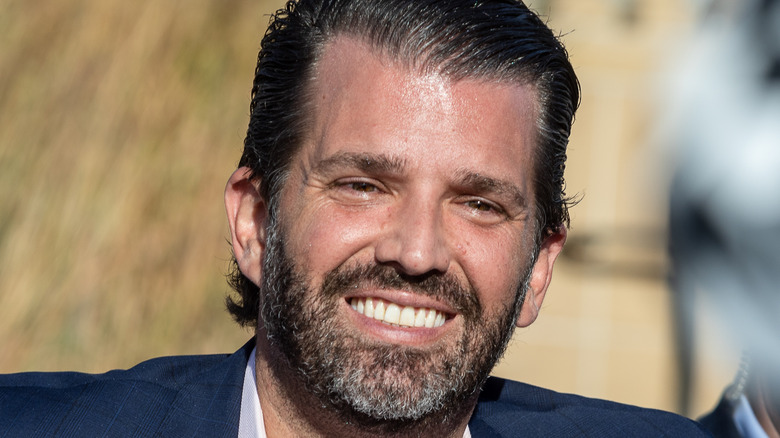 Chris Manning/Shutterstock
As the clock ticked down the final minutes of 2021, hundreds of deep-pocketed revelers gathered for the annual New Year's Eve party at Mar-a-Lago. The black-tie gala, which is said to cost up to $1,000 a ticket, is one of the major annual events hosted by Donald and Melania Trump, according to the Palm Beach Post. Although the former first couple skipped out on the 2020 celebration at the last minute, they were front and center this past December 31, mingling with the crowd and posing with guests.
The older Trump sons, Donald Jr. and Eric, were there along with their significant others — and it was then that a very well-kept secret came to light. Don Jr.'s long-time girlfriend, Kimberly Guilfoyle, posted a photo to her Instagram account where they posed in front of a Christmas tree during the New Year's Eve party. Wearing a black sequined St. John gown with a turtleneck and long sleeves, Guilfoyle sported just one piece of stand-out jewelry: a gigantic solitaire engagement ring. She noted that the night was a double celebration, since it was also Don Jr.'s birthday. "Don, you are strong, smart, courageous, funny and the love of my life," Guilfoyle wrote. "I can't wait to spend the rest of our lives together. Love you."
According to inside sources who spoke to the Daily Mail, the couple have actually been engaged for a year, with Don Jr. proposing on his New Year's Eve birthday in 2020.
Donald Trump Jr. and Kimberly Guilfoyle's engagement has been 'an open secret'
The unnamed source told the British tabloid that Donald Trump Jr. and Kimberly Guilfoyle decided to keep their engagement quiet for the last year so they could get their new living situation in order. At the time he popped the question, they were preparing for their post-White House life, which included moving into a $9.7 million mansion in Jupiter, Florida (via Palm Beach Post).
The source calls the engagement "an open secret." Although Guilfoyle has been carefully hiding her left hand in photographs, she apparently hasn't been shy about showing off her 8-carat sparkler to friends. The two have been an item for the last four years, but have known each other more than a decade. Both were previously married — Guilfoyle twice and Don Jr. once — and between them, they have six children.
A New Year's Eve video Don Jr. shared on his Instagram account shows Guilfoyle's ring on full display as she exchanges a quick double-cheek kiss with her future father-in-law. It's also visible in another Instagram photo where they pose with country star Jason Aldean and his wife. Rather than comment on the engagement, however, the former first son wrote, "Great being with these freedom loving patriots to ring in the new year."
No wedding date or plans have been announced at this writing, though it's a pretty safe bet to assume that the Trump-Guilfoyle nuptials will be a little more elaborate than a trip to City Hall.
Guilfoyle was previously married to California Governor Gavin Newsom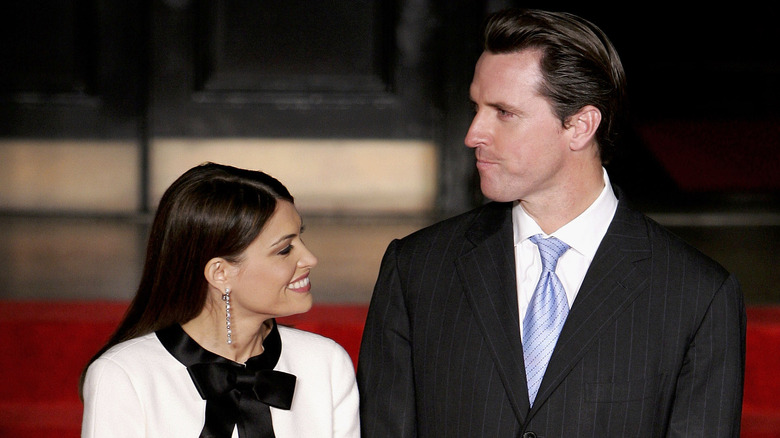 Chris Jackson/Getty Images
Despite the fact that she has been a registered Republican since her college days, former Fox News host and current conservative political aide Kimberly Guilfoyle was once married to Democratic California Governor Gavin Newsom. According to Slate, Newsom and Guilfoyle were married from 2001 until their divorce in 2006. Throughout their marriage, Guilfoyle served as the first lady to the city of San Francisco while her husband was the city's mayor. Years after their divorce, Guilfoyle gave a speech at the Republican National Convention in 2020 that painted her former home as a dystopian wasteland of sorts. "If you want to see the socialist Biden-Harris future for our country, just take a look at California," said Guilfoyle, per Vox. "It is a place of immense wealth. Immeasurable innovation and an immaculate environment. And the Democrats turned it into a land of discarded heroin needles in parks, riots in streets, and blackouts in homes." 
Though they are on opposite sides of the aisle now, Guilfoyle told the Washington Post in 2018 that the pair still maintained a friendly relationship with one another. She even joked about something he has in common with her current fiancé. "Gav's hair is slicked back," she quipped, "and Don's hair is slicked back."
After her divorce from Newsom, Guilfoyle went on to marry Eric Villency, who runs an interior design firm, per Slate. That marriage also ended in divorce, and, just three months after Donald Trump Jr.'s divorce from model Vanessa Haydon, Page Six reported that Guilfoyle and the former president's son were an item.