Kamala Harris Just Got Some More Bad News About Her Staff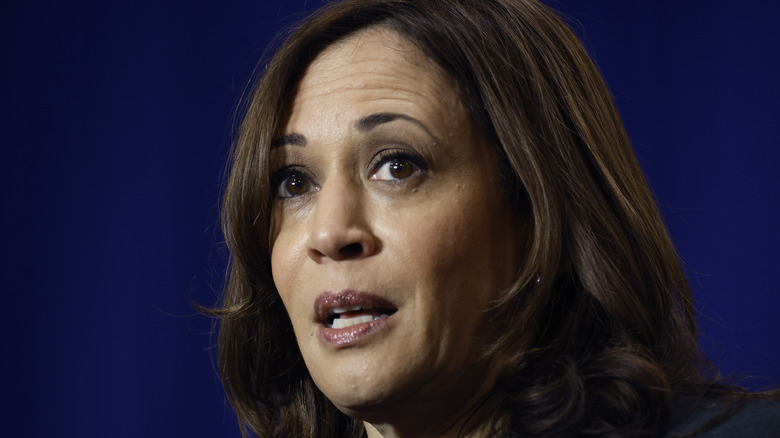 Chip Somodevilla/Getty Images
Over the past few months, several top aides from Vice President Kamala Harris' office have departed from their roles, leading many to wonder what exactly is going on behind closed doors. In December 2021, NBC News revealed that Symone Sanders, a senior adviser and chief spokesperson for Vice President Kamala Harris, would be leaving her position by the end of December, information revealed to NBC by a White House official. Sanders was President Joe Biden's campaign senior advisor during the 2020 election, then transitioned to the role of chief spokesperson for Harris after Biden won the election, per Politico. It is not clear as to exactly why Sanders is leaving her post.
"I'm grateful for [Harris chief of staff] Tina [Flournoy] and her leadership and her confidence as well," Sanders said in a note to her fellow staffers on December 1, per Politico. "Every day, I arrived to the White House complex knowing our work made a tangible difference for Americans. I am immensely grateful and will miss working for her and with all of you."
In November, Harris' communications director, Ashley Etienne, announced that she would be leaving her post in order to "pursue other opportunities," per USA Today. During an appearance on "Good Morning America," Etienne dismissed the idea that she harbored any negativity about her role. "I'm very, very excited about the work that we have accomplished but I am also absolutely, absolutely clear-eyed that there is a lot more to do and we're going to get it done," she said (per USA Today).
Another staff member from Harris' office has resigned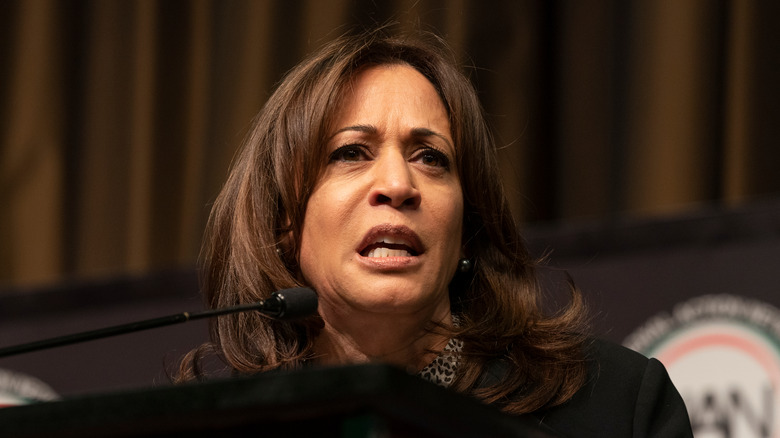 lev radin/Shutterstock
On January 4, Vincent Evans, the deputy director of public engagement and intergovernmental affairs for Vice President Kamala Harris' office, announced that he would be leaving his current position to take a new job at the Congressional Black Caucus, according to CNBC. "I am deeply honored to be named the executive director of the Congressional Black Caucus," Evans said in a statement, per CNBC. "I started my career in Washington working for a member of the CBC, so I know firsthand the tremendous leadership and impact this caucus has in Congress and across the country." A person close to Evans told CNBC told that he left his position on great terms with the vice president.
Last month, a bombshell report by The Washington Post revealed that a few of Harris' former staff members believed her to be a bully in the workplace. "Who are the next talented people you're going to bring in and burn through and then have [them] pretend they're retiring for positive reasons?" former Harris aide Gil Duran told the Post. An anonymous source told the paper that Harris often blames her staff members for moments when she's unprepared, despite failing to read briefings provided to her by the staff members. "It's clear that you're not working with somebody who is willing to do the prep and the work," the anonymous former staffer told the Post. "With Kamala you have to put up with a constant amount of soul-destroying criticism and also her own lack of confidence. So you're constantly sort of propping up a bully, and it's not really clear why."