This Starbucks Employee Has TikTok Divided Over Caramel Syrup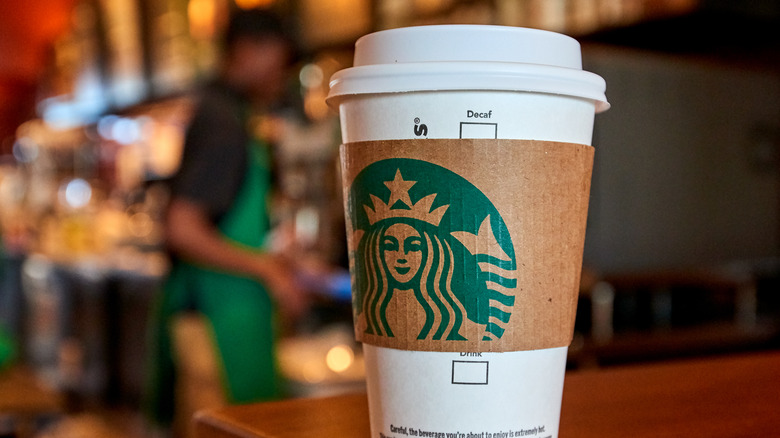 Harun Ozmen/Shutterstock
Starbucks balances both trendy and traditional coffee  beverage choices, but one classic drink from the multinational corporation has fans divided. Some Starbucks drinks already aren't worth the money to some, and once new information is revealed by Starbucks baristas, they may become even less desirable.
Of course, Starbucks is also known for their customizable beverages, so any of their traditional drink builds can be altered to your taste. Colloquially known as the Starbucks Secret Menu, some of these secret menu drinks taste like strawberry cobbler or like a creme saver. Starbucks has also been in the news lately for their union issues. According to WIVB, Starbucks employees in Buffalo, New York, fought to earn union rights — employees from Starbucks and other food service jobs don't possess these benefits in many states — but are still facing more issues even after the establishment of their union. Still, it's not the customizable drinks or the union issues with which TikTok users have an issue right now.
Instead, one Starbucks barista caused TikTok users to melt down when he revealed that a beloved drink may not actually have caramel syrup in it like many believed.
Starbucks' Caramel Macchiato may not be as it appears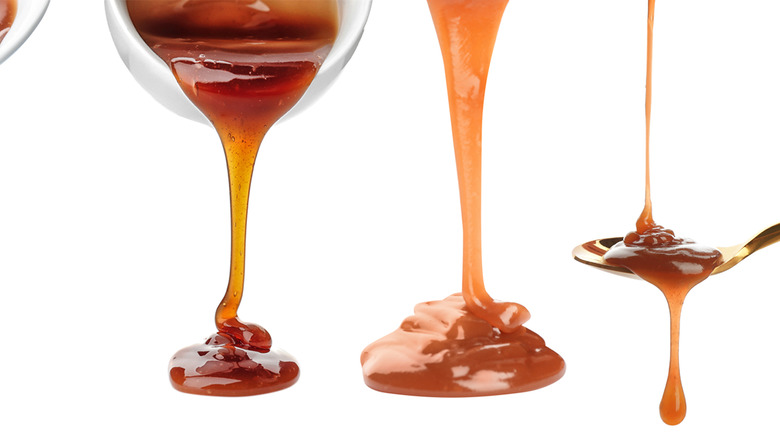 New Africa/Shutterstock
The caramel controversy began with a TikTok video uploaded by user @jamayiachristian, per Daily Dot, in which she explains that there is no caramel syrup in Starbucks' Caramel Macchiato, no matter if you order the drink hot or iced. Instead, the video explains that vanilla syrup is the flavor agent and sweetener in the drink itself, while caramel syrup is instead drizzled on top for an extra touch of sweetness and an eloquent presentation.
This caused controversy for two reasons. Christian called customers who order extra caramel in the Caramel Macchiato "Karens," and others are now dumbfounded that the caramel in the drink's name is only a decoration. "How is someone a Karen for thinking that a Caramel Macchiato is made with Caramel LMAO??," one user commented. Another said, "How does thinking caramel goes in a Caramel Macchiato make you a [Karen]????"
The term "Karen" has become a colloquial description of a woman, typically white, who causes trouble for food service and retail workers, especially when the problem at hand is moot (or just unimportant in the grand scheme of life) according to the BBC. One barista also chimed in, though, saying, "If people just ask for it, and we try to clarify if they want extra caramel drizzle or if they want extra syrup to make it sweeter, and they're fine with it, it doesn't bother us. But what you don't realize is that people snap at us like we're idiots when we try to clarify."
Ultimately, it's easy to see why all sides were confused and/or frustrated, but it's a lesson learned moving forward that all restaurants' menu items may not be as they seem.