This Video Of Ron DeSantis Has People Concerned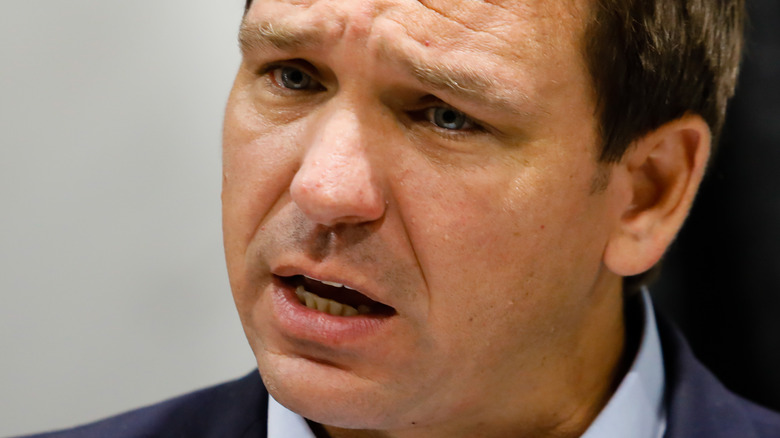 Bloomberg/Getty Images
Just last week, Florida Governor Ron DeSantis was getting heat for seemingly staying quiet in the face of rising cases of COVID-19 in the state. Then it was revealed that he had been by his wife Casey's side as she underwent cancer treatment (via Fox News).
Now, the politician is making headlines yet again due to a video that has some folks wondering if he is okay. In the clip posted to Twitter, DeSantis is making a speech and appears to be short of breath. Theories about the reason behind his shortness of breath ranged from that he feels overcome with emotion about his wife's illness, to that he is ill himself.
"He's choking back emotions. Having a loved one with cancer sucks," one commenter said about the concerning video. But a social media user who claimed to be a doctor had a very different take, tweeting, "His phrasing, limited breath support, and use of accessory muscles of respiration are telling. Doesn't confirm it's #COVID19, but something appears to be wrong." "Reminds me of Trump up on the WH balcony after taking off the mask," commented someone else.
Interestingly, many Twitter users posted other versions of the same speech in which DeSantis seemed to be fine.
There are many different takes on what is happening in Ron DeSantis' speech
As the video of DeSantis appearing to have trouble breathing during his speech spread like wildfire on the internet, more people questioned what is going on. "Why is Ron De Santis not admitting he has COVID?" asked one person who shared the clip to Twitter.
Even Newsweek reported on how the speech, which centered around tech manufacturing and took place in Osceola County on Wednesday, has prompted speculation on social media that the Florida leader has COVID-19. The outlet suggested there could be a link to this appearance and DeSantis having not been seen in public recently — despite his disclosure that he was accompanying his wife to chemotherapy.
Interestingly, DeSantis appeared on "Fox & Friends" Thursday and spoke about providing at-home COVID tests for seniors in the state, and did not appear to have any trouble breathing (via Fox News). At time of writing, he had not addressed the response to the video of his speech, a longer version of which you can view on YouTube and decide for yourself what you think is going on.