Tori Spelling Shares Sad Family News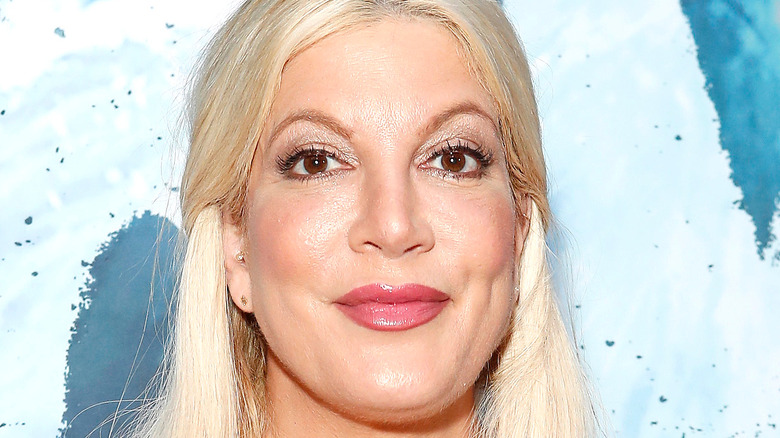 Joe Seer/Shutterstock
As 2022 began, many fervent hopes and prayers went up that this would be the year the COVID-19 virus would finally be, if not eradicated, at least controlled enough to allow a safe return to normal activities. Unfortunately, that hope seems to be a long time away yet. Just three days after the new year began, the United States reported a record-setting one million cases of new infections in a single day (via CNBC). Among that six-figure statistic are seven members of a famous Hollywood family.
Just one week after Tori Spelling posted photos of a joyful family New Year's celebration at the luxe Lake Arrowhead Resort and Spa, she shared a far less cheerful update to her Instagram feed. The photo shows her — uncharacteristically sans makeup — lying down next to her youngest son, Beau. Spelling explained that she's recently been out of touch with friends and business associates because she and all five of her children contracted COVID-19. "We all were praying it was just a bad winter cold," she explained. "But it wasn't." Spelling was the last in her household to start feeling sick, and it threw her for a loop. Extreme fatigue seems to be her worst symptom — it took her 45 minutes to create her paragraph-long caption.
Worse than the symptoms themselves, Spelling posted, is being unable to help nurse the kids through their own ordeal. "I feel useless as a parent. Devastated," she wrote. "A mom is supposed to take care of their kiddos when sick. That's how it works." 
Tori Spelling's husband, Dean McDermott, also contracted COVID-19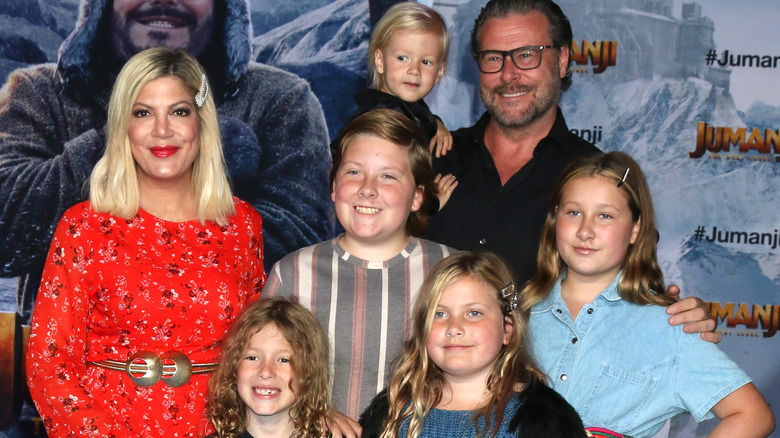 Kathy Hutchins/Shutterstock
Tori Spelling posted that "every single member" of her family tested positive for COVID-19, and she meant it. Her husband, Dean McDermott, has it as well. On New Year's Day, he posted a video from his bed, explaining that he was sick with pneumonia. "I'm down but not out," he declared. Then, on January 7, 2022, he wrote an update saying that he actually contracted the coronavirus.
McDermott went on to admit that his condition was more serious than he'd first thought. "I've got to be honest, this scared the s*** out of me," he confessed. "My breathing was so compromised I thought I was going to be put on a ventilator." He added that he is recovering, but slowly.
Although neither Spelling nor McDermott said so directly, they appear to be battling through this illness in separate households or living spaces. Neither one mentioned the other in their Instagram posts, and neither spouse has appeared in the other's photos in quite some time. This would seem to support the ongoing rumors that the couple is separated. Recently, an unnamed source told People that McDermott and Spelling are "chilly" and "not in a good place." Reportedly, they do have some family meals and go out occasionally with their five children to maintain a sense of unity while they figure out next steps.
At the moment, however, the entire Spelling-McDermott clan is focused on getting back to health.