Why The Timing Of B.J. Novak's Tweet About Bob Saget Is So Eerie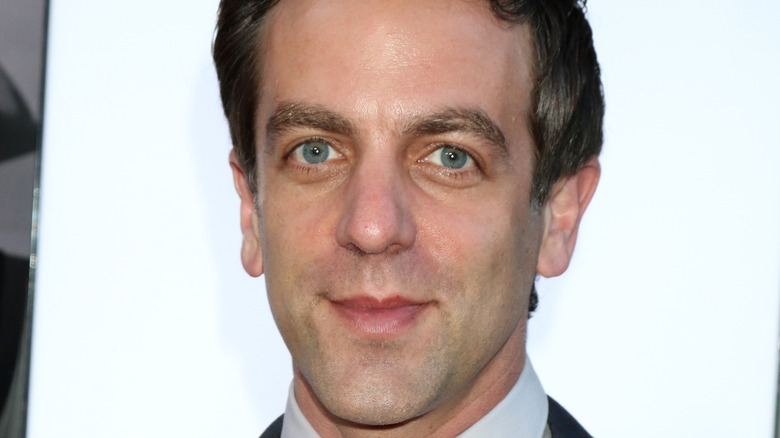 Kathy Hutchins/Shutterstock
Stand-up comedian and actor Bob Saget died on Sunday January 9 in Orlando, Florida, according to CNN. Over the years, Saget has been a beloved fixture on television, appearing as father Danny Tanner on "Full House" and, more recently, on "Fuller House." He also narrated another mega-popular sitcom, "How I Met Your Mother."
"We are devastated to confirm that our beloved Bob passed away today," the Saget family said in a statement, per CNN. "He was everything to us and we want you to know how much he loved his fans, performing live and bringing people from all walks of life together with laughter. Though we ask for privacy at this time, we invite you to join us in remembering the love and laughter that Bob brought to the world."
Saget had been in Florida for the first two shows of his "I Don't Do Negative" stand-up tour (via Twitter). According to TMZ, Saget was pronounced dead in his hotel room at the Ritz-Carlton, and a statement from the Orange County Sheriff's Office said, "We have no information on cause of death, and detectives have found no signs of foul play or drug use in this case." The last thing Saget tweeted before his death was about his show in Jacksonville, where he said he "loved" it and was "addicted" to performing again (via Twitter).
Along with his tour, Saget also had a podcast — "Bob Saget's Here For You" — which just released an episode on January 3 with special guest B.J. Novak from "The Office."
B.J. Novak has always loved Bob Saget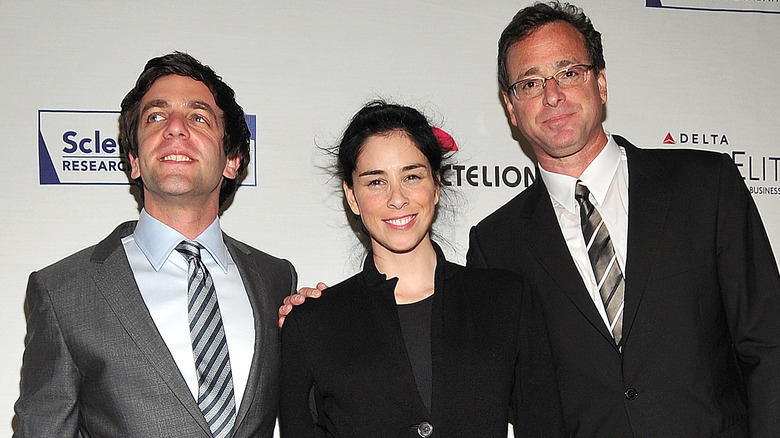 John M. Heller/Getty Images
According to the "Bob Saget's Here For You" episode description with B.J. Novak as the guest, Novak was one of Bob Saget's "most special guests." The two reportedly discussed Novak's post-college career and "his first [writing gig] being a sitcom [Saget] was doing." On the day the episode dropped, Saget even tweeted a clip from the show of Novak and him discussing the young writer moving to L.A. to work on the show (via Twitter). Novak said that Saget called his mom to assure him that he would be okay in LA, and that Saget said, "I'm going to take care of him."
That phone call is what allowed Novak to move to California. However, the "The Office" alum then said that when he got to L.A., Saget was going to the club every night, but he was still a good influence because of his "heart."
Novak even shared the clip to his own Twitter on January 3, while saying, "I have always and will always love Bob Saget." Just six days later, Saget had passed away. The timing of the tweet may seem eerie to fans now, but just goes to show the sweet relationship between these two comedians. Novak even tweeted a broken heart emoji after hearing of the news of Saget's death (via Twitter).
Saget once surprised Novak during an episode of Good Morning America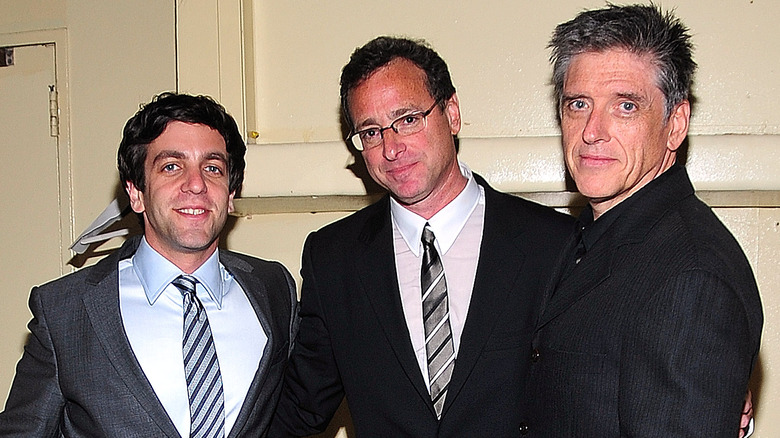 John M. Heller/Getty Images
Back in 2017, while promoting his film "The Founder," in which he portrayed Harry J. Sonneborn, the first president of McDonald's corporation, on "Good Morning America," B.J. Novak was surprised with a special Skype appearance by his friend, Bob Saget. "I will be on @GMA tomorrow morning talking about @thefounderfilm but only because @bobsaget wouldn't book me on Wake Up San Francisco," Novak tweeted prior to his "Good Morning America" appearance. If you're not familiar with "Full House," you might have missed the fact that Novak was referencing the fact that Saget's character on "Full House," Danny Tanner, was the host of the fictional morning show, "Wake Up San Francisco," per Showbiz CheatSheet.
During his interview with "Good Morning America," Saget appeared to apologize to his friend in a surprise Skype session. "B.J., I feel really bad," Saget said today during a Skype on "Good Morning America," per ABC News. "I would've made the Danny Tanner move to the producers of 'Wake Up San Francisco,' to promote 'The Founder' and you. You know I love you, but it's now on the new 'Fuller House,' it's called 'Wake Up USA.' I got promoted. I'm going to get you the gig. You're going to come on to promote your movie because you're great and you know I love you like a small child that became a man." As Showbiz CheatSheet reported, Saget was referencing the fact that his character left "Wake Up San Francisco" to take a hosting gig at "Wake Up USA" on the latest installment of "Full House," called "Fuller House."