Jodie Sweetin's Raw Tribute To Bob Saget Has Fans In Tears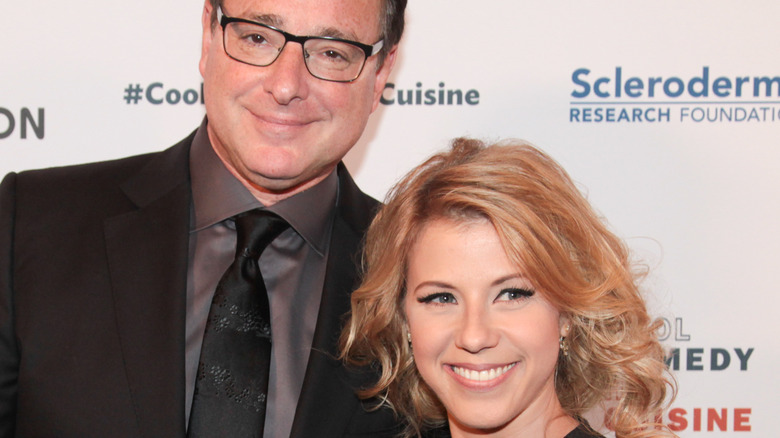 Kathryn Page/Getty Images
We knew it was coming. Following Bob Saget's sudden death at the age of 65, his fellow "Full House" stars have been active on social media, paying tribute to their friend. First, John Stamos shared his heartbreak over Saget's passing. Candace Cameron Bure also voiced her pain over the loss. The typically media-shy Olsen twins even released a statement, saying in part, "Bob was the most loving, compassionate and generous man. We are deeply saddened that he is no longer with us but know that he will continue to be by our side to guide us as gracefully as he always has" (via People).
Now, Jodie Sweetin, who played Saget's daughter Stephanie Tanner on the beloved sitcom, has shared her own tribute to the actor (via IMDb). Taking to her Instagram, the star posted a series of images featuring herself with Saget, also writing a lengthy caption that will bring you to tears. "There aren't enough words to express what I'm feeling today. Nor are they big enough to capture even a slice of who he was," Sweeting began the raw post, adding she and her on-screen dad "never missed a chance to" say "I love you" to one another.
The actress went on to recall the many things she talked to Saget about, from music to comedy. She added they had hundreds of inside jokes, adding they were "the kind that only a family knows and that nobody else will ever understand or think is funny."
Jodie Sweetin pays tribute to Bob Saget in a way true fans will appreciate
Sweetin's wide-ranging Instagram tribute to Saget continued with the actress giving fans a glimpse into some of the special moments the two shared over the years. "He and Dave [Coulier] dancing together at my 13th Birthday party, being ridiculous, as usual. Spending weekends at his house with his daughters when I was young, and having blueberry pancakes," she wrote.
Then, she paid homage to Saget, sharing, "Bob was a wonderful human being. A human being that could drive you nuts at times, and he knew it, but who was so genuine that you couldn't even get that frustrated." "He was a genuinely kind spirit," Sweetin continued, adding Saget gave amazing hugs.
She finished the lengthy tribute to the comic by writing, "I would always say 'you're the best TV dad ever.' And he was." She then pledged, "I'll make sure and tell an inappropriate joke at your funeral. In your honor. I know you would've wanted that." And for fans of "Full House," Sweetin concluded, "But you were supposed to be here longer...How Rude." Finally, the star said, "Thank you all for the love. And to his amazing wife [Kelly Rizzo] and my FH family- we'll get through this together."