How Much Does The Average LuLaRoe Consultant Make?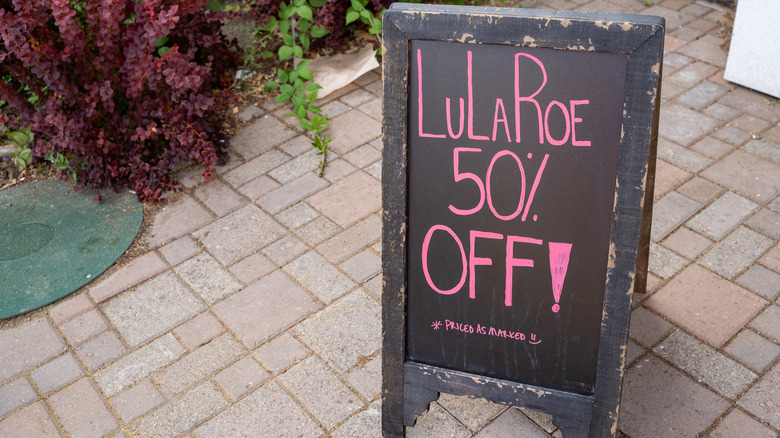 melissamn/Shutterstock
Although the Prime Video documentary "LuLaRich" exposed the harsh truths at the center of LuLaRoe, a multilevel-marketing scheme and fast-fashion business, there was an element to the compelling docuseries that made it easy to understand how someone could be drawn into it. 
As The Cinemaholic points out, LuLaRoe recruits independent sellers who, aside from hawking products at a higher price than what they paid for them, bring others into the business to sell, too. This, as it turned out, was how retailers made the big money. 
MLM schemes are nothing new, but LuLaRoe's emphasis on paying out bonuses and commissions to sellers who successfully recruit others makes it one of the worst offenders — and pushes it into pyramid scheme territory.
Because there's more money to be made through recruitment, rather than actually selling the clothes, product quality dropped consistently over the years, leading to the so-called "LuLaSuit" lawsuit. Despite having multiple lawsuits still pending against them, the company remains active. 
But how much does a LuLaRoe consultant stand to earn by joining today?
LuLaRoe consultant earnings vary widely depending on how much is sold
The biggest surprise about the current iteration of LuLaRoe — aside from the fact that the company is still in business, of course — is that its startup costs have dropped considerably. 
As Good Housekeeping notes, "LuLaRich" showcased how potential sellers nearly bankrupted themselves trying to join the LuLaRoe dream, taking out huge loans and even resorting to selling breastmilk to foot the startup cost, which ranged from $5,000 to $10,000.
Thankfully, these days, it costs a more affordable $499 to join the company, per LuLaRoe's official site. (Though you still probably shouldn't join since it's an MLM scheme through and through.) 
As for how much consultants stand to make, reports differ, with the Talented Ladies Club claiming that those who manage to sell around 40 items per week for two months straight stand to earn approximately $2,880 in profit. Those who sell 70 items per week, meanwhile, could take home around $5,040.
Per a September 2021 Instagram post, LuLaRoe had just 17,000 active retailers, which is a massive drop from the 80,000 the company boasted in its 2017 heyday. 
According to a 2020 income disclosure statement posted to its site, around half of those consultants made less than $5,000 in product sales and bonuses under LuLaRoe's "Leadership Compensation Plan."
Although the onboarding package is drastically different from its previous incarnation, it's worth noting that, as a consultant, you still don't get to choose which colors and patterns are shipped to you, per Showbiz CheatSheet. 
Suffice it to say, LuLaRoe remains a big risk.