This Camera Is An Affordable Alternative To The GoPro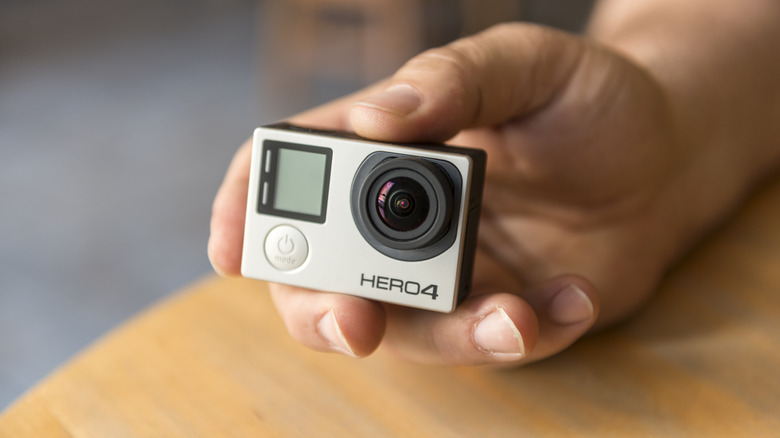 istanbulphotos/Shutterstock
Thanks to the pandemic, those who love adventure-seeking in far-flung places will have struggled to go anywhere outside the United States. While it's unclear exactly when this strange time will end, some are taking the bull by the horns and planning vacations outside of the country for the first time in quite a while.
With that in mind, a tech haul might be in order. As handy as smartphones are, high octane experiences like kayaking or hand-gliding aren't exactly suited for having a phone attached to your hand the entire time. Go-Pros, on the other hand, are perfect for documenting once in a lifetime moments. Moreover, they often provide a more personal experience when mounted on your head and chest.
As brilliant as these action cameras are, they can be pretty expensive. The newest model is just over $600 (via GoPro), and others range between $300 to $500. So is there an affordable alternative out there?
This GoPro alternative is only $70 and offers 4K video
Unsurprisingly, there is a lot of choice when it comes to action cameras like the GoPro, per World Sim. But there's one brand in particular that has been dubbed the best budget alternative by sites like Digital Camera World and TechRadar. AKASO have been manufacturing action cameras for almost over a decade, and pride themselves in creating "high-quality, extremely affordable" cameras to enable their customers "to capture dynamic moments in life and share their world of difference," as they write on their official site.
Their cheapest camera, the EK700, comes in at a substantially lower price than any GoPro at $69.99, and offers 4K Ultra HD video and has a 170 degree wide angle lens as well as a 2-inch LCD Display. It also houses WiFi and HMDI, and is waterproof when in casing up to 30 meters (100 feet). As for the most expensive camera that AKASO has to offer, the Brave 8 is $279.99 and offers a whole host of professional features including 4K 60fps video, 48M photo, 8K time-lapse video, 16x Slo-mo, and so much more.