Meghan And Harry's Bathroom Situation Has Twitter In A Tizzy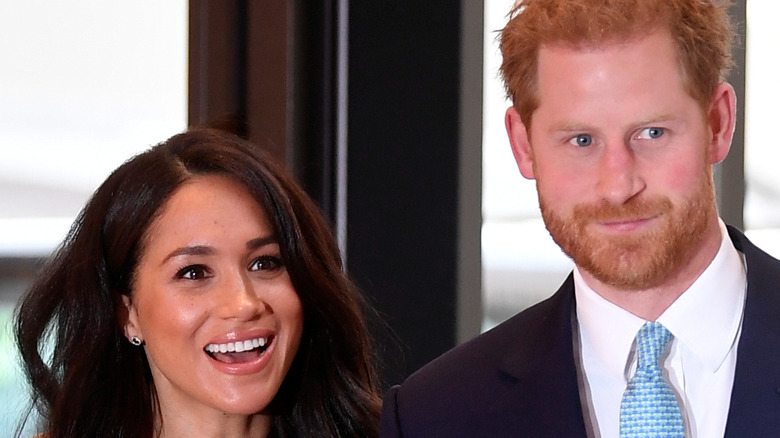 Wpa Pool/Getty Images
When Prince Harry and Meghan Markle do something, they do it in style. Whether it's stepping out in matching power suits, as reported in Fashionista, or removing themselves from the royal family, these two definitely know how to make a statement. It turns out the same can be said of them buying houses. According to Evening Standard, Prince Harry and Meghan Markle own a $14.7 million home in Santa Barbara that has a whopping number of bathrooms. Like, an it's a good thing we don't have a toilet paper shortage anymore amount of bathrooms.
It's no surprise that even an ex-royal would have an extravagant lifestyle. While Markle has only been accustomed to the royal lifestyle for two years, Prince Harry grew up living in Bucking ham Palace with The Crown's 499 full-time employees (via Harper's Bazaar). No, that number is not a typo.
The couple's Santa Barbara home isn't quite as large as Buckingham Palace, but there is still an incredible number of rooms, bathrooms, and quirky fixture in the home. After you hear the details on what is lovingly referred to as "The Chateau," you'll see why Twitter is going wild. 
Prince Harry and Meghan Markle's Santa Barbara home has 16 bathrooms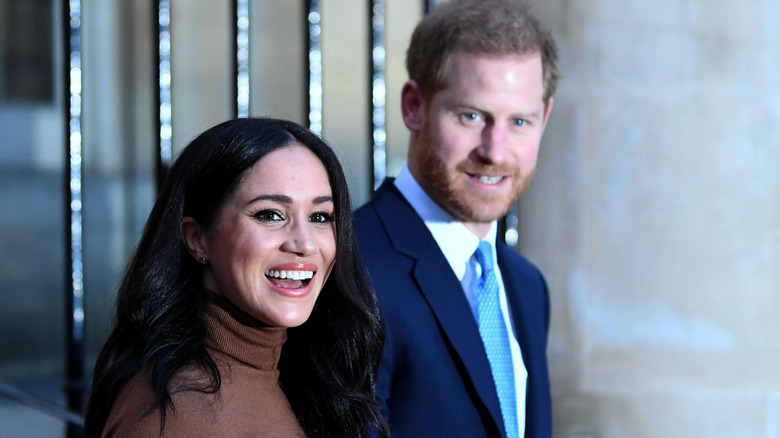 Wpa Pool/Getty Images
You know the feeling of rushing around in the morning and fighting your partner for space in the mirror? Well, this once-royal couple does not. According to Evening Standard, Prince Harry and Meghan Markle's Santa Barbara home has a whopping 16 bathrooms. Either these two shared a bathroom once and thought, "never again," or they just want to have enough space for all of their family to go in peace. 
The bathrooms aren't the end of their incredible home's lavish details, either. Evening Standard reports that the couple's home also has a children's cottage, home gym, and even a stripper pole. Oh, and there might be 16 bathrooms, but there's only nine bedrooms.
Prince Harry is no stranger to having a plethora of places to poo. Buckingham Palace reportedly has a whopping 78 bathrooms, which is nothing to his current 16 (via Royal UK). Oh course, at Buckingham Palace, he definitely didn't have to clean all of those bathrooms himself. The pair reportedly have plenty of staff to help them out with their current home as well (via Express). If he plays his cards right, Prince Harry might not ever have to clean a toilet in his entire life. Now that is definitely a perk of being royal.

Twitter is losing their minds over Prince Harry and Meghan Markle's bathroom situation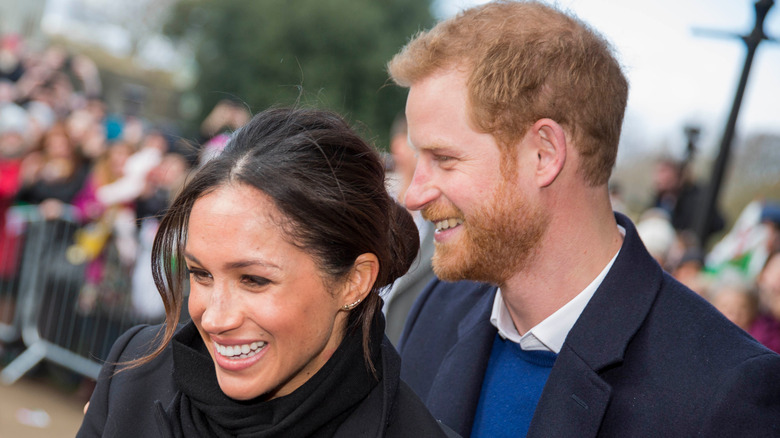 ComposedPix/Shutterstock
it seems as though everyone who's ever had to share a bathroom is taking to Twitter to defend Prince Harry and Meghan Markle's bathroom situation. "#TheCrown is just bringing up so many questions in my mind," one Twitter user says. "Like why is the British media obsessed with the number of bathrooms Meghan & Harry have in a home not funded by taxpayers but they have no energy for the 125 servants, Prince Charles has in just ONE of his homes."
Others are just curious as to what happened to the chickens at their old California home. "Meghan and Harry want to sell [the] £11m mansion they aren't over the moon about the property," another Twitter user writes. "Not enough bathrooms? Can't afford it? Markled Montecito? Who knows with these [two]. I'm just wondering will happen to the chickens."
After all, these two deserve to be happy — 16 bathrooms and all.