The Bizarre Reason Meghan Markle Was Compared To Megan Fox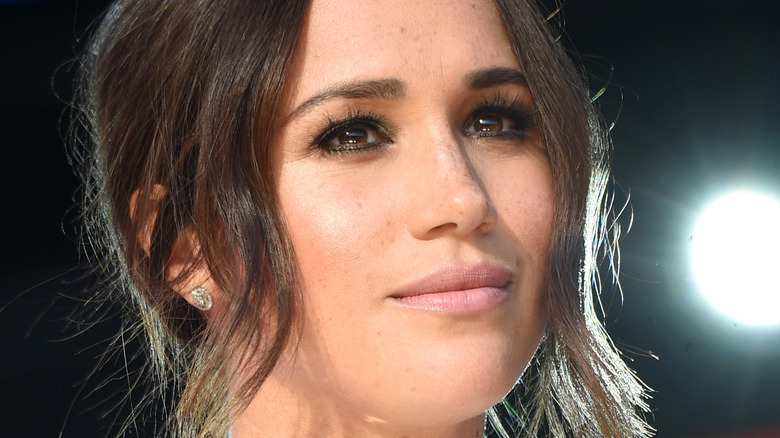 Kevin Mazur/Getty Images
On January 12, Machine Gun Kelly – whose real name is Colson Baker – popped the question to his girlfriend, Megan Fox. The pair have been dating for over a year, per People. The following day, Fox and Kelly announced their engagement on their Instagram pages. "In July of 2020 we sat under this banyan tree," Fox wrote in the caption of her Instagram post. "We asked for magic ... Somehow a year and a half later, having walked through hell together, and having laughed more than I ever imagined possible, he asked me to marry him." Of course, fans of the pair noted the slightly odd conclusion to the post — the couple rung in their happy news by drinking each other's blood — but honestly, the admission wasn't at all surprising given that Kelly and Fox certainly march to the beat of their own drum. 
In his own Instagram post, Baker spoke about the engagement ring he gave to Fox. "[I] know tradition is one ring, but I designed it with Stephen Webster to be two: the emerald (her birthstone) and the diamond (my birthstone) set on two magnetic bands of thorns that draw together as two halves of the same soul forming the obscure heart that is our love," Baker captioned his Instagram post. 
So what does Meghan Markle have to do with any of this? You'd be surprised what comparison is being drawn between her and Fox. 
Fans are comparing the two stars' engagement rings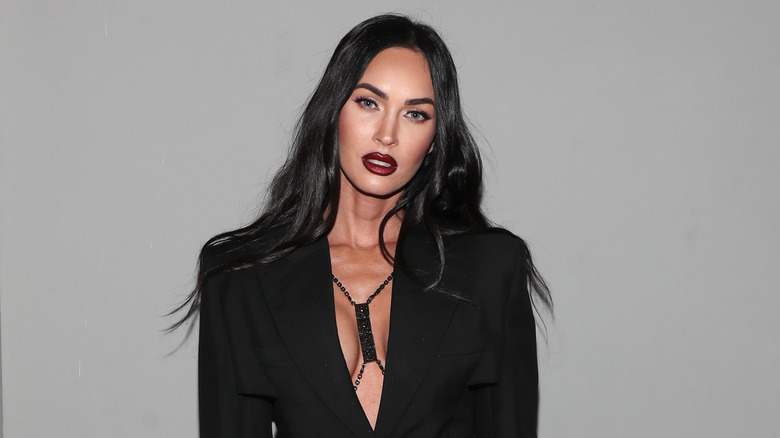 Jerritt Clark/Getty Images
In a since-removed article, Hello! Magazine made a comparison between the engagement rings worn by Meghan Markle and Megan Fox, per the International Business Times. Markle's engagement ring – which features a three-carat diamond from Botswana — cost around $250,000, according to the report published by Hello!. Fox's engagement ring, on the other hand, is worth between $300,000 and $400,000, according to a statement made to Insider by Kathryn Money, the senior vice president of merchandising and retail at Brilliant Earth.
Given the fact that the two women have almost nothing in common (except for their first names and celebrity status), many people took to social media to point out the strange comparison. "OK, but what does this have to do with Meghan Markle?" one user commented on Twitter. "This is absurd. Is Meghan Markle the only woman presumably hated in the world that an engagement ring has to be used as an equal to her whole personality as a human? This is nonsensical," another user wrote on Twitter. Another user joked that this trend of comparing everything to Markle would continue to include more outrageous parallels. "Next headline: 'My dad is bigger than Meghan Markle's dad,'" the user joked on Twitter.