Is Supergoop Worth The Money?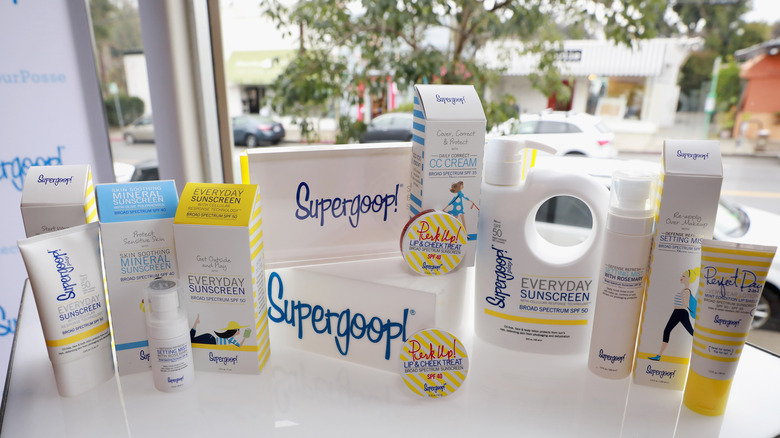 Rachel Murray/Getty Images
Created in 2007, Supergoop is synonymous with quality sunscreen, and if you love skincare, you have either used it or know of someone who has. Supergoop was started by a former teacher Holly Thaggard after discovering a friend's cancer diagnosis (via The Derm Review). Thaggard told Byrdie, "I learned that skin cancer is the most common type of cancer in the U.S. and that it's also primarily preventable with the use of daily SPF." She added that she also discovered that many people don't wear SPF because it doesn't feel good on the skin during her research. That led to the birth of Supergoop. In a short time, Supergoop gained worldwide recognition because of their ingredient-conscious and dermatologist-tested products because it protects you from skin cancer and signs of aging caused by the sun (via Honest Brand Reviews).
According to Supergoop's website, their sunscreens aren't the traditional chalky type and are reef-friendly and cruelty-free. Their shipping boxes and packing content are also 100% recyclable, so they are big supporters of the environment. And it feels good to be using skincare products that protect us from skin cancer and aging, while also being good for the planet. The company started with face sunscreen but has since expanded to eye creams, serums, and body moisturizers powered with SPF protection, but are the products really worth it?
Supergoop! Sunscreens are definitely worth the hype
The two most popular Supergoop sunscreens are the Unseen Sunscreen SPF 40 and Glowscreen SPF 40. They are on the pricier side of sunscreen, but the quality and eco-friendly approach make the brand very popular among beauty editors and skincare enthusiasts. The Unseen Sunscreen is entirely invisible and scentless with a velvety finish, and retails for $34 for 1.7 oz at Sephora. Their Glowscreen is a makeup-gripping primer with a dewy finish. It retails for $36 for 1.7 oz at Sephora.
The Derm Review is a fan of their Unseen Sunscreen, their most popular product because it has emollients to increase skin hydration and feels weightless on all skin types due to its natural-looking finish. California-based dermatologist Joyce Park told Women's Health, "It genuinely feels like nothing on the skin and rubs in within seconds." No wonder it was among their best sunscreens 0f 2021. Allure also loves this oil-free sunscreen because it works on all skin types and tones, making it highly inclusive. It is also an Allure Best of Beauty Award Winner. 
The Every Girl loves the Glowscreen because it is formulated with hyaluronic acid, vitamin B5, and niacinamide for extra hydration. It is similar to using a tinted moisturizer without any coverage for a glowy finish. It is perfect for dry skin, but those with oily skin might find this a bit too shiny. Model and actress Brooke Shields shared with Glamour that it is among her favorite skincare products because it is really glowy.